Beer Fox Review - Gordon Double Red IPA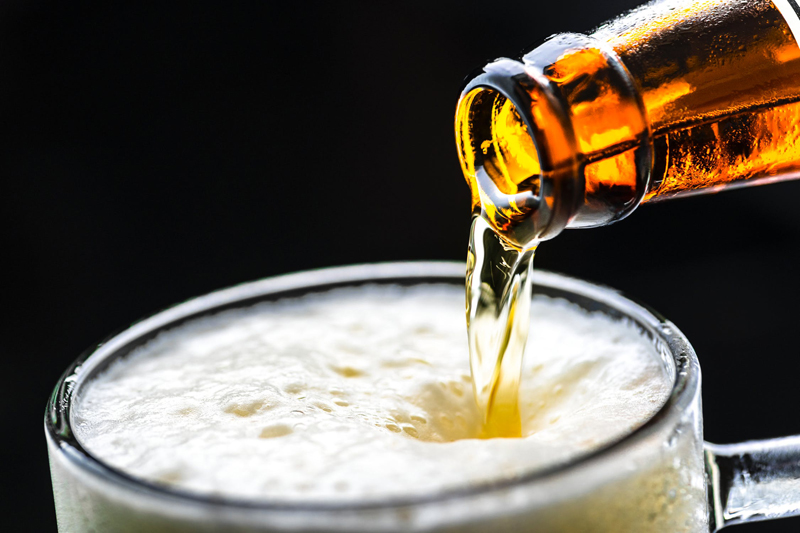 The idea of a "can'o bliss" before bed is enticing. I examine Gordon's history, wondering if he could possibly be a worthy contender. He first showed his seductive head in 2003 when he came into town as a winter seasonal. By December of 2005, he had gained prominence as a "winter warmer." Such a reputation spreads quickly in a small town of 1,400.

I only intended to taste Gordon, but it was impossible to avoid his powers of seduction. Oskar Blues Cajun Grill & Brewery, Lyons, Colorado planned it that way. Gordon, a Double Red IPA, unleashes a nose of rich malt – caramelized bread, drenched in juicy grapes, melons and apricots, piney resin, and flower blossoms.

The "can" keeps Gordon protected from light and makes for ease of transport, but the eye-appeal of this brew in a glass is captivating. Upon the pour, the body's infrared glow fuses with copper highlights that are edged in chestnut brown. A capacious, sticky, tan head forms solidly over the top. Thick swaths of lace ring the glass with each taste.

Juicy and chewy, this DIPA hybrid initially touches my lips with flavors of apricots, clean fruits, and caramel-drenched bread. Some citrus notes grab at the edges of the tongue, extending deep into the throat. In the finish, subtle, alcoholic warmth is felt on the roof of the mouth; then unfolds deep in the chest. An irresistible wow-in-a-can!

Gordon is crafted with 6 different malts and 3 types of Pacific Northwestern hops, with a final dry hopping of Amarillo. It weighs in at 85 IBU's and has a powerful 8.7% ABV.

Hot and spicy Mexicali dishes pair well with this gem. Gordon's complex flavor captivates the liveliness of chimichangas, burritos, fajitas, enchiladas, chilaquiles, and tostadas. It also quenches the wild fire of Cajun cuisine, jerk chicken, or barbecued slabs of steak, singed after a marinade in spice and natural juices.

Wild fire! Such a phrase elicits nightmares for all who have ever felt the threat of this most unpredictable of events. My own memories as a child are charred by one such "dark-and-stormy-night," when an old neighborhood farmhouse blazed in colors of crimson and titian. A field of wheat stretched between us, dipping and bobbing like waves on a windy sea. Pardon the cliché of "dark-and-stormy-night," but torrential rain and streaks of jagged lightning intensified the fright through a child's eyes.

Such ferocity lingered in the air the day Gordon Knight lost his life. Knight is the courageous figure who Gordon Double Red IPA honors. Despite his experience as a helicopter pilot in Vietnam and Germany and as a seasoned firefighter, Knight, 52, met the end of his heroic life in 2002 in a chopper crash while facing the Big Elk fire outside of Lyons, Colorado, USA. He was a friend of the microbrew renaissance, and was committed to helping others with his generous spirit. Oskar Blues recognizes that such valor deserves recognition on the highest level and has crafted Gordon accordingly.

As a final touch on the heels of flavor delight, Oskar Blues protects your pouty lips with Old Chub Lip Balm, the first "chub stick" made with Old Chub Scottish Style Ale, oils of macadamia and almond, beeswax, cocoa, and other essential oils. It has an SPF of 15. As you slather it across your lips, you recognize this is not your normal, flavorless lip wax, and the delectable characteristics make you want to share. Wink-wink!

Photo credit: Marty Jones

Cheers!
 
You Should Also Read:
Oskar Blues - Leading Man of the Micro Can
Battle of the Beers - Canned Beer vs. Jim Koch
Red Ales & Imperial Red Ales - Bold and Sexy


Related Articles
Editor's Picks Articles
Top Ten Articles
Previous Features
Site Map





Content copyright © 2023 by Carolyn Smagalski. All rights reserved.
This content was written by Carolyn Smagalski. If you wish to use this content in any manner, you need written permission. Contact Carolyn Smagalski for details.