Redbridge - Made from Sorghum - A Celiac's Delight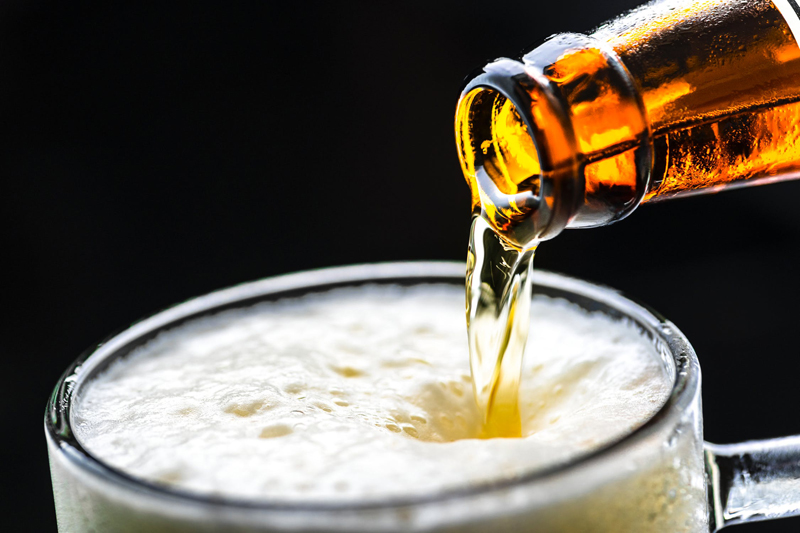 Life can be full of surprises, the sweetest ones being those that plunge you into a part of life never before experienced. For a child, every day can be filled with such candy sugar – a delightful adventure, the likes of which make Huckleberry Finn and Tom Sawyer the role model for every red-blooded, American child. Adventure does not stop with the onset of puberty or the attainment of voting rights, but continues as long as the powers of observation stay keen within the human spirit.

Such is the fascination for those who love American craft beer. To those ever vigilant, a new brew can grab the spirit like a flirting glance from behind a rumpled newspaper - momentarily sucking you in, sending goose-bumps up the back of your neck, while a solid warmth surges through the rest of your body. A tsunami for the soul!

The most passionate beer aficionado seeks out such sentient connections at venues where tantalizing beers assert themselves with bold complexity. High gravity beer, structured with blends of barley or wheat; Belgian beauties, teeming with Brett and lactic mystique; soft, golden pilsners; hoppy ales.

Amidst these amber, chestnut and onyx beauties, Anheuser-Busch enters the national spotlight with a cutting-edge beer, one that demands notice and a place of distinction in the field of innovation. A few years ago, "Redbridge, beer made from sorghum," might have been considered a social misfit, much like those who have been diagnosed as Celiacs and can no longer enjoy food or drink made with barley, wheat, oats, rye, spelt or their related grains. Fortunately, the brewing community has become much more aware of the diverse needs and tastes within this portion of the beer-loving public.

By introducing Redbridge to the market, Anheuser-Busch has committed to addressing the needs of a specialized segment of the population. A-B's involvement heightens awareness around health issues that may affect a significant percentage of potential beer drinkers in the United States. Advocate groups for the Celiac community promote an "ask and you shall receive" attitude.

Anheuser-Busch listened.

When the innovations team first addressed the idea of gluten-free beer, the stage was already heating up with ongoing requests for a wheat free/barley free product for those with celiac. Anheuser-Busch worked closely with Alice Bast at the Foundation for Celiac Awareness, to address the needs within the celiac marketplace.

Although Anheuser-Busch was anxious to release this new brew to a national audience, the development team made the decision to withhold release until they could consistently produce a beer with the profile they desired. They were "close" a lot of times, but "spot on" was the main target, and the A-B team was not going to release a gluten-free beer to market until it was right. After brewing less-than-desirable pilot batches with numerous herbs and grains, the developers tested traditional sorghum, designed to echo the sorghum beers of Africa. Although the flavor moved closer to that of barley based beers, the tart profile, common in sorghum drinks, had a harsh edge that sensory analysts would not approve.

Nevertheless, sorghum has a history in brewing, is commercially available, and provides nutrients that are similar to other brewing grains. The team was searching for an additional safe grain to blend with sorghum that would soften the edges, while still providing full body. As the development group adjusted their recipes and reviewed the characteristics of "celiac-safe grains," they focused on corn as the optimal choice. Brewmaster Kristi Zantop, part of the Anheuser-Busch development team, points out that "corn is a common ingredient in many lager beers." As long as proper measures were followed to use segregated corn grain on meticulously clean equipment, Anheuser-Busch could maintain the integrity of a gluten free beer, while producing rounder flavors with deeper intensity. To enhance the flavor profile, Redbridge was generously hopped with Imported Hallertau and Cascade hops.

In addition, the label design matches its "hand-made, specialty" profile – flowering sorghum grasses growing profusely beneath a red covered-bridge, bridging the gap for Celiacs, so-to-speak. Since the USA does not yet have specific guidelines for "gluten free beer," the label reads, "Beer made from sorghum, made without wheat or barley." Anheuser-Busch crafts Redbridge at the Merrimack, New Hampshire brewery, and evaluates it to ensure the absence of toxic proteins, both prior to and after packaging. On occasion, analysts perform additional calibrations at random points throughout the process. Meticulously engineered - enticingly designed.

Redbridge pours a deep honey gold, with a creamy, eggshell head that settles like a gauzy veil over the surface. Effervescent bubbles rise through the glass in a constant stream. Initial aromas are of light malt and a tempered, gentle nuttiness. Some florals rise in the nose. The tongue interprets flavors that echo as a softened pale ale, without the characteristic grassy, earthy flavors of more intense cultivars of sorghum. Cascade hops are not initially prominent in the foreground, but provide a lingering, bitter presence at the back end.

Serve Redbridge as a complement to shrimp and sea scallops, artfully skewered with slices of Portobello mushroom, pineapple, tomato and peppers. Follow with a palate-cleansing lemon sorbet. Add the fresh juiciness of cedar-planked salmon, herbed potatoes, and lime-garlic and black pepper dipping sauce. For a final touch of elegance, serve warmed, seasonal berries over vanilla ice cream. The blending of flavors will arrest your palate, and you will delight in the savory satisfaction that has been taboo for so long.

The team at Anheuser-Busch is passionate about beer. They embrace the leading edge and open the doors to seductive brews, even when the circle of comfort stretches beyond the current circle of knowledge. Stretching feels good.

Ask those with celiac - those who shed tears to think the big-boys cared!

…and the flavor is "spot on."

Cheers!
 
You Should Also Read:
Barley free - Gluten Free Beer for Celiacs from Lakefront Brewery
Malting Sorghum for Bards Tale Gluten-Free Beer
Gluten Free Beer for Celiacs is REAL BEER !


Related Articles
Editor's Picks Articles
Top Ten Articles
Previous Features
Site Map





Content copyright © 2022 by Carolyn Smagalski. All rights reserved.
This content was written by Carolyn Smagalski. If you wish to use this content in any manner, you need written permission. Contact Carolyn Smagalski for details.