Guest Author - Rebecca Graf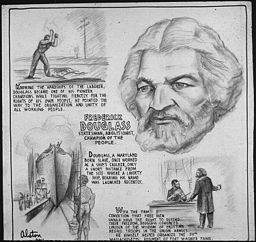 One of the largest hammers that smashed away slavery in the United States was the hard and brave work of the abolitionist. It was through their determination and loud voice that the "peculiar institution" called slavery met its downfall. They shouted till no one could deny their cry and the subject had to be met head on.
The abolitionist cannot be defined in a simple sentence. Yes, they were the ones to argue against slavery and bring its ugliness to the public's attention, but there was no one way to describe them and there was no one method that they used.
Many of the abolitionists were ones that stood on the (literal) soapbox and proclaim the horrors of the slavery of the time. They appeared at rallies and political speeches. They worked their ways through political circles to convince those that had power that the abolition of slavery was needed. Then there were those who believed that violence was the only way. They stirred up slave revolts and encouraged the slaves to fight for their freedom. Many choose the peaceable route while others choose the violent path.
Abolitionists did not suddenly start proclaiming the need to end slavery a few years before the American Civil War. They began about two hundred years earlier. In 1807, the trade of slaves was banned in Great Britain and all of its colonies. This did not end slavery, but the act of purchasing and trading slaves. It took another 26 years before slavery was completely abolished in Great Britain. As America began expanding, the abolitionist found a way to be heard. New lands were being added and therefore the decision on how each new territory or state arose to be debated. Abolitionists pushed to have new lands added with the standing of no slavery. They were very successful as many lands had slavery banned.
This did not end the actual establishment of slavery, but it was a huge step. Voices of abolitionists were being heard. They included William Lloyd Garrison and Susan B. Anthony are just a small portion of the abolitionists that banded together to bring slavery down. The movement took a huge leap forward as former slaves such as Frederick Douglass and Harriet Tubman added their voices. The reality of slavery could not be ignored and gradually more and more began to take the stand of abolishing slavery. It was not until the Emancipation Proclamation was issued by President Abraham Lincoln and the establishment of the thirteenth amendment that slavery was finally abolished in America.
Abolitionists achieved their goals. Politics was huge in abolishing slavery, but in the end it took much bloodshed to have it completely abolished. This would not have come about without the tireless efforts of the abolitionists that brought an end to slavery.