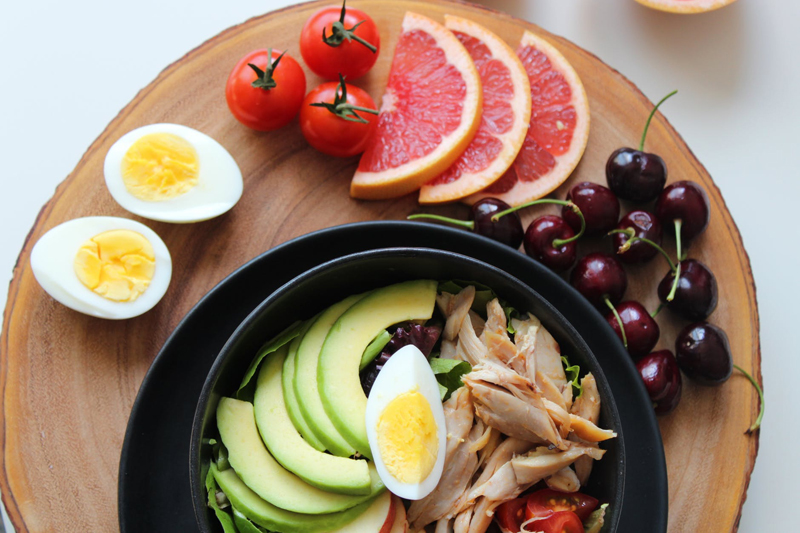 Eat This, Not That is a highly graphic, simply laid out guide to every popular restaurant as well as most grocery aisles. With easy to see photos you get an easy to understand summary of what to avoid and what to go towards in order to eat healthily.
The premise is
not
that you read through this book from end to end. Rather, it's that you carry it with you, maybe in your glove compartment. When your friends say "Let's go out to the Olive Garden for lunch", you grab the book and page through. It says on that page what the best and worst meals at that location are. Simple, easy, you use the information and have fun. You can't always choose where you go - but you can choose what you eat there.
Even though I've said this is primarily a reference book - it is actually
hugely
fun to read with friends. They show you a full two-page spread for a restaurant. On the left side is a large image of a "good meal". On the right side is a large image of a "bad meal". You would be amazed at how many times you think the meal on the right "should" be better - when really it has twice the calories, or four times the sugar! Most of these restaurants refuse to divulge nutritional information, so there's no way you could know on your own. The things you learn reading this book are amazing.
For example, for Burger King they have, on the left (good) side a Whopper Jr, no mayo, and a garden salad. On the right (bad) side it's a big fish sandwich with medium fries. I would have thought they were reasonably close. After all, I'd say a fish was healthier than beef, and both are on buns. The fries might be a
bit
bad, but not much.
However, the whopper meal has only 365 calories, 12g fat and 1230mg sodium. The fish side has 1,000 calories, 52g fat and 2040mg of sodium! That's quite an impressive difference!
Now, this brings up one issue. They list all sorts of great information - but
not
the carb count! They don't list sugar, carbs, or anything related. Sometimes they will talk about how the bad meal has a ton more sugar - but it's not in the count!
In addition to the restaurants, they talk about candies at Halloween, condiment choices, cereals, ice creams, and much more. All of the information is laid out with large images so that you can remember visually which items to look for in the supermarket.
On the downside, they go a bit
too
simple with their pages. For Subway they say to eat the six inch double roast beef sub vs the six inch tuna sub. But they could easily have tossed in a chart with the various bread types, so you knew which bread was best. Instead you're stuck only with a "this not that" entry.
There is a lot of fun snippets of information added in to the pages. For example, the average person going to Subway apparently eats 350 calories
more
than if they went to McDonalds. It's not that the Subway food is worse - rather, the eaters think Subway is healthier and therefore eat much more food. They think "this is good for me so I should eat lots of it!" So it's really ironic that they go somewhere with healthier food and then make it into a worse decision.
I highly recommend getting this book and then showing it to friends, having them guess which meal is better in each spread. Of course it's always the one on the left - but it is amazing how many times you would
think
it was the one on the right. It's a real wake-up call as to how much more attention we should all pay to what we eat.
If they do a new version I really recommend they break it out into two books. One should be much smaller, to carry in a purse or glove compartment more easily, so it's more functional. This one is just a little too large. To go with it there should be a book with
much
more information in table form, so that when you end up at the Olive Garden you get a better sense of what combinations are best for you.
Buy Eat This Not That from Amazon.com
Note: I purchased this book with my own funds in order to write this review.
Lisa Shea's Library of Low Carb Books
You Should Also Read:
Low Carb Book Reviews
Low Carb First 2 Weeks Ebook
Low Carb Charts Ebook


Related Articles
Editor's Picks Articles
Top Ten Articles
Previous Features
Site Map



Follow @LisaLowCarb
Tweet





Content copyright © 2022 by Lisa Shea. All rights reserved.
This content was written by Lisa Shea. If you wish to use this content in any manner, you need written permission. Contact Lisa Shea for details.