Pesto Parmesan Shepherd's Pie Recipe
The Shepherd's Pie originated in Britain and Ireland. As shepherd's tended sheep and not cows, this pie (or casserole) was made with mutton (lamb.) Another version called Cottage Pie is distinguished by using ground beef instead of ground lamb. The Cottage pie was introduced as far back as 1791, whereas the Shepherd's pie came onto the table circa 1877.
There are no hard or fast rules that go into making a Shepherd's or Cottage Pie Recipe. Leftovers are often added to these recipes, making this dish inexpensive. The mashed potatoes were a star back in the day, as the potato crops that were introduced were affordable for the poor.
My Pesto Parmesan Shepherd's Pie Recipe incorporates fresh vegetables and herbs, with a twist on the mashed potatoes, by adding basil pesto and parmesan cheese and is as comforting today as it was long ago.
I hope you enjoy!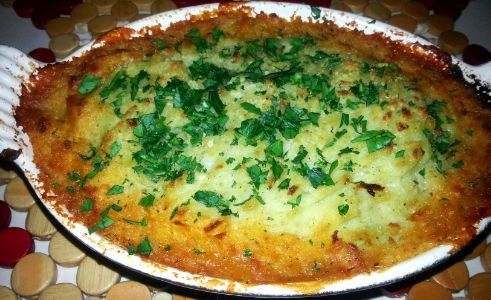 Ingredients
3 - 4lbs. Russet Potatoes
Water
1 tbsp. kosher salt
1 fresh or dried bay leaf
1 cup light cream or milk
1/2 cup salted butter, cut up (1 stick)
Reserved potato water (about 1/4 cup)
Salt pepper
3/4 cup prepared basil pesto
1/2 cup grated parmesan cheese
3 tbsp. olive oil
1 large onion, diced
4 garlic cloves, crushed
3 celery ribs, diced
2 medium carrots, diced
2 1/2 lbs. ground lamb or beef
2 cups beef broth/stock
3 tbsp. Worcestershire sauce
2 tbsp. tomato paste
1 small can tomato sauce (15 oz.)
1 tbsp. fresh rosemary, chopped or 1 tsp. dried crushed rosemary
3 sprigs fresh thyme or 1 tsp. dried thyme
1/4 cup fresh parsley, chopped plus 1 tbsp. for garnishing
1 1/2 cups frozen peas, thawed under cold running water and drained
Method
1. First make the pesto parmesan mashed potatoes. Peel and quarter the potatoes and just cover them with water in a large pot. Bring to a boil and add 1 tbsp. of kosher salt and the bay leaf. Reduce the heat to medium and simmer, partially covered for approximately 20 minutes, until the potatoes are fork tender. Reserve 1/4 cup of the starchy water before draining the potatoes.
Leaving the heat on very low, drain the potatoes and then add them back to the pot and place on the heat (this method gets rid of excess water from the potatoes.) Mash the potatoes over the very low heat, then add the warmed butter, cream, pesto and parmesan cheese. Use some of the reserved starchy water if the potatoes look really thick. Turn off the heat and continue to mash until incorporated to the desired consistency. Do not over mash. Doing so will make the potatoes like glue. You are looking for a somewhat creamy, yet firm consistency for this casserole. Set aside.
2. Add the ground beef or lamb to a hot skillet and cook until no longer pink, breaking it up as you go. Drain and set aside.
3. In the same skillet over medium heat cook the celery, carrots, garlic and onions until for approximately 8 minutes. Add the ground lamb or beef and stir well.
4. Add the tomato paste, Worcestershire sauce and herbs and cook for a couple of minutes to blend. Mix well. Stir in the beef stock and tomato sauce. Cook uncovered for 30 minutes, stirring occasionally. The consistency of the meat mixture should be on the thick side, so if it still looks wet cook it down a little more, uncovered. Turn off the heat and stir in the defrosted peas.
Preheat the oven to 400 degrees F. for 15 minutes
5. Build your casserole: - You may make individual servings or one large casserole. Grease your baking dish and add the beef or lamb mixture. Spoon the mashed pesto potatoes over the meat leaving a 1/4 inch gap around the edges of the dish. Swirl the top of the potatoes with a fork. Bake in a 400 degree F. oven for approximately 30 minutes or until the potatoes start to turn golden brown. Garnish with finely chopped parsley. Let rest for 15 minutes before serving.
Chef's Notes
Although I use basil pesto in this recipe, there are many other gourmet pesto blends I buy through Amazon.com which save me a ton of money. They can liven up your recipes and make them unique. Check out the link below for some great ideas.
You Should Also Read:
Visit my Home Cooking Site


Related Articles
Editor's Picks Articles
Top Ten Articles
Previous Features
Site Map



Follow @CateringMom
Tweet



Content copyright © 2022 by Allyson Elizabeth D´Angelo. All rights reserved.
This content was written by Allyson Elizabeth D´Angelo. If you wish to use this content in any manner, you need written permission. Contact Allyson Elizabeth D´Angelo for details.