Secrets of the Brewers Reserve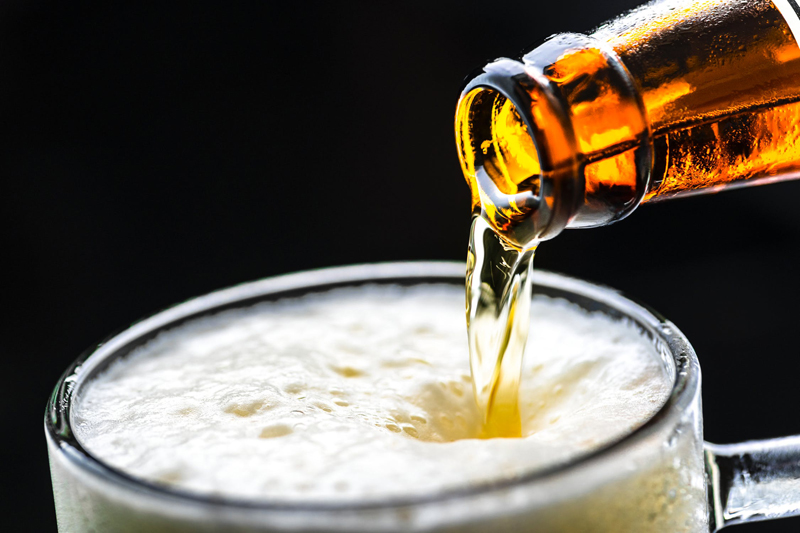 Theatrical light, falling like an antique street lamp, illuminated her face in a wash of surrealistic detail. Hazy edges disintegrated into inumbrate shadows across her moist, pouty lips. Her eyes, salacious yet innocent, whispered secrets of a cloaked rendezvous, and I wondered what style of Brewers' Reserve she would choose.

How would Cezanne have depicted her? Pieces of paint with Abbey Dubbel wetting her ruby mouth…chocolate, creamy cappuccino, abundant with plums and red currants, sweetened by a kiss of English toffee?

And what of Jackson Pollock? Her image would be indistinguishable, but her spirit would explode on the canvas. Would you have seen the Cannibal, golden and effervescent, dancing with spicy indulgence across her open mouth?

Such are the pleasures of beer! So abundant are these pleasures that Iron Hill Brewery wants to share. Although they present a wide-ranging menu of beers on tap, they wanted to broaden the availability of style for their customers. By bottling their most precious brews in 750 ml bottles with cork and cage, they have created a line of high-end beers for the most memorable of celebrations. And memorable they are!

Iron Hill knows that pleasure intensifies with use, so they invited their fellow beer professionals to join them in presenting a palatable symphony to their patrons on Saturday, July 14, 2007. They dubbed it "Big Bottle Bonanza" Brewers Reserve. Set up like a cosmopolitan wine-tasting, Iron Hill featured their own rare reserve, along with ten [plus] local craft brewers who brought their premium beers center stage for this intimate summer fest.

"We want to raise the image of beer," said Larry Horwitz, Brewmaster at Iron Hill Brewery, North Wales. By developing the Brewers' Reserve, Iron Hill can brew smaller quantities of very select beer styles. These may be primed with invert sugar or corn sugar and yeast for re-fermentation in the bottle. They are more expensive than other beers, but Horwitz doesn't apologize for that. "There is a little magic and mystery when you re-ferment in the bottle," explains Horwitz. "These bottles are very expensive to fill. They are hand-bottled, hand-primed, hand-corked. We charge just enough to cover our cost." Inspired by Phil Markowski, author of Farmhouse Ales: Culture and Craftsmanship in the European Tradition
and Brewmaster at Southampton Publick House, the brewers who participated in this exclusive tasting are passionate about designing exceptional beer.

Breweries hosted by Iron Hill Brewery & Restaurant were:
Pennsylvania –
Sly Fox Brewing Company, Royersford
Stoudt's Brewing Company, Adamstown
Tröegs Brewing Company, Harrisburg
Victory Brewing Company, Downingtown
Weyerbacher Brewing Company, Easton
Delaware –
Dogfish Head Craft Brewery, Milton
New Jersey –
Flying Fish Brewing Company, Cherry Hill
New York –
Brooklyn Brewery, Brooklyn
Brewery Ommegang, Cooperstown
Southampton Publick House, Southampton

…and sneaking in the back door – Lost Abbey of San Marcos, California with Judgment Day Belgian Strong Dark Ale.


Iron Hill featured 18 Brewers Reserve styles. These included different vintages of Russian Imperial Stout, Abbey Trippel and Old Ale, as well as those of singular distinction such as Cannibal, Saquatch, and 10th Anniversary FE10. Horwitz speaks of his bourbon barrel series, which always sells out within two weeks after release. "Where do you keep the barrels?" I ask. As my eyes scan the room, I am stunned at learning another brewer's secret. I am actually leaning against one such barrel.

At times, I feel like the woman in the mural, gathering secrets from brewers as I taste each reserve beer. I want to sample every dewdrop of apple, pear, leather or citrus – allowing them to splash over my lips with bohemian pleasure, indulging my olfactory senses, and experiencing their exquisite fullness on my tongue.

Sly Fox Brewer Brian O'Reilly shares this exuberance as he pours me a glass of Saison Vos. This beauty seems to breathe golden light from within, displaying a thick, rich, dense head on its surface. It portrays the complexity of the Dupont yeast strain – champagne-like character, with earth and leather, - the true mark of a well-designed Saison.

He pours Instigator Doppelbock, walnut hued, with garnet edges. Dark, fruity aromas of juicy figs and succulent plums rise in the caramel maltiness. The flavors are reflected on the tongue, while secondary flavors of wood and ash add interest to the mellow middle. A nice bitterness defines the edges, making it rich, yet clean.

Route 113 IPA gleams like a copper pot in the moonlight. The name itself is a Sly Fox "response" to a passionate hophead who requested a beer that was 113 IBU's, just like the road (Route 113) that led him to Sly Fox "beer Mecca." In good spirit, it was crafted as the ultimate satisfaction for just such hop-lovers. German pale malts and British crystal malts serve as the foundation. Merged within this firm body, US Centennial and Cascade hops layer with East Kent Goldings from Great Britain and Northern Brewer from Germany, clocking-in at 85 IBU's. Grapefruit notes merge with flowery essences. It tastes so spot-on that the requestor petitioned the state to change the Route number to 85!

O'Reilly reveals that the devil has a history in Phoenixville. According to fantasy, Incubus was the devil who would have his way with women in their sleep. On the first Friday of every month, this Incubus Tripel is released from the barrel, (in Phoenixville only) where he seduces the palate, sweet and velvety on the tongue. He glows lightly golden and clear, supporting a thick, persistent head. Apples, sugar-dipped grapes, apricots, and tropical fruits, touched with honey, linger in the flavor. Accents of peppery spiciness display a complexity borne of the Trappist yeast strain from which it springs.


Jason St. Onge, another superior host at Iron Hill, serves me with more brewers' secrets. Southampton Grand Cru pours like a waterfall of gold into my glass, crowned by a soft head and lively effervescence. I initially become drawn in by a hint of star anise in the nose, followed by secondary and tertiary notes of floral and herbal profiles. As it spills across my lips, orange, citrus tanginess, apple, and mango merge with coriander and hot pepper. It is sinful in its power!

Local 1, designed by Garrett Oliver of Brooklyn Brewery, refuses to be categorized. This hazy gold beauty pulls you in with salient effervescence. Citrusy lemon, orange and grapefruit set the olfactory senses aquiver, mixed with herbs and leather. On the tongue, the citrus fruits are joined by pineapple and pear, and scattered with earthy graininess, leather, and a breath of herbal heat. The finish is clean and crisp, hiding the 9% ABV from apparent view.

So many others of priceless worth! Victory V12, part of the V-Series; Iron Hill Quadfather; Stoudt's Double IPA, Fat Dog Stout, and Tripel; Southampton Biere de Garde; Weyerbacher 12 –12th anniversary ale in a 12 ounce bottle, crafted with 50% spicy rye malt; Dogfish Head Red and White; Troegs Mad Elf; and Brewery Ommegang Hennepin Farmhouse and Three Philosophers.

Perhaps the lady on the wall has tasted every one…

Cheers!
Photos:  (From Top) Wall Mural at Iron Hill Brewery & Restaurant, North Wales, PA;  Brewers Reserve Aging in Oak Barrels;  Jason St. Onge pours Southampton Biere de Garde at Iron Hill in North Wales
You Should Also Read:
Ask the Beer Fox - Introducing Beer to Wine Lovers
Beer for Sophisticated Restaurateurs
Trappist Beer - The Select Seven


Related Articles
Editor's Picks Articles
Top Ten Articles
Previous Features
Site Map





Content copyright © 2023 by Carolyn Smagalski. All rights reserved.
This content was written by Carolyn Smagalski. If you wish to use this content in any manner, you need written permission. Contact Carolyn Smagalski for details.