Hearty Rustic Pork Pie with Bacon Recipe
When the British settled along the New England coastline, they brought with them a rustic style of cooking. Slow braising wild game for hours to tenderize the meat, along with hearty stews in large pots, cooked over a make shift fire made of wood and rocks. Later, pasties and pies came along with the invention of the old fashioned range.
My Pork Pie recipe is as rustic today as it ever was. The hot water crust is a variation of my mother's and grandmother's recipe, which is easy and fool proof. Today, the British still enjoy pork pies with mushy peas, especially on November 5th (bonfire night) every year, where they celebrate the arrest of Guy Fawkes, who attempted to burn down the House of Lords and eradicate King James I.
You may enjoy this pie warm with mushy peas for dinner or cold with a side salad for lunch. Please read my Chef's notes and tips at the end of the recipe for variations on this recipe. Enjoy!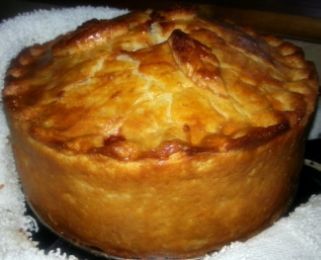 Hot Water Pie Crust
Ingredients
1 1/2 cups all-purpose flour
1/2 tsp. table salt
4 oz. water
1/2 cup lard
1 egg yolk
Filling
1 1/2 lb. ground pork
1/2 lb. lean smoked bacon, trimmed of fat and diced
1 tsp. salt
1 1/2 tsp. ground black pepper
1 tsp. Coleman's English (dry) mustard powder
1 tbsp. dried ground sage
1 beaten egg for glazing
Method
Preheat oven to 425 degrees F. (Gas mark 7)
1. In a warm bowl (run very hot water into the bowl from the faucet/tap and let it sit 5 minutes), then put the flour and salt into the bowl and make a well in the center, place the egg yolk in the center and cover with flour.
2. In a saucepan over low heat, bring the lard and water to almost a boil and then quickly add this to the flour mixture and stir quickly with a wooden spoon, incorporating all of the flour into the liquid.
3. When cool enough to handle, turn the pastry dough onto a lightly floured surface and knead quickly until soft and pliable.
PLEASE NOTE :
Hot water crust pastry is best handled when it is still warm - hence, the kneading quickly! Form the dough into a ball shape, place on a warm plate and cover it with an inverted bowl and let it rest for 20 minutes. Set in a warm place.
4. While the dough is resting combine the pork, bacon, salt, pepper, mustard and ground sage and mix very well in a large bowl.
5. Grease the spring form pan with oil or cooking spray and then cut off 1/3 of the dough (for the top of the pie) and roll the rest into a circle. Form the dough with your fingers up the sides of a 6 inch spring form pan and leave approximately one half inch of room. Pack the filling into the spring form pan and top off with the remaining dough, crimping the edges together with two fingers. Brush the dough very well with the beaten egg. Make a couple of 1/2 inch slits in the top of the pie for steam to escape. You can decorate with the leftover pieces of dough if you wish.
6. Bake for 15 minutes and then reduce the heat to 350 degrees F. (gas mark 4) for 45 minutes more. Carefully remove the pie from the tin and brush the sides of with the remaining beaten egg. Cook 20 to 30 minutes more until golden all over.
Chef's notes and Tips
1. If you don't want to mess with the hot water pie crust (traditionally used in this recipe) you can use ready made shortcrust pastry. However, this may brown too quickly, therefore you should have a piece of foil handy to cover the top of the crust to prevent further browning.
2. You may opt to make individual pork pies in muffin tins as opposed to a large pie. You will need to adjust the cooking time however. Initially cook the pies at the higher heat for 20 minutes, then loosen them around the edges and place on a hot baking sheet (you can warm this as you are cooking the pies,) then brush with egg and bake another 30 - 35 minutes or until golden brown. Individual pork pies are a great portable lunch, just like the Cornish Pasty.
You Should Also Read:
Visit my Home Cooking Site for more delicious recipes!


Related Articles
Editor's Picks Articles
Top Ten Articles
Previous Features
Site Map



Follow @CateringMom
Tweet



Content copyright © 2022 by Allyson Elizabeth D´Angelo. All rights reserved.
This content was written by Allyson Elizabeth D´Angelo. If you wish to use this content in any manner, you need written permission. Contact Allyson Elizabeth D´Angelo for details.