Non-Traditional Potato Salads Recipes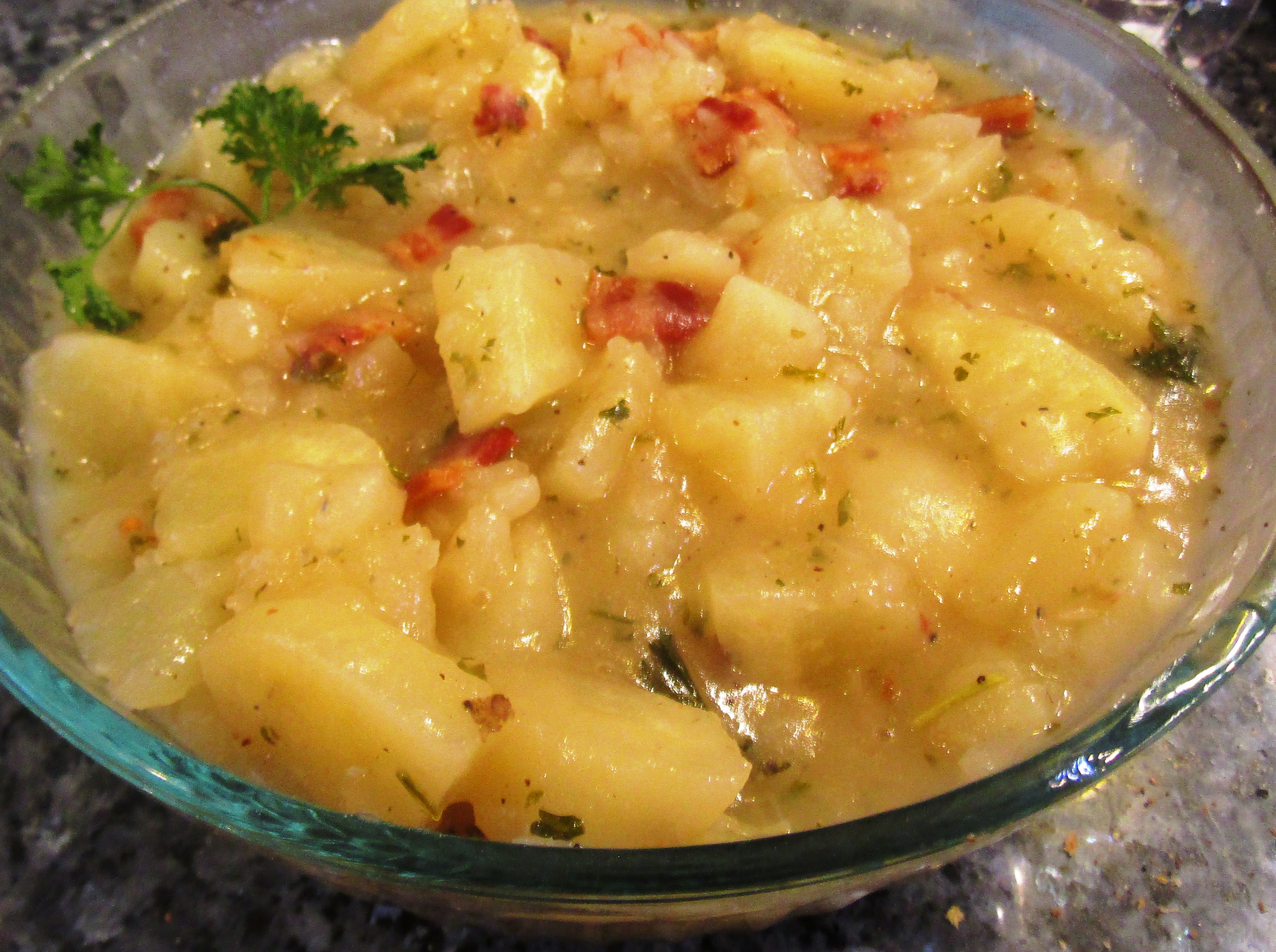 Potato Salad doesn't need to have a creamy white dressing on it to be delicious.  In fact, it's nice to have something different once in a while.  During the summer most of us attend lots of casual picnics, barbecues, and pot luck gatherings where at least one version of potato salad is served.  You might consider trying one of these non-traditional salads for your next gathering; they are both easy and delicious. 
French Roasted New Potato Salad
This salad came about several years ago when I saw a recipe for roasted new potatoes dressed with vinaigrette.  I added several of my favorite ingredients and have featured this popular salad on my catering menu since then.  This salad seems lighter than the mayonnaise based potato salads; the green beans give it crunch.  To save time, I purchase the frozen petite green beans (haricot vert) in the freezer section of my local Costco; they just need to be blanched in boiling, salted water.  Another timesaving help in this salad is to use the Hormel bacon that is already cooked and crumbled.   
16  Servings  
3 pounds small red potatoes
3 cloves garlic, finely minced
1/4 cup olive oil
  salt and freshly ground pepper, to taste          
1 pound haricot vert (petite green beans), cooked until crisp tender in salted water, then drained
1 batch French Dijon Vinaigrette
1 small red onion, chopped
1/2 pound blue cheese, crumbled
1/2 cup toasted and coarsely chopped walnut(s)
1/2 pound bacon, cooked crisp, drained, and crumbled  
Wash the potatoes and cut into 1" chunks, each having skin.  Mix with the garlic, olive oil, and salt and pepper.  Place on a baking sheet and bake at 425° for 10-15 minutes or until tender and crisp.  
Mix the potatoes with the haricot vert; pour the dressing over all, a small amount at a time (you won't need all the dressing), and mix well.  Stir in the onion, blue cheese, walnuts, and bacon.  Cover and refrigerate until well chilled.
French Dijon Vinaigrette
          Dressing
2 tablespoons red onions, chopped
3 tablespoons cider vinegar
1 tablespoon Dijon mustard
2 tablespoons sugar
1/2 teaspoon salt
1/4 teaspoon freshly ground black pepper
1 cup vegetable oil          
In blender container puree onion with the vinegar.   Blend in mustard, sugar, salt, and pepper.  Gradually add the oil in a thin, steady stream and continue blending until thick.    
---
Kathy Kilian's Warm German Potato Salad
This is the best German Potato Salad I have ever tasted.  It is quick and easy, especially if you cook the potatoes ahead.  I like it served warm, but it is also great at room temperature.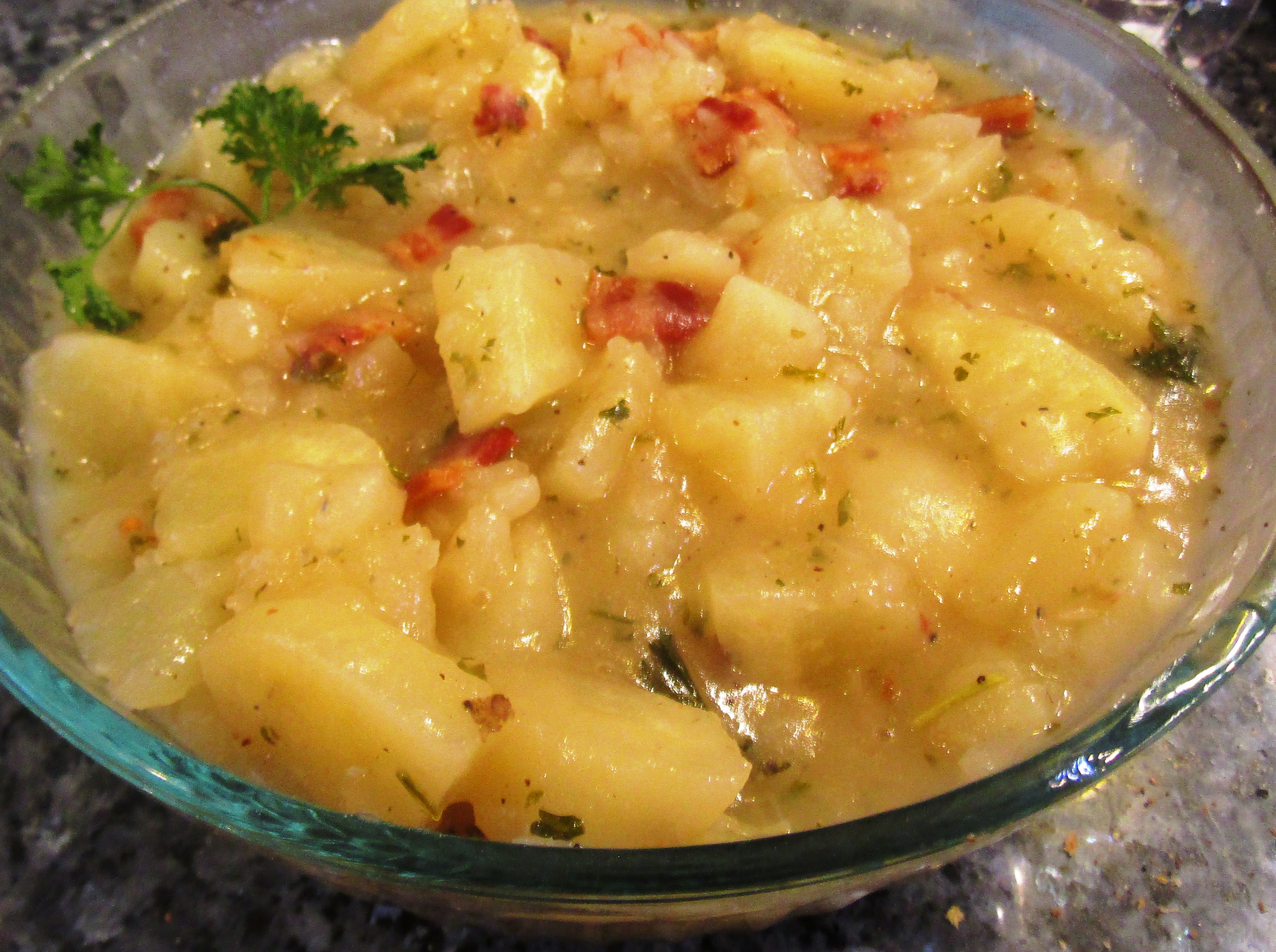 12  Servings  
2 1/2 pounds red potatoes          
3/4 cup sugar
3/4 cup white vinegar
1 1/2 cups water          
1/2 pound thick bacon
1/2 medium white onion, chopped
2 tablespoons flour
  salt and freshly ground pepper, to taste
2 tablespoons fresh parsley, finely chopped
1 teaspoon Lawry's seasoned salt, (more or less to taste)
  additional sugar, if necessary to taste  
Boil the potatoes until tender; drain in a colander and let sit until cool enough to handle.  Peel and quarter the potatoes; set aside.  
Mix the sugar, vinegar, and water together; stir until the sugar is dissolved and set aside.  
Cut the bacon into 1/4" slices and fry in a large deep skillet until very crisp; transfer to paper towels to drain.  In the same skillet with the bacon drippings add the onion and sauté until tender.  Whisk in the flour and cook over medium heat for a minute or two.   Gradually pour in the reserved sugar/vinegar mixture, whisking constantly, until slightly thickened.  Add 1/2 teaspoon salt and 1/4 teaspoon pepper to the mixture, reduce heat to medium-low, and stir in the parsley and seasoned salt; taste and add additional sugar if necessary.  
Keeping the skillet over medium-low heat, slice the quartered potatoes into the sauce, a few at a time, warming them thoroughly.  As each batch of potatoes is warmed, transfer them to a serving bowl.  Repeat, until all potatoes have been sliced into the sauce, warmed, and placed in the serving bowl. Taste for seasoning, adding more salt and pepper if necessary. Sprinkle the crisp bacon on top and serve immediately.  
You Should Also Read:
The Great Potato Salad Debate!
Perfect Picnic Dishes - Fast, Easy, Healthy!


Related Articles
Editor's Picks Articles
Top Ten Articles
Previous Features
Site Map





Content copyright © 2022 by Karen Hancock. All rights reserved.
This content was written by Karen Hancock. If you wish to use this content in any manner, you need written permission. Contact Karen Hancock for details.