Goose Island - Grand Slam of Beers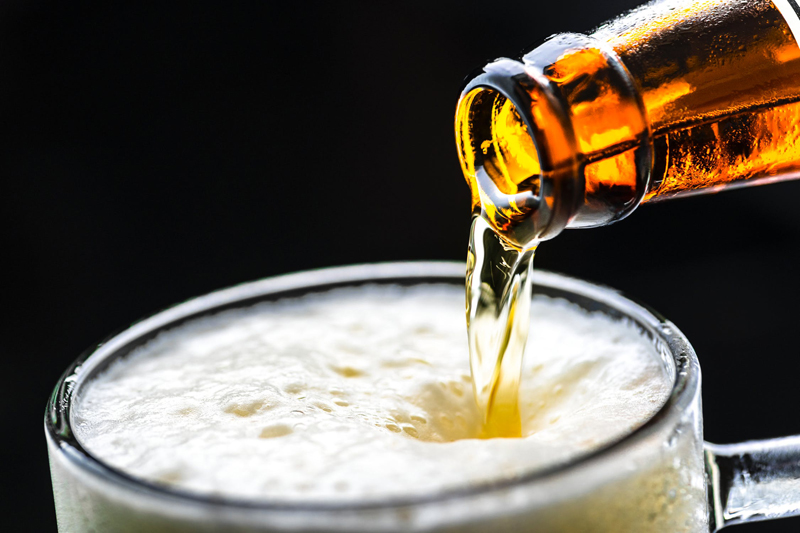 As the days grew shorter and the growing season came to an end, the Anglo-Saxons and the Dutch gathered their harvest, a cache in which tobacco leaves served as the chief foundation. Those who were bravest would smoke these fresh leaves, and were known as "Herffidiols," derived from the Welsh word meaning "to dare." "Haerfest" celebrated the ancient Anglo-Saxon observance associated with this mnal season, or end of the summer. This term "Haerfest" gradually made its way into the American Indian Language of Taino in pre-Columbian America, where it worked its way into common usage among the influential farming community.

Harvest Ales typically find their way into the brewing community at the end of the summer in late August. These are usually wet hopped with freshly plucked cones that lend a distinctive bitterness to the brew, or may be a combination of wet and dry hopping.
Goose Island Harvest Ale
This year 2007, Goose Island of Chicago, Illinois, USA, chose to introduce Harvest Ale American-style ESB, (Extra Special Bitter), into the late summer season, brewed with freshly harvested Cascade hops from Washington state.

The aroma immediately grabs your attention with a citrusy orange-grapefruit profile that merges with dominant malts and light brown sugar. Images of spicey pineapple upside-down-cake loom into your thoughts, but the sweetness associated with such a sugary delight is tempered. A thick moussy, meringue-like head locks in aromas from the crystalline, coppery body beneath it. This vanilla-cream head lasts forever, dissipating slowly and leaving solid rings of lace on the glass, as if marking each gulp.

Sweetness touches the lips, accompanied with a dominant malt in the middle. An assertive bitter bite balances the malt. Roasted chestnuts, oakiness, oranges, mangoes, grapefruit and caramel emerge on the tongue. This is highly drinkable, and seems to whet the appetite. Imagine pairing this Harvest Ale with the caramelized flavors of a freshly roasted turkey or goose, dressed with candied apples and mandarin oranges!

Goose Island IPA

The Goose kept calling, and I found myself immersed in a sea of euphoric beer. As I uncapped Goose Island India Pale Ale, the adrenaline began to surge. Thoughts of an alpine forest loomed big and bold on the pour. It drew me in, while the secondary aroma of grapefruit had time to make a curtain call. Clear and amber, this one also showcases a tight, moussy, tan head that persists. As it dissipates, it is like watching snow melt, and leaves a complex pattern of hand-tatted lace on the glass.

A boxing match of hops hits the tastebuds straight on, then pulls back slightly, allowing the malts to sneak in. Supercharged grapefruit and pine needles soar out of the middle, resiny and assertive. It coats the lips, leaving an impression on the inner recesses of the mouth. A hophead's delight in this excellent IPA!

Goose Island Pere Jacques

Abbaye Notre Dame de Saint Remy in Belgium – the home of Rochefort Ales – is perhaps, the most strikingly beautiful of all the Trappist breweries. In "The Brewmaster's Table," Garrett Oliver calls it "a Jules Vernesque fantasy in copper," but as you walk around the grounds, the echoes of a medieval past announce themselves in ivy covered buildings of red brick, topped with turreted roofs that call to mind inverted sugar cones in a land of imagination. It is rare to gain entrance to any Trappist brewery, but on one such trip to Belgium, Brewmaster Greg Hall became privy to the generosity of Abbot Pere Jacques. So impressed was Hall that he designed a Belgian ale in celebration of this remarkable visit.


Use a chalice to highlight the seductive characteristics of Goose Island Pere Jacques. Upon opening the bottle, the air fills with the sweetness of dark rock candy, conjuring up childhood images of anticipation as I kept a daily vigil of the angular crystals magically forming on a string. My mother had swirled together that secret solution and poured it into a glass jar, a touch of science with a happy ending. My mind drifts, snapped back by the complex aromas of fruit and spices, so reminiscent of fine Belgian yeast.

Pere Jacques glows as a hazy sunset-orange with edges of walnut. Its tawny foam begins in a thick layer, but gently settles to a ¼ inch layer, and eventually settles as a veil on the surface.

The taste buds are treated to a holiday. Fruit cake-style flavors of burnt sugar, cinnamon, candied fruit, pistachios and almonds cover the palate. Then more spices emerge – allspice, star anise, black licorice – with plums and molasses. Alcohol seems to linger in the background, on the edge of barleywine-styled ales. A warm fire would be a perfect setting for this gem, supplemented with a selection of imported cheeses, Trappist jellies, and nut breads. It would go equally as well with Osso Bucco or a standing rib roast. I may even choose to warm Pere Jacques, and consume it as a slow sipper.

Goose Island Matilda

Legend has it that the Countess Mathilda of Tuscany dropped her wedding ring into a running brook in Belgiim. Distressed at her huge loss, she prayed with reverent devotion for a miraculous recovery. A fish surfaced with the ring in its mouth, and she declared the area the Valley d'Or, the inspiration for Abbaye Notre Dame d'Orval at Villers-devant-Orval in Luxembourg. So powerful is this story that it also inspired Goose Island's Matilda, a cleanly aromatic Belgian ale with complex layers of apricots, leather, flowers, clover, and spice.

Goose Island Matilda pours a hazy amber with hints of orange. A voluminous orange-tan head dominates the glass like the pouf on a root beer float, and is slow to settle. Dipping a finger into the head releases additional aromas of apricot. Flavors titillate the tongue with spices that could conquer Hannibal's army, while apricots, orange, and a shadow of citrus float through it all. Some flowery notes emerge, with a sliver of leather and horse blanket. Distinctive Belgian yeast has a way of creating magic like this. Light carbonation adds to the zest.

Both Pere Jacques and Matilda possess hidden powers within the bottle. These emerge as young palatial delights, but may be aged in a temperature and light controlled beer cellar for further development of gustatory pleasure. As they age, the flavors will become smoother and more rounded. You may find that they take on a more sherry-like character. The fun is in the surprises that maturity holds…and maturity can deliver the pleasure of a lifetime!

Cheers!
 
You Should Also Read:
Beer for Women - Belgian Biere Babes
Trappist Beer - The Select Seven
Sweet Seduction - English Brown Ale , Mild Ale & ESB


Related Articles
Editor's Picks Articles
Top Ten Articles
Previous Features
Site Map





Content copyright © 2023 by Carolyn Smagalski. All rights reserved.
This content was written by Carolyn Smagalski. If you wish to use this content in any manner, you need written permission. Contact Carolyn Smagalski for details.