Nippon Craft Beer Festival & Toshi Ishii Honor Michael Jackson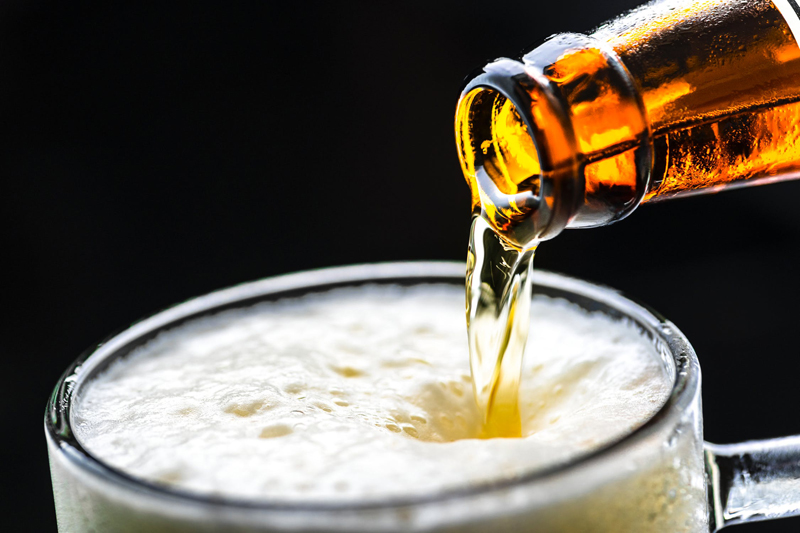 Some people see beer as simply a beverage that can lull them into oblivion. As I sit here, quaffing a few domestic and Belgian favorites, the thought of beer as the catalyst to civilization hovers over my head. I am not dreaming. Nor am I drunk or high or impaired in any way. Beer is a common thread that pulls people and cultures together, attaching us to antiquity, to brewing-women in Scandinavia and the Ukraine, to uncommon alliances, to brewers in Asia, to historic struggles between royals and governing bodies, and to the pleasures of the spirit.

I journeyed to London in August of 2006, for a bit of R & R in the delightful company of Beer Hunter Michael Jackson, during the commencement of the annual Great British Beer Festival. The evening before the festival, we attended a Brewers' Reception at the White Horse at Parson's Green, presented by Mark Dorber, who had been proprietor of the White Horse for over 20 years. The reception included brewers, members of the British Guild of Beer Writers, publishers and editors, and CEOs. Throughout the course of the evening, some of the most memorable people in the European beer community introduced themselves to me – (the late) John White of White Beer Travels; Jamie McCrorie, Founder of the Craft Brewing Association; Kees Filius of Bier & Co., Amsterdam; Fred Waltman of the Franconia Beer Guide; Theo Flissebaalje, Editor – PINT News in Amsterdam; Mike Hardman of CAMRA; and two powerful catalysts within the Asian beer community – Hiroyuki Fujiwara, Editor-in-Chief of Beer & Pub Magazine in Tokyo, and Toshiyuki Ishii, COO & Brewery Director of Yo-Ho Brewing Co, in Nagano, Japan.


At one time, I might have thought that beer did not secure a strong following in the Far East – places like Thailand or Japan, for instance. It had been so heavily regulated by governments of the past that overt experimentation in brewing was non-existent. When de-regulation loosened the beer industry in 1994, crafters like Toshi Ishii took western beer seriously. Toshi came to Stone Brewing Company in San Marcos, California from 1998 to 2001 to gain a deeper understanding of American extreme craft brewing and glean invaluable experience in all aspects of running a successful brewery. He returned to Japan in 2001 to sculpt Yo-Ho Brewing into a World-class beer crafter. In 2005, Michael Jackson paid a visit to Toshi Ishii, validating this beer as one of his most valued selections, having added vintages of Yo-Ho Barleywine to his Rare Beer Club offerings.

The Nippon Craft Beer Festival 2007 was held in Tokyo on September 30, 2007 – the day of the worldwide Toast to Michael Jackson, who passed from our beer world one month earlier. In a heart-warming display of honor and respect, the organizers of the festival displayed a portrait of the illustrious Beer Hunter onstage, and toasted to his memory, perhaps the first toast of the day to the esteemed beer icon. Speeches were given by Toshiyuki Ishii, Brewers President; Ichiri Fujiura, founder of the Tokyo Real Ale Festival; Tatsuo Aoki, proprietor of Beer Club Popeye and Event Advisor; and Bryan Harrell who authored the Japan section of Eyewitness Companions Beer, the final beer book associated with Michael Jackson as Editor-in-Chief. Each speaker presented a discourse on the effect of Michael Jackson in moulding their own view of beer, including the establishment of Beer Festivals that continues to grow in size and importance throughout the country.


Mr. Harrell was the last onstage speaker during the tribute to Jackson, eloquently presenting the tribute, while explaining the custom of the toast to an attentive and reverent crowd. So many heads, bowed in the silence of the moment… a dynamic display of the monumental influence of the humble beer writer from England. "Kampai" solidified the tribute as the final stroke of the toast.

During the course of the Nippon Craft Beer Festival, 18 breweries who participated signed their personal tributes to Michael Jackson, some in English, or German, or Japanese – on the back side of a portrait of Michael that was to be presented to this Beer Fox only a few short weeks later. Toshi Ishii carried two disks, filled with photographs of the Nippon Craft Beer Festival 2007 and this treasure, protected in a tube as white as the head of a Belgian Ale, to the Great American Beer Festival in Denver, Colorado, where he sought me out among the crowd of 46,000 beer enthusiasts.


The moment was stellar!

Between the Toshi's pride in his final act of reverence to Michael Jackson, and a hug of condolence that he so willingly gave to me, our eyes filled with tears for the man who touched our souls, each in ways that would stay with us for a lifetime.

Photos courtesy of Toshi Ishii: (from top) Festival goers at Nippon Craft Beer Festival 2007; Toshi Ishii tributes Michael Jackson; Nippon Craft Brewers at 2007 Event, representing (not in order) Baird Brewing; Daisen G Beer; Echigo Beer; Fujizakura Kogen; Hakusekikan; Harvest Moon; Hida Takayama; Hitachino Nest; Isekadoya; Iwate-kura; Loco Beer; Minoh Beer; Sankt Gallen; Shiga Kogen; Shonan Beer; Swan Lake; Tazawako Beer; Yona Yona;

Photo courtesy Tom Dalldorf: Tom Peters, Beer Fox Carolyn Smagalski & Toshi Ishii with Michael Jackson portrait at GABF 2007

Cheers!
 
You Should Also Read:
Real Ale in Japan - Yona Yona Beer
Beer & Pub Magazine - Tokyo Style
Real Ale - Cask Conditioning - Mark Dorber Style


Related Articles
Editor's Picks Articles
Top Ten Articles
Previous Features
Site Map





Content copyright © 2022 by Carolyn Smagalski. All rights reserved.
This content was written by Carolyn Smagalski. If you wish to use this content in any manner, you need written permission. Contact Carolyn Smagalski for details.