Celebrator Beer News 20th Anniversary Mardi Gras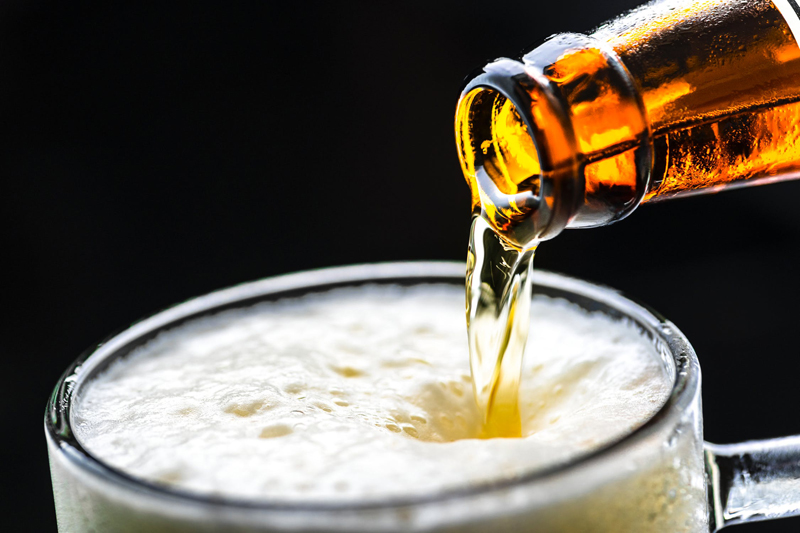 Celebrate: "To perform, publicly and formally; to commemorate with ceremony and festivity; to honor or praise publicly; to mark [a happy occasion] by engaging in some pleasurable activity." From the Latin celebratus, meaning to frequent or go in great numbers to honor.

Ask the Merriam brothers or Noah Webster to clarify "celebrate" with an example, and they might just show you a film of Tom Dalldorf, Editor/Publisher of Celebrator Beer News. After 20 years engaging in the pleasures of beer, it comes as no surprise that Mr. Dalldorf can talk passionately about a beer scene that has evolved from the homogenizing of the American lager to the explosion of the art of microbrews and craft beer.

What started out in 1988 as the California Celebrator founded by Bret and Julie Nickels, has flown through a thrill ride of 20 years to become the benchmark of beer industry news. Celebrator Beer News – sassy and spirited, serious and opinionated, with Dalldorf at the helm since 1990.

It couldn't have been easy. Michael Jackson wrote his first article for Playboy in 1983 at a time when microbreweries were just on the edge of development in America, only five years before California Celebrator came on the scene. At the time, curiosity about the flavors in beer, ingredients used, and styles available was just beginning to slither across the landscape.

Summerfest 1989, Celebrator's first large event, drew beer celebrities Michael Jackson, the Beer Hunter and author of The World Guide to Beer, and Jack Erickson, founder of Red Brick Press (1986), a publishing company focused on the microbrewing industry, to the forefront of the California beer scene. A year later, Tom Dalldorf took charge, and began leading Celebrator Beer News into uncharted territory. He arranged Beer Tours to London, Dublin, and Germany (for Oktoberfest), performed with the Rolling Boil Blues Band, created homage to Herb Caen of "The Chronicle" with his humorous column "Hop Caen", and expanded coverage to include national and international beer industry news.

In 1995, Dalldorf arranged the outrageous 2-week "Iron Liver Tour" with his friend and colleague, Michael Jackson - a tour that showcased a whirlwind buffet of every known brewery in California at the time. This extended trip nourished full-length interviews with the Bard of Beer, and sparked new ideas that eventually turned CBN into a brewspaper with classy coated covers, semi-gloss center posters, and power-hitting advertisers. Dalldorf recounted all the festivals, from the Great American Beer Festival in Denver to the Great Alaska Beer & Barley Wine Festival in Anchorage; then onward, from Oktoberfest in Munich to the Great British Beer Festival in London. He traveled across the ice fields of Alaska and the rice fields of Thailand; savored the hop farms of Idaho and the challenging catacombs of Europe in search of great stories and meritorious beer. Saavy women journalists penned pieces on cigars and beer, or food and framboise, while globe-hopping "jurinalists" (with the silent "j") brought life to monthly tastings and the newest brews on the market. As with any American business, Celebrator Beer News endured through the roller-coaster rides, constant in its ups-and-downs, but delivering a power-punch of "whadda-ya-know" in bi-monthly portions to those focused on beer.

Beerapalooza came onto the scene in 2001, a weeklong celebration of beer that has become an annual February event in the San Francisco Bay Area of California. It begins with a Double IPA Fest at the Bistro in Hayward, followed by Beer and Cheese Tastings at Rogue Ales Public House, Beer & Chocolate Dinners with Chef Bruce Paton at the Cathedral Hill Hotel, and the Annual Barleywine Festival at the Toronado in San Francisco, hailed as one of the most significant Barleywine fests in the country.

The crème de la crème is the Celebrator Beer News Party that wraps up the weeklong festivities. For 2008, Celebrator Beer News celebrates on Sunday, February 17th, with the 20th Anniversary Party Brewers Mardi Gras at the Oakland Convention Center at the Marriott Hotel in Oakland, California, USA. With the devilish theme of Mardi Gras, costumed beer enthusiasts seize the chance to win $100 for the most ingenious costume, while swinging to the raucous and freewheeling individualism of two All-Star music combos: the Dixieland Jazz Band and Zydeco Band. Legging it through brews from more than 40 breweries, there seems to be no end to the 200+ liquid gold and fluid flavors that are sure to stimulate and satiate the palates of true beer lovers...and who knows what they'll do for beads?!

Brewers Mardi Gras runs from 4:00 to 8:00 p.m. with a VIP/Media Session starting at 3:00 for those who seek an extra splash to the beer experience with limited-edition brewers reserve beers. For collectors of breweriana, a silent auction of select bottles and memorabilia will benefit the California Small Brewers Association. For more information, log on to Celebrator.com

Photo courtesy: Tom Dalldorf, Celebrator Beer News

Cheers!

 
You Should Also Read:
Celebrating the Celebrator - Tom Dalldorf
Beerapalooza & Brewer's Mardi Gras
Real Ale in Japan - Yona Yona Beer


Related Articles
Editor's Picks Articles
Top Ten Articles
Previous Features
Site Map





Content copyright © 2023 by Carolyn Smagalski. All rights reserved.
This content was written by Carolyn Smagalski. If you wish to use this content in any manner, you need written permission. Contact Carolyn Smagalski for details.