Tomme Arthur At Monk's Cafe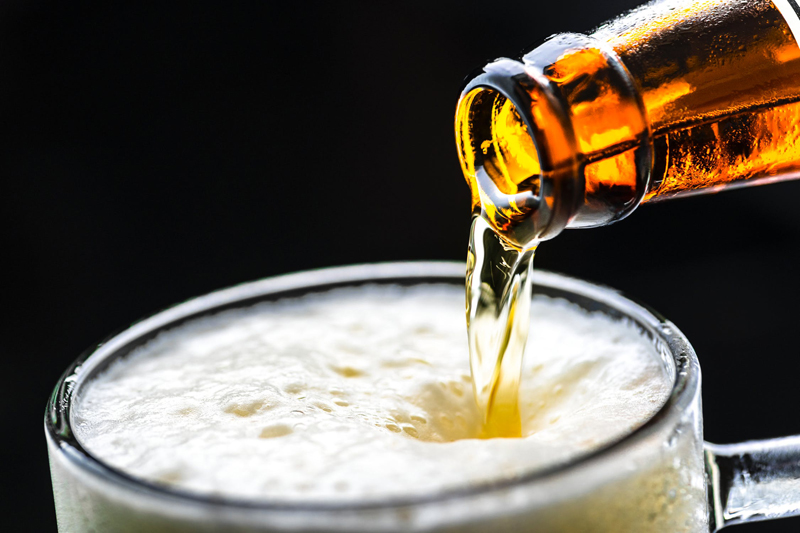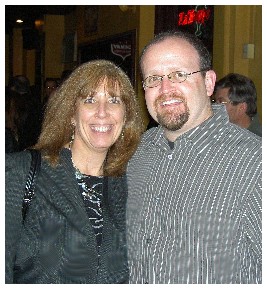 To a brewer and a restaurateur, magical pairings between drink and food is the key to magnifique. Warm aromas and sensuous pleasures create distinctive images that settle in the psyche of those who experience them, lingering and re-emerging at the mere hint of similarity, whether all-inclusive or obscure. When Brewmaster Tomme Arthur of Port Brewing/The Lost Abbey, San Marcos, California, merges his talent with Tom Peters, co-owner of Monk's Café in Philadelphia, the earth moves.

With his easy-going savoir-faire, Tom Peters knows how to orchestrate a beer dinner. Tuesday night, February 12th, 2008 was no exception. Even an ice storm that choked the Blue Route, Schuylkill Expressway, and both arteries of the Pennsylvania and New Jersey Turnpike would not keep a sold-out crowd from this magical triumph. In world-class style, Chef Adam Glickman and his entourage created an aria of flavors that lit-up the artistry of Tomme Arthur's legendary beers.


Tomme Arthur clearly strives to infuse his imaginative mind into every beer he brings to the table. His approach is from a Belgian perspective, with the added indulgence of risk. He brews, blends, and ages his beers with an offbeat style that stands poles apart from accepted traditional temperance. He readily admits that he has had some failures, but the successes far outweigh the occasional downturn. His approach leads to award-winning beer, as demonstrated at the Great American Beer Festival in October, 2007, when he captured the title as Small Brewing Company and Small Brewing Company Brewer of the Year with two Golds and one Silver Medal. Despite his enormous success, Arthur shines with the assertive strength, yet quiet subtlety, of a finely seasoned beer.

For this Monk's Presentation, our Lost Abbey Dinner began with Skate Wing, drizzled in brown butter sabayon sauce. Lost Abbey Red Poppy, a Flanders Red Oud Bruin inspired by Rodenbach, accompanied this gourmet opener. As the baby brother of Cuvee de Tomme, Red Poppy glows a cloudy mahogany, with aromas of sour sherry, spices, sweet caramel and oak. Complex flavors emerge to awaken the palate.


Our second course presented a feature of Cod Fritter and Manchego Cheese Fritter with smoked paprika aioli and romesco sauce. Described as the "sweet taste in your lover's mouth – at once familiar and foreign," this assertive Spanish delight pairs perfectly with Lost Abbey Cable Car. Cable Car is a limited edition Wild Ale, produced for the Toronado's 20th Anniversary party in San Francisco. Arthur only produced a half-barrel, and although it never went into distribution, Arthur poured it here for the first time outside the Toronado. Cable Car glistens chestnut orange with a veil of white and spotty lacing on the glass. Resplendent with the aroma and flavors of fruit – peaches, oranges, and cherries - and accented with malt, it is gently tempered by a tart profile, oak, and funkiness. It has a clean mouthfeel and dry finish.


The only non-barrel aged beer, Gift of the Magi, arrived with Chicon - Belgian endive wrapped with Ardennes ham, then napped with a béchamel sauce. Gift of the Magi is a Belgian Strong Pale Ale, 9.5% ABV, and brewed for the holiday season. Golden orange highlights seem to light the glass, as the malty profile blends with yeasty spiciness. Bittered with the bark of frankincense and myrrh, its individuality plays in a ring of excellence with the fleshy richness of the Chicon.

Lost Abbey Amazing Grace, a Barrel-aged Dubbel, entwines its complex flavors with the soft fullness of Monk's elegant scallops, dressed in beet jus. Amazing Grace is the barrel aged version of Lost & Found, developed and aged for over a year in oak barrels. This 9.5% wonder has flavors of figs, raisins and other dark fruit, with robust malt, funk, and a dry finish.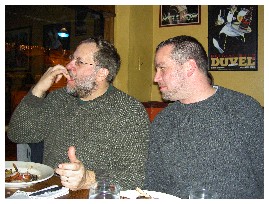 Rack of Wild Boar with root vegetable sauce accompanied Veritas 003, one of a progressive range of blended beers created by Tomme Arthur for his "Truth Series." What better way to expose the brewer and his craft than with a blended-and-aged series that holds no precedent? Veritas 003 is a blending of four world-class beers: Angel's Share, with its characteristic bourbon and chocolate profile; Cuvee, the oak aged version of Cuveer de Tomme; barrel-aged Lost and Found; and a sour-based beer. Its rich, ruby red color makes an emotional connection visually, while its fruity, bourbony, barleywine personality opens the palate to the tender strength and satiating qualities of the wild boar.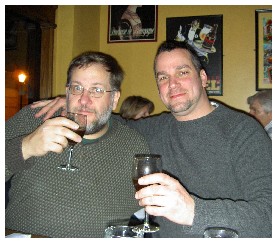 Sacher Torte, one of the most famous Viennese culinary specialties ever created, served as the sweet ending. Traditionally, the recipe for Sacher Torte is a well-kept secret, but whispers within gastronomic circles have given us this rare treat. The "dry" attributes of this dessert demand that it be served with an apt suitor, and Lost Abbey Angel's Share commands respect. With an 11.5% ABV, Angel's Share echoes the chocolate of Sacher Torte, while adding an alcoholic touch of bourbon-barrel assertiveness.

This Beer Fox highly recommends your attendance at one of Monk's Café Beer Dinners when you are in Philadelphia, Pennsylvania. Monk's has scheduled a broad range of Beer Dinners and events during Philly Beer Week, March 9 through March 16, 2008. For information, visit the impressive Monk's Website.

Photos (from top): Beer Fox Carolyn Smagalski and Brewmaster Tomme Arthur; Curt Decker of Nodding Head Brewery & Restaurant with Brewmaster Tomme Arthur; (next 3 photos) Beer Journalist Lew Bryson enjoys Wild Boar with Matt Guyer of the Beeryard in Wayne, PA; Lew Bryson and Matt Guyer toast to Tomme Arthur

Cheers!
 
You Should Also Read:
Philly Beer Week - The Start of a Tradition
Lucy Saunders - The Best of American Beer & Food - Cookbook with Recipes
Eight Essential Beer Glasses for Your Bar


Related Articles
Editor's Picks Articles
Top Ten Articles
Previous Features
Site Map





Content copyright © 2018 by Carolyn Smagalski. All rights reserved.
This content was written by Carolyn Smagalski. If you wish to use this content in any manner, you need written permission. Contact Carolyn Smagalski for details.