Bohemian Beer of the Czech Republic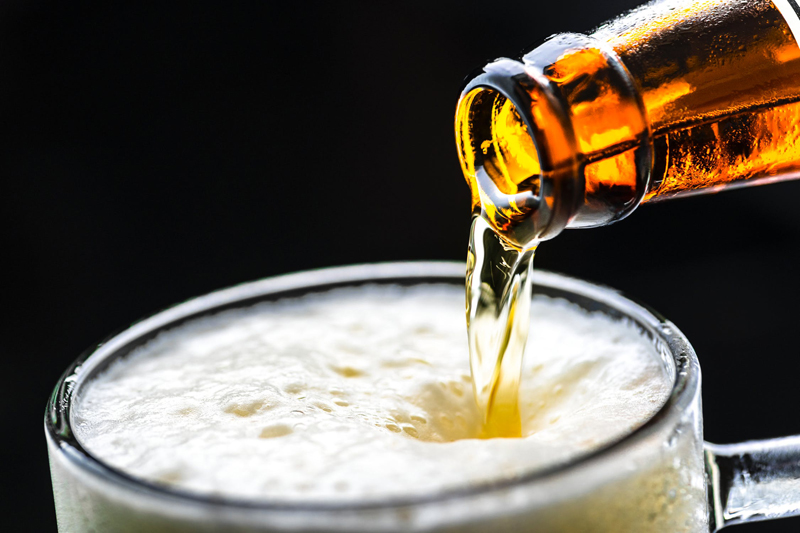 How much do you know about beer in the Czech Republic, with its rich Bohemian traditions? The Czech people are proud of their long heritage and traditional beer, as reflected in these FAQ's and examples of Czech beer.

Q. Who was František Ondrej Poupe ?

A. Bohemian František Ondrej Poupe used a thermometer and other measuring instruments in the brewing of beer in the 1700s. He was one of the first brewers to recognize the advantages of accurate temperature control and record-keeping.

Q. I recently saw a glass with the words "Plzeòský Prazdroj" on it. What beer is that?

A. In Czech, Pilsner Urquell is known as Plzeòský Prazdroj. It is characterized by a light, spicy bouquet and malty backbone. In German, Urquell means "the original source of."

Q. Why are Czech hops so world renowned?

A. Legend has it that Czech hops are particularly good because they were originally harvested by the tender hands of young women.

Q. No, really. What is so special about Saaz hops?

A. Saaz or Saazer hops take their name from the town of Žatec, the center of the main hop-growing region in the Czech Republic, in the northwest part of Bohemia. These hops are low in the alpha acids cohumulone and adhumulone and the harsher beta acids lupulone, colupulone, and adlupulone, but are rich with tannins, resins, and essential oils for fragrance. Records of hop-growing in the region date back to 859 AD.

Q. Were these hops exported to other regions in Europe?

A. The Forum Humuli, Hamburg's famous hop market, traded Bohemian hops, shipped down the River Elbe, as early as 1101 AD.

Q. What about the barley? Does barley grow well in the Czech Republic?

A. The Czech Republic is famous for its malting barley. This strain of barley is particularly sweet, with clean, delicate flavors. The largest region for barley cultivation is in the center of Moravia in the Hana District.

Q. According to official records, where and when was the first brewery opened in the Bohemian region?

A. Official town records indicate that the first brewery in Bohemia was in Cerhenice and was opened in 1118 AD.

Q. Did "Good King Wenceslas" really exist?

A. King Wenceslas the Holy was a real person – a respected leader in the 10th century who was canonized as a saint. King Wenceslas II established the town of New Plzen on the Redbuza River. At the founding of the town in 1307, King Wenceslas granted 260 citizens rights to brew beer and sell it from their houses.

Q. Tell me about Bohemian Pilsener beer and its development.

A. When an architect named Stelzer built Mestansky Pivovar(Citizens' Brewery) on the banks of the Redbuza River in Plzen, he hired a brewer named Josef Groll to be Master Brewer. Groll's new style of beer, golden and clear in color, was a sharp contrast to the dark beers of the time, and made its debut in 1842.

His unique process began with the soft water of mineral springs that were a characteristic of the natural resources of the region. The brewery had its own floor maltings, which assured freshness and control in the treatment of its locally grown barley. Triple decoction in the brewhouse produced an extremely thin mash, and the development of a direct-flame brew-kettle boiled wort in a process that eliminated haze-producing proteins. A proprietary lager yeast was smuggled out of the German Bavarian region by a monk who was one of Groll's loyal friends. Czech Saaz Hops blossoms were added three times. The beer was then lagered in pitch-lined oak vessels that were shaped like large barrels, and maintained in cool, dark, underground tunnels that were 32-38° F. The Czechs associated this beer with the city of Plzen, but did not recognize it as a "style" of beer, as we view it today.

Q. How did the town of Budweis become associated with brewing great beer?

A. During the 1500s, Budweis supplied the Royal Bohemian Court with beer, which became known as "the Beer of Kings." Beer remains associated with Bohemia and is considered the drink of the higher classes, while wine, the lesser drink, is more closely associated with Moravia near the Austrian vineyards.

Q. Budweiser is produced in the Czech Republic and in America, but by different brewing companies. What is the story behind this?

A. Although the Bohemian town of Budweis was crafting beer for centuries, it did not produce pale lagers until the mid 1800s. In 1876, Adolphus Busch in America had begun brewing beer using the name Budweiser, in honor of the famed beer region. He partnered with Carl Conrad who bottled and sold his beer. Carl Conrad trademarked the name in 1878, and Anheuser-Busch took over the rights in 1883. The American trademark was actually recorded nearly 20 years before Budejovicky Budvar in Budweis (known as Ceské Budìjovice after WWI), began producing their brand named Budweiser Budvar. (Budejovicky Budvar was not incorporated until 1895). In 1911, the Czech Budejovicky Budvar penned a legal document with Anheuser-Busch that still allowed its beer to be exported to the United States, but under the name "Crystal Beer."

In a 1939 agreement between the two companies, Anheuser-Busch was given exclusive rights to the Budweiser name, in exchange for a monetary settlement. With the constant volatility of European political occupation – first by the Germans, then by the Russians, followed by the demise of the Iron Curtain – the agreement that was once honored found itself on soft ground. Although it remained in place in North America, the legality of the agreement (including the borders that governed it) fell into debate in every country throughout Europe.

Despite a constant barrage of lawsuits from both sides, Anheuser-Busch retains rights to the name Budweiser in North and South America, and throughout most of Asia. Budweiser Budvar is sold in the USA as Czechvar, but retains the rights to exclusivity in many European countries, including Switzerland, Germany, and Norway. Many lawsuits are still underway. In recent years, Budweiser Budvar has picked up the additional support of CAMRA in the UK and Distinguished Brands International of Littleton, Colorado in the USA.

Q. What is Pivo?

A. Anheuser-Busch used the name "Pivo," the Czech word for beer, for a non-alcoholic drink during Prohibition in the United States – an unbroken association with Europe and the traditions of brewing, despite the restricted freedom to produce beer at the time.

Q. Does the Czech Republic make draft beer?

A. In the Czech Republic, a draft beer is one that is low strength (usually 3.2% ABV) and served on tap.

Q. What is so special about the Museum of West Bohemia and Ethical Museum in Plzen?

A. You can visit the historical underground passages, where six miles of lagering cellars were dug into sandy rock for the maturation of beer.

Q. What was possibly the first encyclopedic work on beer in the world?

A. Possibly the first encyclopedic work on beer in the world was a 1585 study by Bohemian Thaddeus Hájek, the royal doctor serving German Emperor Rudolf II in Hradèany Castle in Prague.

Q. Why do Czech beers typically have a number associated with the name of the beer?

A. Czech beer drinkers identify their choice of beer by the gravity of the beer, measured in degrees Plato, also known as degrees Balling. This system of measurement was developed by Bohemian scientist Karl J. N. Balling, and underwent further refinement under Fritz Plato.

Plato is a hydrometer scale that measures the density of beer wort in terms of the amount of fermentable sugars by weight. Degrees Plato differs from specific gravity in that it measures the amount of fermentable materials, and not just the density of wort as compared to water. Typically, but not always, the higher numbers indicate a stronger beer. "Specials" are expected to be between 13 and 20 degrees Plato (a specific gravity of 1052-1080). What does this mean? An average session beer of 4.2% ABV would average 10° Plato.

Q. Can you give a sampling of Czech beers that would be a good cross-section of the Czech style of brewing?

A. You might like to seek out the following:


Pilsner Urquell - Plzensky Prazdroj, Plzen, Czech Republic
Style: Czech Pilsener – 4.4% ABV – Deep golden jewel with a clear glistening body and thick, white head that settles to a veil; rich soft malts, and floral bouquet of Saaz hops



Czechvar (aka Budweiser Budvar) - Brewery Budweiser Budvar, Ceské Budìjovice, Czech Republic
Style: Czech Pilsener – 5% ABV – Golden and clear with a dense white head; bready and malty, with spicy, floral notes and a hint of sweetness.



Konrad Tmavý Ležák 11° - Pivovar Konrad/Pivovar Hols, Liberec Vratislavice, Czech Republic
Style: Schwarzbier – 4.4% ABV – Full bodied, dark mahogany beer with a creamy ecru head; rich flavors of chocolate and malt, with a touch of piney hops.



Havran (11° Tmavé-Ležák) - Pivovar Vyškov, Vyškov, Czech Republic
Style: Euro Lager – 4.5% ABV – Walnut brown body with massive, brown head like whipped mousse. The head is so dense it could support a coin on the top (Czechs might display bragging rights with this one). Flavors are of toffee, coffee, licorice, and herbs.



Staropramen Ležák - Pivovar Staropramen Pražské Pivovary, Prague, Czech Republic
Style: Czech Pilsner – 5% ABV – Coppery gold with small, tight head; Toasty malt character, with spiciness, pine, earth and sulphur dressing the background.



Tmavý Ležák - Pivovar Eggenberg, Èeský Krumlov, Czech Republic
Munich Dunkel Lager – 4.2% ABV – Garnet brown body suspends a rich, tan head; sweetness of Munich malts, with coffee, caramel and a smooth, polished slickness.
Cheers!
You Should Also Read:
Polish Beer & Eastern European Cuisine
The Seductive Style of Kölsch
Pilsner Urquell - A Bohemian Original


Related Articles
Editor's Picks Articles
Top Ten Articles
Previous Features
Site Map





Content copyright © 2022 by Carolyn Smagalski. All rights reserved.
This content was written by Carolyn Smagalski. If you wish to use this content in any manner, you need written permission. Contact Carolyn Smagalski for details.