Beer and Drink Quotes - Short One-Liners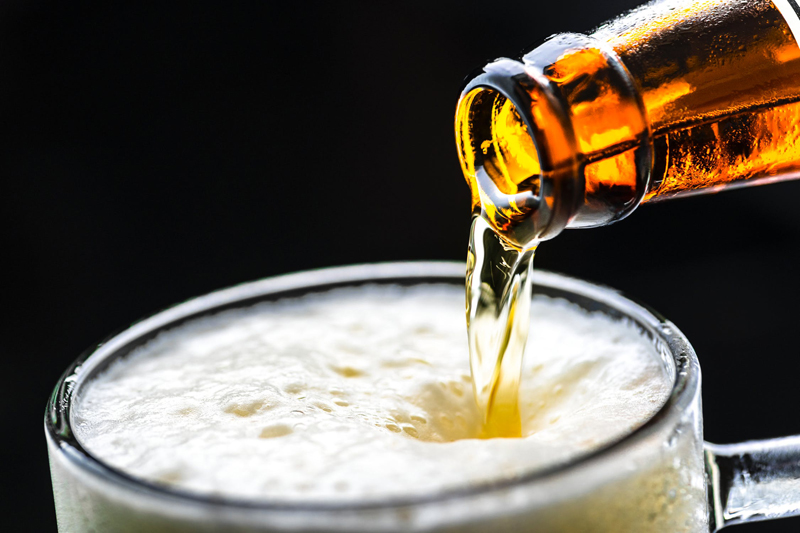 Beer quotes are fun, and one-liners are often the best medicine for provoking thought.  They make great conversation starters, and are often used in movies as clever interjections:

"Never ask for 'a beer'." – Michael Jackson, the Beer Hunter (1942-2007)



"An intelligent man is sometimes forced to be drunk to spend time with his fools." - Ernest Hemmingway in 'For Whom the Bell Tolls'



"A bar is better than a newspaper for public discussion." - Jim Parker, discussing the importance of culture in a healthy pub setting



"I never met a pub I didn't like." - Pete Slosberg, Pete's Brewing Company Founder



"Life, alas, is very drear. Up with the glass! Down with the beer!" - Louis Untermeyer



"Beer makes you feel the way you ought to feel without beer." - Henry Lawson



"I work until beer o'clock." - Steven King



"I'm off for a quiet pint – followed by fifteen noisy ones." - Gareth Chilcott



"There is nothing for a case of nerves like a case of beer." - Joan Goldstein



"A drunk man's words are a sober man's thoughts." - Jena Legg



"When I read about the evils of drinking, I gave up reading." - Henny Youngman



"Twenty-four hours in a day; twenty-four beers in a case. Coincidence?" - Stephen Wright



"The problem with the world is that everyone is a few drinks behind." - Humphrey Bogart



"Well I woke up this mornin' and I got myself a beer." - Jim Morrison

A note for those who want the real facts: This is actually one of the most mis-quoted beer phrases since Morrison's song was published. His quotation is actually, "Well I woke up this mornin' and I got myself a beard." According to the book, Light My Fire, by Morrison's colleague Ray Manzarek, the song chronicles Morrison's waking after an alleged three weeks of drug-induced sleep.



"Work is the curse of the drinking classes." - Oscar Wilde



"Hoppiness is Happiness." – Victory Brewing Company Hop Wallop label



"I will make it a felony to drink small beer." - Shakespeare Henry IV



"If God had intended us to drink beer, He would have given us stomachs." - David Daye



"Actually, I'm a drinker with writing problems." - Brendan Behan



"He was a wise man who invented beer." - Plato



"Beer: The cause of, and solution to, all of life's problems." - Homer Simpson



"They who drink beer will think beer." - Washington Irving



"God has a brown voice, as soft and full as beer." - Anne Sexton



"An oppressive government is more to be feared than a tiger, or a beer." - Confucius



"How much beer is in German intelligence?" - Friedrich Nietzsche



"A woman drove me to drink and I didn't even have the decency to thank her." - W. C. Fields



"Teetotallers lack the sympathy and generosity of men that drink." - W.H. Davies



"I drink when I have occasion, and sometimes when I have no occasion." - Miguel De Cervantes



"I do not drink more than a sponge." - Rabelais, 17th-century French satirist



"I decided to stop drinking with creeps. I decided to drink only with friends. I've lost 30 pounds." - Ernest Hemingway



"It takes only one drink to get me drunk. The trouble is, I can't remember if it's the thirteenth or the fourteenth." - George F. Burns, American comedian (1896-1996)



"The hard part about being a bartender is figuring out who is drunk and who is just stupid." - Richard Braunstein



"Adhere to Schweinheitsgebot: Don't put anything in your beer that a pig wouldn't eat." - attributed to David Geary



"Sir, if you were my husband, I would poison your beer." - Lady Astor to Winston Churchill, to which he replied, "Madam, if you were my wife, I would drink it."



"Beer: So much more than just a breakfast drink." Sign at Whitstran Brewery, Prosser, Washington, USA



"You can't have a Real Country unless you have a beer and an airline - it helps if you have some kind of a football team, or some nuclear weapons, but at the very least you need a beer." - Frank Zappa



"An Irishman is the only man in the world who will step over the bodies of a dozen naked women to get to a bottle of stout." – Anonymous



"Not all chemicals are bad. Without chemicals such as hydrogen and oxygen, for example, there would be no way to make water, a vital ingredient in beer." - Dave Barry



"Relax. Don't worry. Have a homebrew." – Charlie Papazian



"We'll raise up our glasses against evil forces singin': Whiskey for my men, and beer for our horses." - Toby Keith and Willie Nelson



"A good local pub has much in common with a church, except that a pub is warmer, and there's more conversation." - William Blake
Although this one last poem is not about beer, it is one of my all-time favorites, by a sagacious and brilliant wit, a member of the Algonquin Round Table in New York City:
"I like to have a Martini
Two at the very most-
After three I'm under the table,
After four I'm under my host." - Dorothy Parker(1893-1967)
Cheers!
Beer Is Proof God Loves Us: Reaching for the Soul of Beer and Brewing
- Does beer have soul? You bet it does, and Charlie Bamforth has a distinctive way of presenting its history, direction, and future

300 Beers to Try Before You Die!
- The inimitable Roger Protz presents beers that simply must be a part of your life

 
You Should Also Read:
Eight Essential Beer Glasses for Your Bar
Art of the Toast - Customs and Best Phrases for Toasting
Quotes About Beer & Drink


Related Articles
Editor's Picks Articles
Top Ten Articles
Previous Features
Site Map





Content copyright © 2022 by Carolyn Smagalski. All rights reserved.
This content was written by Carolyn Smagalski. If you wish to use this content in any manner, you need written permission. Contact Carolyn Smagalski for details.