Jim Koch Presents Samuel Adams in Philadelphia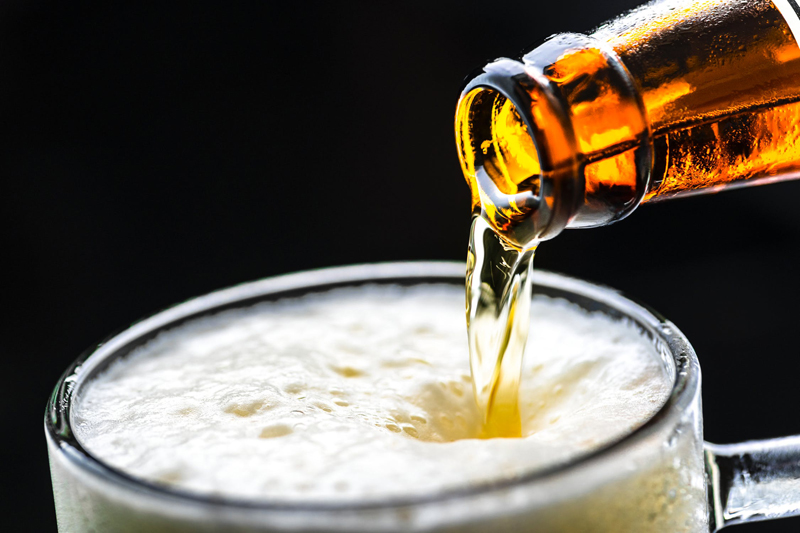 My train was running late. "Signal problems," they said. It didn't much matter. I was headed to Monk's Café at 16th and Spruce Streets in Philadelphia for a Samuel Adams Dinner, presented by the energetic Jim Koch, founder of Boston Beer Company. Dinners at Monk's rarely start "on the dot," and I estimated my behindedness at only fifteen minutes. I could catch up. My brain suddenly became aware of my heeled attire, clacking on the pavement at a furious clip. Other bodies seemed to stand still as I carried on, weaving in-and-out, nearing the vibrant neon oval that announced my haven in the city. "Only fifteen minutes…time enough to meet and greet," I thought to myself.

The front bar was softly lit, but well enough for me to see that Jim Koch was already in the spotlight, his impish face engaged in a play that brought the audience into his world. Despite his "Casual Friday," schoolboy-looks and soft demeanor, it was not long before he began impressing us with his underlying business savvy, embellished with unexpected anecdotes, and his charming sense of humor.

This was American Craft Beer Week, and Koch promoted Sam Adams beers across the country without apology – from New York to Chicago, in Los Angeles, Denver, Philadelphia and Phoenix, San Diego and Washington DC. Of course, without a clone, he did not present them all single-handedly, but his thoughts were in each location as surely as he was physically in front of our eyes.


Chef Adam Glickman of Monk's Cafe had been on-the-go with Jim since early that morning. On Fox 29 TV, they had done a segment about beer and food pairing, with Glickman cooking his White Pepper Crusted Scallops, Duck Sate, and Honey/Coffee Lacquered Lamb Lollipop on the set. As soon as the filming completed, Chef Adam was off to coordinate the ingredients and precision necessary for tonight's full, seven-course dinner, each masterfully paired with Samuel Adams Beers.

This evening, Koch spoke of his Sam Adams Summer Beer (on draft) - an American Wheat, slightly cloudy, brewed with lemon zest from the Middle East and a secret ingredient once considered to be an aphrodisiac: "grains of paradise." So well matched was it with the Scallop Course that I could have stayed with this one combo all evening. "It's more about matching intensities," he said. "Delicate flavors with delicate flavors; bigger malts with butter and sauces."

Boston Lager, also on draft, presented like a jewel in the bulbous, curvy glass designed by Koch. "He must have been thinking of a big-chested woman to design such a glass," I thought, as a smirk crossed my face. A thick, rocky head crowned the chestnut body like meringue. It was clean, malty and hoppy…and extraordinarily fresh!


Jim dramatically pointed out that beer clears the palate. It scrubs the inner mouth clean when creamy cheese coats the tongue. To demonstrate, we sampled Samuel Adams Honey Porter, paired with peach chutney and three cheeses: the assertive Pere Joseph, aged Bleu Cheese, and Boucheron, a goat milk cheese native to the Loire Valley in France. Honey Porter is crafted with Koch's "designer" heather honey from Scotland. First wort makes up the foundation (without sparging), and East Kent Goldings and Fuggles Hops are added, creating a cleansing quality that ends with a creamy smooth finish.

As we moved on to the sweet endings, we needed a beer powerful enough to stand up to the German Style Chocolate Cake with Cherry Chocolate Gelato. With a half pound of malt in every bottle, Double Bock emerges as a loaf of liquid bread - a big beer that demands a strong partner. It was a marriage of love. This was followed by the Grand Finale, presented with chocolate - the world-famous Utopias, with the highest alcohol content of any beer worldwide, at 25% ABV. Utopias goes where no beer has gone before. As an example, I give you my notes from that evening:

"Utopias absolutely finishes the evening…assaults the tongue – a boxing match on my taste buds, followed by a gentle opening to fruitiness and warmth. A sherry, cognac type of flavor continues and merges like a Sherpa climbing Mount Everest, taking me higher with each sip; compelling me to taste another bite of the chocolate that accompanies it – the tahitian vanilla, fleur de sel, or caramel. I am sad when my flute runs dry."

Cheers!

Photos are (from top): Sam Adams comes to Monk's during American Craft Beer Week, 2008; Jim Koch of Boston Beer Co. and Tom Peters of Monk's; Sam Adams Utopias.


You Should Also Read:
Creating Desserts With Beer
Taras Boulba at Monk's Cafe
The Grand Embellishment of Food with Beer


Related Articles
Editor's Picks Articles
Top Ten Articles
Previous Features
Site Map





Content copyright © 2022 by Carolyn Smagalski. All rights reserved.
This content was written by Carolyn Smagalski. If you wish to use this content in any manner, you need written permission. Contact Carolyn Smagalski for details.