Brewmaster's Mexican Beer Dinner at Iron Hill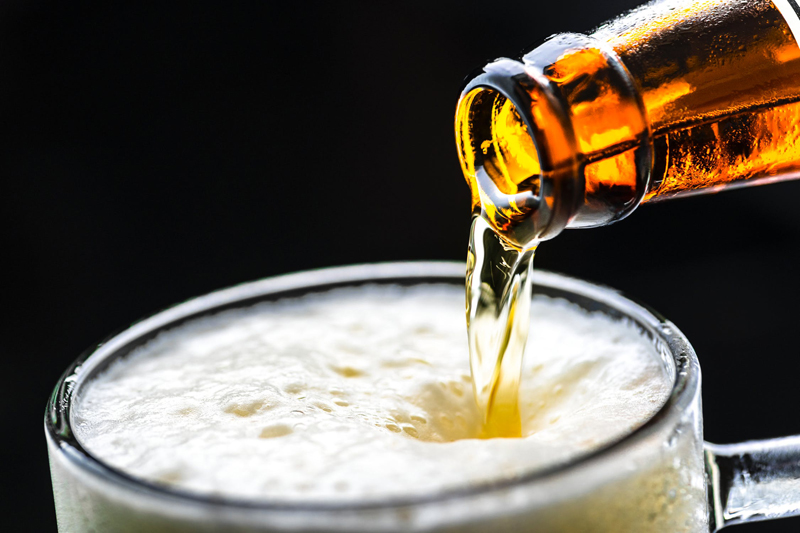 When you think Mexican, think Bethard and La Pierre. Although they may not sound like Masters of Mexican Gourmet pairings, their skill in the culinary realm of food and beer pairing is one to be emulated and enjoyed.

It is Saturday evening, July 19, 2008, and Iron Hill Executive Chef Dan Berthard has merged his talent with Head Brewer Chris LaPierre to present a summer Brewmaster's Mexican Beer Dinner at the Iron Hill Brewery and Restaurant - West Chester - at 3 W. Gay Street. The back bar welcomes you with chestnut warmth, candles aglow, like a garden party brought indoors. An eclectic mix of attractive women in alluring décolletage chat-it-up with men in stylish casual wear - all part of this charismatic, dynamic neighborhood.


Our dinner is a five course symphony for the most discriminating epicurean. This is not to say that an elite or snobbish air of hypocrisy surrounds the event…on the contrary, LaPierre and Berthard showcase the appetency between beer and food in an atmosphere of welcoming warmth.

For those unfamiliar with Mexican fare, a descriptive menu outlining the food and beer pairings accompanies each deftly folded cloth napkin and bulbous wine glass at the table. "Wine glass?" you ask. For those unfamiliar with beer dinners, most dinner beers are served in wine glasses. In this way, you are free to enjoy a balanced accompaniment with each course, without feeling bloated or overwhelmed. The focus is on maximum enjoyment.

Ceviche Playero serves as the opening act, an alluring interplay of rock crab and scallops, lightly tossed with tropical Philippine mango, pineapple, papaya, grapefruit, lime and plantain, merged with an edible Mexican root called jicama and pasilla chile, the "little raisin" of the chile family. This is paired with the assertive Strong Belgian Golden Ale, The Cannibal, a tribute to Belgian cyclist Eddy Merckx. To fill you in on the historical aspect, Merckx, known as "The Cannibal," devoured his competition throughout his cycling career. In 1969, he won his first Tour de France at the age of 24, and chomped up four others to display his overall dominance. He was the benchmark against which all others were measured, winning the Giro d'Italia, Le Tour, and the World Championship, within the time frame of one season in 1974.

Iron Hill's Cannibal has a 7.5% ABV, with tropical, citrusy fruitiness, exotic spice, and light effervescence on the tongue. It merges well in a parallel interplay with the Ceviche, allowing the peppery heat to play in the background.


Roasted Pork Tamale is beautifully presented in dried corn husks. Spread with masa of cheesy grits and topped with an herbal pork mixture, it is served with German Pilsner that quenches and cleans the palate.

Saison is known for its earthy, farmhouse spiciness, an able partner with the alluvium character of mushrooms and poblano cream. Add gulf snapper, marinated in Serrano pepper, and you are immersed in the origins of Puebla and Hidalgo, the mountainous regions of Mexico where the pepper originated.

To this point, our beers have been golden in color, with voluminous white heads that resemble whipped meringue. One could barely resist licking the surface, but my social graces make me hold back. The final two courses will be characterized by a beer of dark fruitiness that complements each partner.


Black and tan is open to interpretation in all segments of the world, and LaPierre is no different. His cuvee of bready, hop-rich Ironbound Ale and the sweet roasted character of Pig Iron Porter sets the stage for Pato en Clemole Castellano, a chile-rubbed duck breast, atop a mole (pronounced moh-LAY) made of chiles (both ancho and pasilla negro), pecans, sesame, hazelnuts, French bread, Mexican chocolate, Mexican canela (soft bark cinnamon), and a gourmet's basket of other ingredients. The sauce is nearly black, thick, and has a robust, chile heat. It is most often described as a Mexican chocolate sauce.

Mole, as Chef Bethard explained, may come in a variety of colors, and varies from town to town. The legend of its birth surrounds Puebla de los Angeles between 1680 and 1688, but the details are left to wild interpretation by local storytellers. The most common mole is dark and assertive, as was ours, but may be yellow – as in Mole de Olla, a peasant soup - , green – with tomatillos - , or orange-red.


To a woman, there is no better ending than rich chocolate, and our final course trumpets the cause of food and beer. The fudgy heft of chocolate chipotle cake has the appearance of lava within a crater of crispiness. Cajeta (pronounced Ka-HEH-ta)sauce lightly glazes the outer perimeter of the plate, rising into the nostrils with its sweet caramel essence. Iron Hill Baltic Porter, deeply rich with the aroma and flavor of figs, dark cherries, raisins, chocolate and roasted caramel, makes the perfect marriage as it pulls back the sweetness of the decadent dessert. On the swallow, the heat of the chipotle and alcoholic warmth of the porter paint the throat with a tingling euphoric edge, a pleasant reminder of well planned cuisine.

Experimentation and experience in the pairing of food and beer leads to the discovery of great combinations. LaPierre and Bethard prove they are Masters.

Cheers!

Photos are (from top): Beer Lovers at Iron Hill Brewmaster's Mexican Beer Dinner; Executive Chef Dan Bethard; Roasted Pork Tamale paired with Iron Hill German Pilsner; Beer Lass Suzanne Woods poses with Head Brewer Chris LaPierre; Suzanne Woods, founder of the women's In Pursuit of Ale Club of Philadelphia, takes digital photos of Chocolate Chipotle Cake with Cajeta Sauce

 
You Should Also Read:
Beer for Sophisticated Restaurateurs
Best Beer & Food Destinations in North America
Gluten Free Beer & Party Food for Celiacs


Related Articles
Editor's Picks Articles
Top Ten Articles
Previous Features
Site Map





Content copyright © 2019 by Carolyn Smagalski. All rights reserved.
This content was written by Carolyn Smagalski. If you wish to use this content in any manner, you need written permission. Contact Carolyn Smagalski for details.