Toshi Ishii at JDW International Real Ale Festival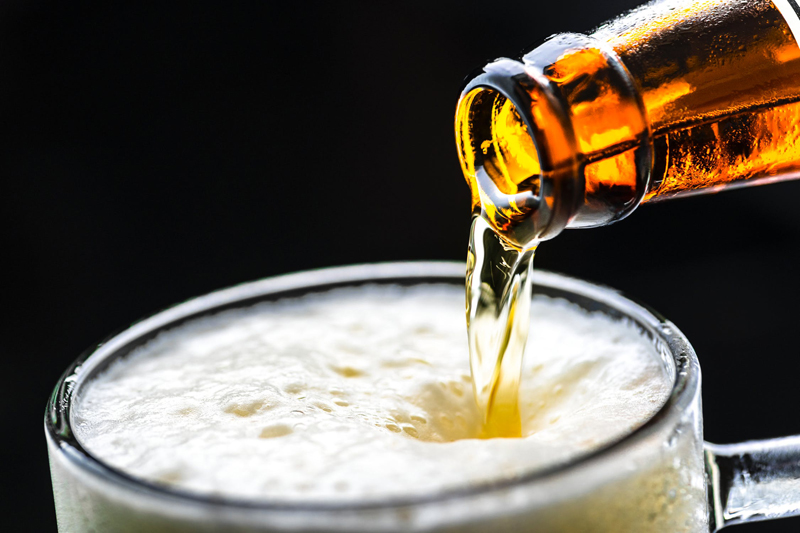 The Place: London's Heathrow Airport, UK

The Date: August 3rd, 2006

Beer Fox Carry-on: a small, logo-printed shopping bag of Marston's Pedigree, Bank's Original, and a can of Boddington's Pub Ale.

Airport security was unusually tight. Under watchful eyes, laptop owners removed battery compartments and disconnected PCMCIA cards, while the contents in their backpacks were carefully scrutinized. Tourists endured random, invasive frisking, and the air was abuzz with confusion.

A gentle-woman in a neatly pressed, airline suit approached me. Her auburn-brown hair was drawn into a tight hairpin beneath her pillbox cap. As she slid into the seat next to me, we engaged in conversation about my place of origin and visit to England, while she penned every word on an official-looking clipboard. Although I felt uneasy about the breach of my privacy, I was so enthused about the Great British Beer Festival that I eagerly showed her my "gift" from Marston's, and spoke about taking it home for a proper tasting. She was professional and polite. Little did I know that exactly one week later, the 10th of August 2008, Scotland Yard would disrupt "…a plot to blow up planes in flight from the UK to the US..." From that point on, liquids in containers over 3 ounces would be banned on most flights throughout the world. I counted myself fortunate to have been spared of international terrorism, but more importantly, to have been permitted to bring these treasures home, without the possibility of accidental dispense into my suitcases.
Meeting Toshi Ishii of Yo-Ho Brewing


It was at the 2006 GBBF Brewers' Reception at the White Horse Pub that Beer Hunter Michael Jackson first introduced me to Toshi Ishii, Chief Operating Officer and Brewmaster of Yo-Ho Brewing of Karuizawa, near Nagama, Japan. Michael had paid a visit to the Yo-Ho brewery in 2005, and was impressed by the passion of this talented brewer. After spending three years learning the art of American brewing at Stone Brewing Company's first location in San Marcos, California, Ishii-san (whose surname means 'stone') returned to Japan, well versed in styles that previously were non-existent in Japan. He brought the art of cask-conditioning into the Japanese pub, and became a strong proponent of West Coast hopping. Toshi went on to co-launch the Tokyo Real Ale Festival and the Nippon Craft Beer Festival and taught dozens of brewers about real ale and cask conditioning.

In 2007, Toshi again shared pints with his friend Michael Jackson the night before the GBBF kicked off. At the festival, JD Weatherspoons recruited Ishii-san to participate in their Spring Beer Festival, 2008. Three weeks later, Jackson passed away. Toshi was shaken that he would never have the opportunity to share his upcoming experience and his freshly brewed cask ale with the Bard of Beer.

The JDW International Real Ale Festival ran from March 27 (Michael Jackson's birthday) through April 14, 2008 - a huge fest in which more than 600 JD Weatherspoon Pubs participated throughout England, Scotland, Wales, and Northern Ireland, including 45 breweries from the UK, and one each from Germany, Belgium, Poland, USA (Stone Brewing), and Japan (Toshi's Yo-Ho Brewing). Through Weatherspoons, Steve Wagner, High Priest of the Yeast, and Mitch Steele, In Cervesio Felicitas, brewed a one-off of Stone's California Double IPA at Shepherd Neame, Kent, creating a 7% ABV punch-of-power, hopped with American Centennial, American Simcoe, and English Target hops.


Toshi Ishii, also a guest of Weatherspoons, was brought to the UK to brew his Tokyo Black at Marston's, Burton-on Trent, the same brewery where Marston's Pedigree, Old Empire IPA, and Burton Bitter are produced. At the Burton brewery, Toshi's artisanal genius could flow, creating flavor and freshness that would surely have diminished on a long overseas flight from Japan. For the UK festival, he brewed 600HL, racked into 1,350 firkin casks.

Tokyo Black is a porter-style beauty, slaky and black with a creamy tan head, emitting aromas of coffee and charred oak. The tongue curls with the richness of sweet malts, while American Perle hops add bitterness and a floral, spicy character. Tokyo Black, well received at the GBBF, was even more coveted at the JDW International Real Ale Festival, hailed for its freshness and complexity.

Toshi credits Michael Jackson for much of his success. Jackson's 2005 visit to Yo-Ho Brewing brought international attention to this passionate brewer and inspired an even deeper immersion into cask-conditioned ales and experimentation with extreme styles. Says Ishii, "I want to tell him that I would never have been in UK without you, Michael…to express to my sincere appreciation to him."

Cheers!

Photos (courtesy of Toshi Ishii, Yo-Ho Brewing) are (from top):Michael Jackson samples Tokyo Black at Yo-Ho Brewing, 2005; Michael Jackson with employees at Yo-Ho Brewing during his visit in 2005

Footnote: JD Weatherspoon pubs are huge proponents of cask-conditioned ales, with 133 listed in the CAMRA Good Beer Guide. They have earned a reputation for gentrifying old buildings, converting them into pubs that have won awards for design and restoration. Even their loos, which in some cases are as large and plush as the pub itself, have won acclaim for standards of hygiene unmatched throughout the industry.
 
You Should Also Read:
Real Ale in Japan - Yona Yona Beer
Nippon Craft Beer Festival & Toshi Ishii Honor Michael Jackson
Beer & Pub Magazine - Tokyo Style


Related Articles
Editor's Picks Articles
Top Ten Articles
Previous Features
Site Map





Content copyright © 2023 by Carolyn Smagalski. All rights reserved.
This content was written by Carolyn Smagalski. If you wish to use this content in any manner, you need written permission. Contact Carolyn Smagalski for details.