Meet a Leader in the Canadian Fitness World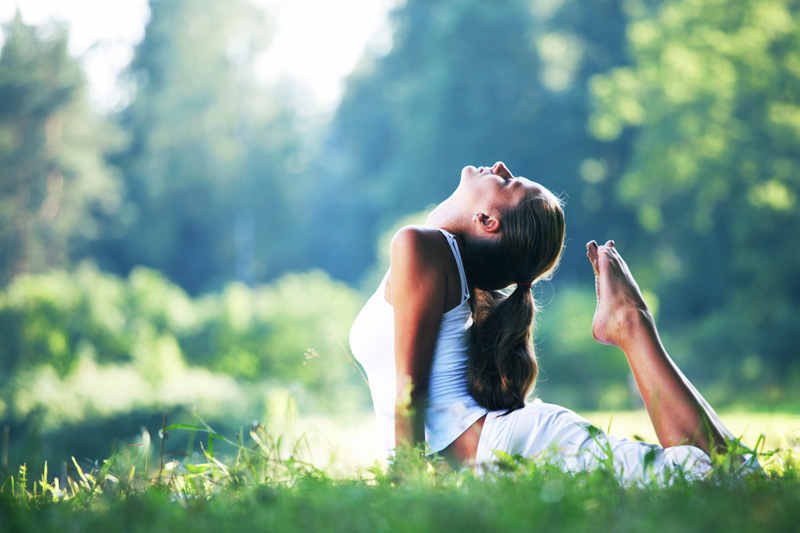 Meet Entertainment News Editor Lorna! Did you know that Lorna is also actively involved in the health and wellness industry? Read on about how she got involved, the type of work she does, and the events she has coming up. Be inspired!
1. How did you become involved in the fitness and wellness industry? Was it something you've always had a passion for or did it grow out of an experience?
I became interested in the health and wellness industry at a very young age. Throughout my adolescence and early teen years, I struggled with my weight, and as a result, suffered from low self-esteem. My mother would buy me easy-to-follow diet books. I tried a lot of them but gave up—adopting a different lifestyle is a lot to do when you're 13.
When I was 14, my mother bought me Kathy Smith's Fitness Makeover. It was the first successful attempt at making healthy changes and choices. I lost 24 pounds and began to actually enjoy working out.
From that point on, my interest in the industry only increased, which later led to becoming certified as a personal trainer with Canadian Fitness Professionals Inc., also known as Can-Fit-Pro.
I trained clients for a couple years, but wanted to reach more people. I decided to combine my love for fitness and wellness with another passion: writing.
As Features Editor of my campus newspaper, I launched a weekly Health and Fitness corner, which later became a column called Ask the Trainer.
A couple years after that, I began working for Can-Fit-Pro as the Assistant Editor for their magazine.
Health and wellness is not something you dabble in—because of my experiences and struggle with my weight, I've learned that wellness is a lifestyle. The choices we make either enrich or deteriorate our sense of wellness.
2. What have been your challenges with being a fitness and wellness industry professional? What has kept you motivated?
Like anyone else, I have my weakness. Like cheesecake. Or chocolate. And like anyone else, there are days when I really don't feel like going to the gym. However, there are reasons why I feel that way. Is it because I'm bored of my routine? Am I supposed to do something different with my body today? If I feel like I don't want to lift weights, I'll do a session of power yoga instead.
The important thing is to listen to yourself—ask yourself what it is you want and why. And when it comes to decadent desserts, treat yourself in moderate amounts.
3. What is your particular passion/what do you do within the fitness and wellness industry?
As mentioned before, my two passions are writing and fitness. I'm fortunate enough to combine the two into a rewarding career. Because of my position with Can-Fit-Pro, I am in constant contact with world-renowned speakers, presenters, and fitness professionals. What's more, I have the chance to reach thousands of people through the magazine and other publications.
4. You are involved with the Canadian Fitness Professionals organization - what inspired you to join this group? What type of work do they do?
My first experience with Can-Fit-Pro was when I took the Personal Training Specialist course while I was a university student. I became a certified personal trainer and began working at my local GoodLife gym part time. When I decided to use my personal training in the publishing world instead of the gym, I would often use Can-Fit-Pro as a resource or starting point in my research for articles and columns.
Only two years after university, I was re-acquainted with Can-Fit-Pro and joined the marketing team as the Assistant Editor of the magazine.
At first, Can-Fit-Pro served as a valuable tool to become certified, as it is such a reputable organization within the health and fitness industry.
However, my experiences in the head office have truly made me feel like part of the Can-Fit-Pro family—its mission and vision of a healthier world are remarkable.
Can-Fit-Pro was founded in 1993 by David Patchell-Evans, founder of GoodLife Fitness. Today, the company has more than 18,000 members who include some of the world's best speakers and presenters. Throughout the year, Can-Fit-Pro hosts several conferences and trade shows across Canada. This year, we're celebrating 15 years of success, health, and wellness at the International Fitness and Club Conference and Trade Show in Toronto on August 13-17.
5. You've also mentioned that you all have an upcoming consumer event. What is the purpose of the event? What were the most important focal points in planning it - what did you want to make sure it included and gave to each attendee?
Yes, this will be our third annual Consumer Fitness & Wellness Show. In fact, this show is one of the highlights of the main Toronto conference as it is an all-day event, held on Saturday, August 16 from 8:30 a.m. to 5:30 p.m. at the Metro Toronto Convention Centre.
We're really excited for this show because we have some amazing things going on! Kathy Smith—the fitness icon that sparked the first success for me in my lifestyle change—will be our motivational speaker. She will also be discussing her new book, Build Muscle Shrink Fat Diet.
This year, we're attempting to break two world records—the World's Largest Pilates class with STOTT PILATES® and the World's Largest Indoor Cycling Class.
We want people to come to the show, learn, grow, be inspired, and walk away knowing how to set worthwhile goals and have the willpower to achieve them.
It's such an exciting time for us at Can-Fit-Pro—we're all anticipating an incredible show!
To learn more about the show, please visit
Canfitpro.com
6. Are you involved with any other fitness and wellness events in your
community?
I was involved with several groups and clubs in school--in either middle school, high school, and university that advocated fit lifestyles. This ranged from the rugby team, the cheerleading team, and soccer. It wasn't until university though, that I was able to reach a wider audience--first with personal training and then with the weekly column in The Medium.
Out of all the experiences I had with clubs, teams, and groups that focused on fitness, Can-Fit-Pro has been the most rewarding.
7. What tidbit of advice can you give our readers to help them along the path to a more holistic and therefore more enjoyable life?
The reason why so many of us fail to reach our goals is because we either lost the original reason for having that goal, or we never really had one. The vision of what you want should be clear. Why do you want what you want? I have found that reasons emphasizing vanity are most often the ones that falter, resulting in failure. The reasons that are wholesome, natural, and more from-the-heart tend to remain stronger visions throughout the goal-attaining process.
~ Lorna London Sloukji
Thanks Lorna!
You Should Also Read:
Canadian Fitness Professionals
Canfitpro Consumer Wellness Show
Lorna's Entertainment Site


Related Articles
Editor's Picks Articles
Top Ten Articles
Previous Features
Site Map



Follow @etniqminerals
Tweet



Content copyright © 2022 by Leah R. Patterson. All rights reserved.
This content was written by Leah R. Patterson. If you wish to use this content in any manner, you need written permission. Contact Leah R. Patterson for details.