The Secret Necklace Creator - Monica Yocom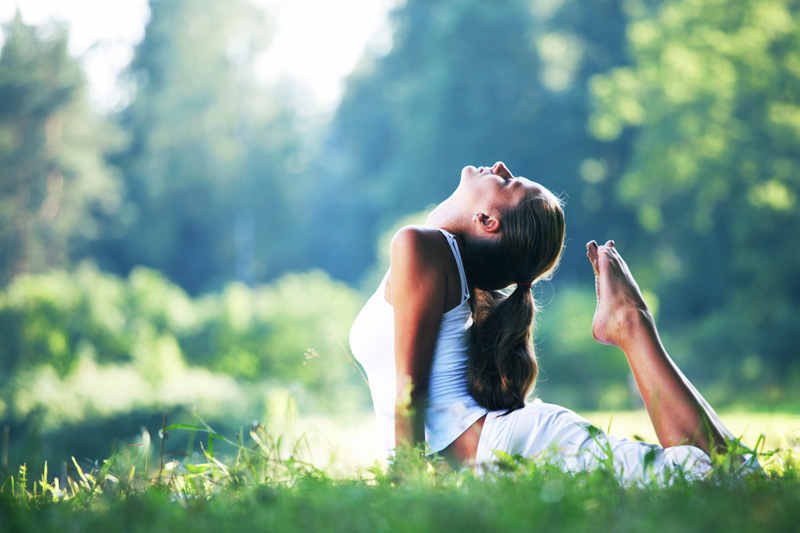 Have you heard of the Secret Scroll Necklace? Learn about this awesome idea and great tool of manifestation and how the creator Monica Yocom came about it. I'm very impressed with her mission and her dedication to following her intuition and inspiration! Read on and learn more about her.
1. What is it that you do?

I dance, I write songs and poetry, invent, sing, sculpt and play. I really just enjoy finding inspiration and sharing it with other people. I create pieces that reflect the way that I feel. I even have a method called Heartwork that channels the way others feel into drawings or sculpture. You could say I am an Artist but that feels too limiting... I guess I am...well, an inspirationalist.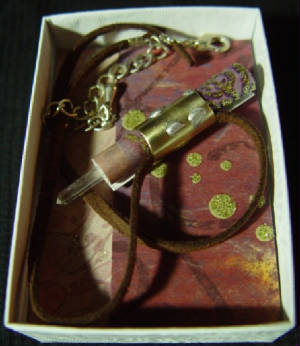 2. How were you inspired to create the first Scroll Necklace? How did you decide upon the different versions of it?
The necklaces really discovered me. They came about as the result of a huge spiritual shift that took place inside of me. I started removing judments about my life one by one and all that was left was an abundance of ideas.
The first version of the necklace was made out of wood. This version was made as a holder for scent as this is how the scroll necklace began. I was having difficulty plugging the little scented cotton strings into the bead and that is what brought me to the idea of using paper. I rolled it up to put inside and then started writing little messages on it. It was really exciting because I had made products in the past to write wishes and dreams on so the concept was a wonderful fusion of these ideas. People have thought that I created the necklace for the movie "The Secret" but I was just so open that I must have been picking up on the energy. When the Secret came out and they were talking about the "Secret Scrolls" I got chills.
3. How have you stayed motivated in spreading the word about the necklaces and staying committed to growing your "spiritual business"?
I think that in life it's the constant tiny reminders that keep us on our path. A couple years back I was feeling a bit disheartened and a friend of mine had put a penny on my desk, he told me to follow my dreams. I thought it was really sweet. Well, a few days later this friend passed away during an emergency surgery. I stared at that penny for the longest time wondering what his message had been all about. One evening I got out my pliers and gently coaxed the penny into the shape of a tube. This was the beginning of the metal version of the Scroll necklace aka "Classic Scroll. It's funny, each version represents different elements, wood, metal, glass, leather (recycled only) and crystal. The timing of when each style has come to be has each had it's own significance.
3. What was the most difficult part of this and how have you overcome it?
Ahh...that has been the Faith. I made a promise to myself in the very beginning that the necklaces would be all about spreading love and healing. There have been times when it seemed that things weren't coming together and I doubted and forced things against my own intuition. In every one of those instances I feel that it was the doubt alone that actually caused things to falter.
4. What great defining moments have happened along the way to keep you encouraged?
There have been so many situations along the way that have amazed and validated my path.
A recent example of this was that right after the chinese new year this year, we had a booth at the Conscious Life Expo in Los Angeles. We had the whole booth set up in an Asian theme. I had come across a collection of items at garage sales and such that were perfect so it really all just came together that way. One of the chinese figurines we had was of an old man holding a scroll and I made a huge scroll to use as my banner. While we were at the show, we met so many wonderful people and I told everyone how I had been anxiously awaiting this year as eight is my favortive number and this year was going to be amazing. One of the people at the show even told me that the figure of the Old man with the Scroll symbolized luck for the coming year.
Well on August Eighth, (8/8/08) the first day of the Olympics I wasn't near a television but my husband told me that the opening theme contained huge scrolls! A couple days ago someone else told me that 8 is a very lucky number in china and that is why they started the Olympics on that date! Well, Eight has been my favorite number since I turned 8 years old. And this month is the month of my birthday so good things are bound to happen...I am excited to see what unrolls....
5. How has your life changed since developing and distributing the Scroll Necklaces?
You know it's funny because I am thinking how it was my thinking that changed and everything else that followed. I am really not the same anymore. I am much more open. I used to think that being open and vulnerable was scary, now I see that being vulnerable means that I can connect with others on a really deep level. Even when I have experienced judgment by others or even physical loss, it was ultimately good, it really helped me to grow. Being open is what allows me to love and connect with more people.
6. What inspires you?
Everything. There is nothing that doesn't inspire me. A judgment may inspire me to go within and a criticism may inspire me to reach out. Even boredom might inspire me....perhaps to go take a nap. Inspiration can be both small and big.
7. How can one use the Scroll Necklace for empowerment?
I found that when I went within, when I looked at myself and worked on removing the old stories that I was running that were based on fear, I was then able to replace them with the new possibilities that I write in my scroll today. It is hard to imagine what is possible when you have a defeating thought contradicting it. I am only as powerful as I allow myself to be.
8. What is one of your favorite stories from people who have bought and used the Scroll Necklace?
I love the story of the woman who wrote " Happily Ever After" in her scroll only to realize that when she looked around at her family, her friends and her life, her Happily Ever After was right in front of her.
It was really funny too, the paper that I had used for that series of scrolls was titled "Happily Ever After" it was From the "Once Upon a Time" Scrapbook series. When I realized that I got such chills. When I told her that, she cried. That was pretty incredible.
I love to write in my scroll all of the limitless exciting possibilities that I can imagine and I also love to write reminders of the things that I am grateful for, this helps me to recognize when it is that I have truly arrived.
Thank you Leah for this wonderful interview and allowing me to see how I have arrived in this moment.
To read more stories of Synchronicity surrounding the Scroll Necklace go to
FamilyofArtists.com
.
You Should Also Read:
Family of Artists - Monica Yocom's site
The Scroll Necklace


Related Articles
Editor's Picks Articles
Top Ten Articles
Previous Features
Site Map



Follow @etniqminerals
Tweet



Content copyright © 2022 by Leah R. Patterson. All rights reserved.
This content was written by Leah R. Patterson. If you wish to use this content in any manner, you need written permission. Contact Leah R. Patterson for details.