Uerige Altbier and Stickum Distilled Beer Brandies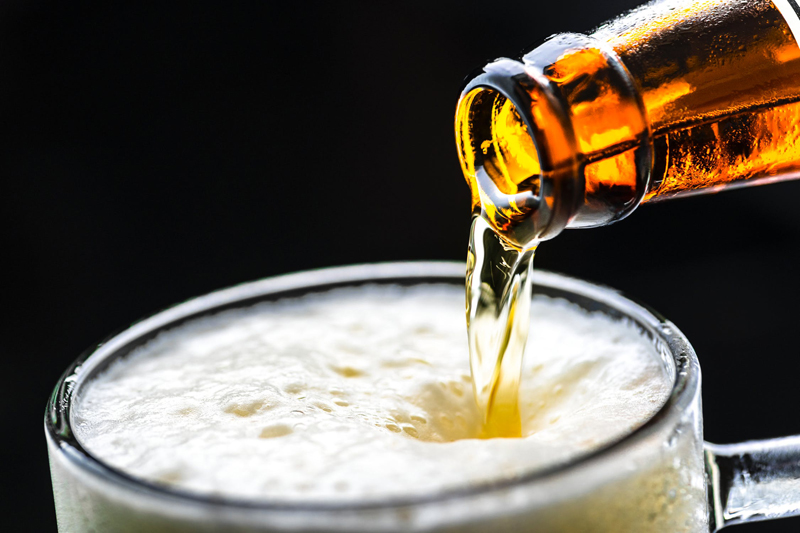 Düsseldorfer Altstadt has earned the reputation as the "longest bar in the world." Key to this nickname is that this "Old City," one of 49 boroughs within the German city of Düsseldorf, has over 300 bars and discotheques lining the River Rhine. Historical records for the Old City of Düsseldorf date back to 1288, and its inhabitants are well-aware of their prominence in the European narrative. Family owned brewery Uerige speaks of this long heritage. Although the boast of Uerige Alt reads "since 1862," records indicate that its name as the Heidelberg Vat came into existence in the mid 18th century.

Uerige means "grumpy", and the actual establishment of Uerige is credited to Wilhelm Cürten, the original "Uerige" himself. As history would have it, the brewery went through a lineage of brewmasters and technological updates until it burned to the ground in 1944 during the Second World War. In 1945, immediately at the end of the war, Rudi Arnold rebuilt the brewery; then added an annex in 1951, followed by a Brauhaus in 1974 to commemorate his 85th birthday. Christa and Josef Schnitzler took the reins on January 1, 1976, and added extensive updates to the aging business. Their son Michael, educated as an engineer, took over the business in 1999, and has continued the tradition of adding greater capacity and worth to the business.

Signs of Michael Schnitzler's forward-thinking attitude can be seen in the high quality of their products. This all-inclusive mindset connects with as many consumers as possible. Bottles of Uerige Doppelsticke, brewed for export since 2004, are embellished with Braille at the foot of the bottle. Blind consumers certainly have the capacity to smell the complex aromas inherent in Uerige Doppelsticke, but its announcement as "Uerige Alt" adds a strong message that Uerige considers every person to be of value.

The most recent addition to the brewery in Düsseldorf Altstadt has opened capacity for the establishment of a distillery. Says Michael Schnitzler, "…On a family visit to Scotland many years ago, my grandmother, on seeing the production facility at the Glenmorangie Distillery, said, 'Also, dat können wir auch selber' (We could do that as well)."

Mr. Schnitzler points out that Düsseldorf of the 1800s had a great number of small distilleries that have long since vanished. His entrance into the art of fine distillation is driven by a desire to rekindle that lost tradition with a resurrection of the dreams of his Grandmother Theodora Schnitzler. Uerige Stickum and Stickum+ build on these traditions, and have been developed from the distillation of the firmly-grounded Uerige Sticke and Uerige Dopplesticke Export.

The idiomatic usage of Stickum refers to the idea of "trading or dealing without the uninitiated realizing it." This one extra step – distillation – creates a grain spirit, or beer brandy, that casts its euphoric effects as its smooth character envelopes you. These spirits are aged in oak kegs in a specially designed storage vault in Düsseldorf, with a resultant ABV of 42% for Stickum and 45% for Stickum+.

Uerige Family of Beer and Spirits

Uerige Alt – The traditional old style of brewing endures with Uerige Alt, brewed with barley malt (a traditional Pils base malt), roasted and crystal malt. Umbel hops are exclusively grown in Southern Germany in the Hallertau and Spalt regions near Nuremburg for this distinctive style. A proprietary top-fermenting yeast is used in Uerige products, and is stored at the Technische Universität München at Weihenstephan, where the pure culture is retrieved once a year for a rejuvenating dose at the Uerige Brewery. Uerige Alt is fermented in cool conditions, then placed in a maturation cellar under controlled cold temperatures for a secondary fermentation of three weeks. This produces a malty beer with a clean profile and considerable bitterness.


Uerige Unfiltered – This brew is the same as Uerige Alt, but is served unfiltered and has a cloudy appearance. It is served on draught only, at the brewery or in the Uerige-Treff inside the Carsch-Haus store.

Uerige Weizen – A wheat beer, brewed since 1995, and keeping within the guidelines of the Reinheitsgebot, Uerige Weizen sports a golden body and poufy white head. Its citrus character is ideal for summer drinking, while the dry finish lends a quenching quality to this 4.7% ABV style.

Uerige Sticke – This is a special offering, richer than Uerige Alt, with a 6.5% ABV and is released only twice a year. Beer lovers can taste this exclusive, coppery gem on the third Tuesday in January and October.

Uerige Doppelsticke – Made for the export market, this top fermented powerhouse is affectionately referred to as the"yummy droplet" of the house brewery. The nose is loaded with sweet malts, and its beautiful copper body gains depth of color through the use of crystal malts. Flavors are dynamically complex – initially roasty and bready on the palate, with an assertive grapefruit bite. Secondary notes of coffee emerge in this complex base. The 8.5% ABV hides well, and can sneak up on the unsuspecting. The bottle boasts "dat leckere droppke" status, and is embellished with a swing stopper at the top…and Braille at the base of the bottle.

Uerige Stickum – Crafted from Uerige Sticke, this distilled beer brandy lays clean and smooth on the tongue, and boasts a final ABV of 42%.

Uerige Stickum+ - Straw shades of tan temptingly shine through the modern lines of the bottle. Distilled from Doppelsticke export, the 45% ABV is a next step for Uerige, picking up the fine traditions of world-class distilling.

Cheers!

Photos are (from top): Doppelsticke Export, available in the USA; Braille on a bottle of Doppelsticke - translates to "Uerige Alt"

 
You Should Also Read:
Beer Fox Guide to Dortmunder
German Schwarzbier - Bold and Black
Katzenjammer Kielbasa n' Kraut Recipe


Related Articles
Editor's Picks Articles
Top Ten Articles
Previous Features
Site Map





Content copyright © 2023 by Carolyn Smagalski. All rights reserved.
This content was written by Carolyn Smagalski. If you wish to use this content in any manner, you need written permission. Contact Carolyn Smagalski for details.