Anheuser-Busch Introduces Budweiser American Ale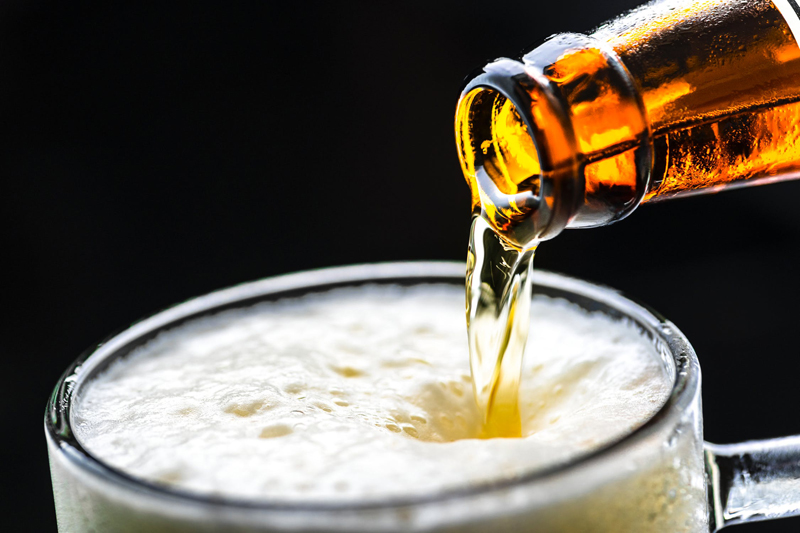 Advertising works, particularly when it is cloaked in humor. How many people remember the Bud-Weis-Errrrr frogs, Whassuuuup? and Mr. Foot Long Hot Dog Inventor? Millions. This type of memorable, feel-good marketing eventually works because it feels comfortable. It makes us laugh, and helps us ease into the crowd. In his 1957 book, The Hidden Persuaders, Vance Packard discusses, in supported detail, how the workings of our minds are manipulated by motivational scientists – how they shape the way we structure our goals and prioritize our choices.

Over the course of one-hundred thirty two years, Anheuser-Busch has succeeded in creating a consistent product and promoting it with accurate results. Sales prove that Budweiser American-style Lager is a taste that America loves, but judging from America's preference for leather hamburgers and salt-laden French fries, one has to question the true source of such consumerism.

Anheuser Busch markets very well. Their staff follows trends and analyzes every nuance of behavior in the community of beer. In response to spectacular growth in the craft brewing industry – sales of craft beer grew 11% by volume in the first half of 2007 – Anheuser-Busch is poised to release Budweiser American Ale in September, 2008. The new brew will be released on draught mid-month, and in bottles by the 29th. A-B's hopes are to capture the sophisticated palates of craft-beer enthusiasts by offering a product that they claim will define the "American Ale."

I received a preview of this release, and admittedly, viewed it with an eye of derisiveness and skepticism. The sample arrived with two bottles of Bud Lager and two bottles of Bud American Ale, accompanied by specially engineered glassware for the full appreciation of each. As a die-hard craft-beer enthusiast, I must admit that it had been many years since I had tasted a Bud Lager. Were my associates overly-harsh in judging this beer? I had sampled the Michelob Specialty Sampler Collection in October of 2005, and recalled being pleasantly surprised at the quality of craftsmanship. A commitment to fairness is the only way to evaluate beer, regardless of the source. I would evaluate the Lager first; then proceed to the Ale.


Budweiser Lager pours as a light straw body into the glass, with significant effervescent bubbles rising in a constant stream from the bottom of the glass. A-B instructs the consumer that the most effective pour for American lager is to direct the stream down the center of the glass. This maximizes the head in the course of the pour. The two-finger head moulds into a foamy, white blanket, but quickly flattens to a veil on the surface. A web-like pattern sticks to the sides of the glass, and I am impressed by the appearance. Aromas are vegetal and starchy, reminiscent of the liquid in canned corn. I am aware that Bud Lager is brewed with rice and malted barley, but cannot escape the overpowering vegetal aroma. As one who has sampled many experimental Gluten-free beers, the similarity to the most experimental of the bunch is striking. Flavors are of delicate sugar and, again, reminiscent of a blend of corn and the drained-off water from well-percolated half-cooked rice. There is a note of bitterness in the background. Mouthfeel is thin. Unlike those who have described this as having non-descript flavors, I find the "vegetal, rice-juice flavors" to be highly offensive, making this unpalatable to my preferences.

Because of my interpretation, I feel compelled to consult the Style Guidelines for Standard American Lager in the Beer Judge Certification Program. Surprisingly, this beer is within the description of the style. I cannot help but think that the only way this "American Lager" could have gained in popularity is with sophisticated motivational advertising campaigns.

I proceed to my subsequent evaluation of the new kid on the block, Bud American Ale. Anheuser-Busch recommends a pour down the side of the glass until it is half full, moving to an upright position in the finish. This displays a deep coppery body, clear and glistening, with a chunky, light tan head that settles to a veil, but remains in chunky clumps on the surface. The nose is of caramelized brown sugar and toasted malt. Although A-B boasts a "hoppy grapefruit aroma," this hophead (me) finds little of that hoppiness in the nose. On the palate, malt covers the tongue with flavors of dark, baked bread. It has a spicy, rye quality, (without anise seeds), and a pleasant bitterness that cuts away cleanly. Some secondary notes of butterscotch play lightly in the background, and are reminiscent of English Ale. Mouthfeel is medium bodied. I could drink this one.

Budweiser American Ale is brewed with pale and caramel malts from 2-row barley and the addition of four types of hops, both foreign and domestic. American Willamette, Saaz, and Palisades are used in the boil. An American ale yeast is pitched for fermentation. It is then dry-hopped with Cascade, under cold conditions. Here's to A-B for designing a barley based amber ale with pleasant bready flavors and firm bitterness.

Cheers!
 
You Should Also Read:
Ask the Beer Fox - What Are Noble Hops ?
Beer Trivia - Old Beer Facts
Eight Essential Beer Glasses for Your Bar


Related Articles
Editor's Picks Articles
Top Ten Articles
Previous Features
Site Map





Content copyright © 2023 by Carolyn Smagalski. All rights reserved.
This content was written by Carolyn Smagalski. If you wish to use this content in any manner, you need written permission. Contact Carolyn Smagalski for details.