Alpha King Challenge 2008 - Beer for Hopheads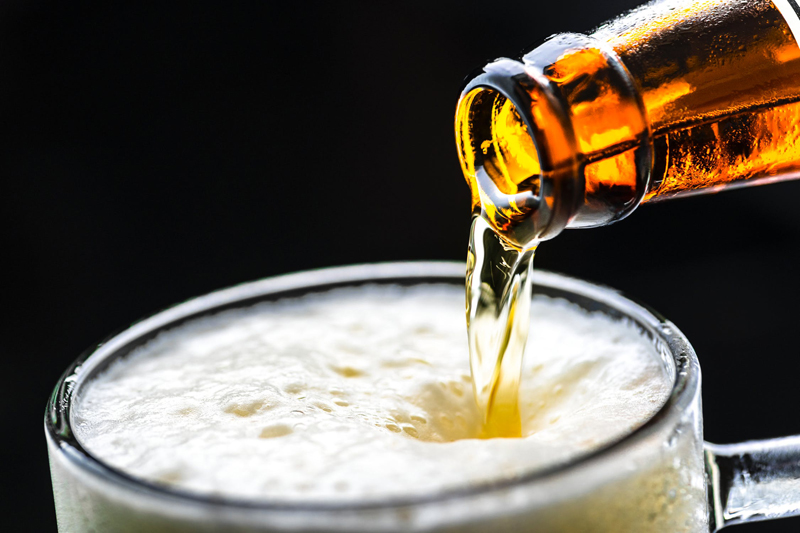 National Geographic magazine speaks volumes through photographs. In the 1960s, the publishers featured a multiple-page piece that narrated the unearthing of Pompeii by archaeo-anthropologists. Glossy pages were flush with artifacts and bodies, frozen in ash, as they advanced through their common, everyday activities. These citizens were caught quite by surprise – a hiccup in time that changed the Pompeian society in a heartbeat. Two thousand years later, Vinnie Cirluzo of Russian River Brewing Company in Santa Rosa California was to resurrect this ancient history by honoring Gaius Plinius Secundus, also known as Pliny the Elder, military naval officer in Chauci, botanist of Rome, author of classical Italian life, and philosopher of Pompeii, with the launch of his award-winning Imperial IPA, Pliny the Elder.

The Elder Pliny, a naturalist and historian, is credited with giving the first botanical name to hops as the wolf among scrubs, because of the natural state in which this aromatic plant grew, entwined within the wild beauty of field and forest. Although this classical Latin name, Lupus salictarius, was eventually changed to Humulus lupulus for purposes of categorization into scientific families, Pliny the Elder was superior in his observation and documentation of plant life, and may well be considered the first hophead of the Roman Empire.

Russian River Pliny the Elder rules as a fitting tribute to its namesake. This luminescent Double India Pale Ale won a Gold Medal at the 2006 World Beer Cup, a Gold Medal at the 2005 Great American Beer Festival, and a Bronze Medal at the 2004 Great American Beer Festival. The icing on the cake was Cirluzo's 2007 win of the Alpha King Challenge, crowning him as "the Hopfather" among worshippers of the mighty IBU. Brewers from across the country will attempt to knock Pliny the Elder from the top spot as hoppiest beer, while retaining the characteristics of balance and the overall quality of easy drinkability. Beers must be at least 60 IBUs, although Barley wines are prohibited from the competition.

The Alpha King Challenge was founded in 1999 as a tribute to Alpha King Pale Ale, crafted by Three Floyds Brewing in Munster, Indiana. That year, Larry Bell of Bell's Brewery, Galesburg, Michigan reigned as first Hop King with Two Hearted Ale. Hosted by Chris Black at Falling Rock Tap House in Denver, Colorado, The Alpha King Challenge has grown into the most pleasurable hophead event held in Denver during Great American Beer Festival week.

The Tenth Annual Alpha King Challenge is sponsored by Hopunion LLC, Brewing News Publications, White Labs, and Three Floyds Brewing Company. In 2008, the challenge will be held, once again, at the Falling Rock Tap House, 1919 Blake Street, Denver, Colorado, on Friday, October 10th from 1:00 to 3:00 p.m. For 2008, beers are submitted through David Edgar at Mountain West Brewery Supply, 787 W. Hemlock Circle, Louisville, Colorado 80027 Phone: 303-402-9158.

Past winners of the Alpha King Challenge are:

1999 – Two Hearted Ale – Larry Bell, Bell's Brewery, Galesburg, Michigan



2000 – Sockeye Red - Gabe Fletcher, Midnight Sun Brewing Company, Anchorage, Alaska



2001 – Moylanders Double IPA – Brendan Moylan, Moylan Brewing Company, Novato, California



2002 - Moylanders Double IPA – Brendan Moylan, Moylan Brewing Company, Novato, California



2003 – Deuce Imperial IPA – Geno Acevedo, El Toro Brewing Company, Morgan Hill, California



2004 – Hop 15 – Tomme Arthur, Port Brewing Company/Pizza Port, Solana Beach, California



2005 – Torrey Pines IPA – Jeff Bagby, Oggis Pizza & Brewing Company, Vista, California



2006 – Boundary Bay Imperial IPA – Ed Bennett, Boundary Bay Brewery & Bistro, Bellingham, Washington



2007 – Pliny the Elder – Vinny Cirluzo, Russian River Brewing Company, Santa Rosa, California

In 2007, 85 beers were entered from across the United States. Eighteen judges exposed their palates to a battering of IBUs to arrive at the winning brew. The Alpha King, dressed in the most outrageous outfit of greenery to assault the eyeballs, made his appearance, while the winner was crowned by Hop Union's Ralph Olson. Prizes include a small cash honorarium, gift certificate for yeast from White Labs, and a Gift Stein from Rastal glassware of Germany.

Cheers!

Note: 2008 Winner of the Alpha King Challenge:

2008 - Hop 15 - Tomme Arthur, Port Brewing/The Lost Abbey, San Marcos, California
You Should Also Read:
A Beer Fox Guide to Hops and Beer
Searching for the Alpha King
Ask the Beer Fox - What Are Noble Hops ?


Related Articles
Editor's Picks Articles
Top Ten Articles
Previous Features
Site Map





Content copyright © 2022 by Carolyn Smagalski. All rights reserved.
This content was written by Carolyn Smagalski. If you wish to use this content in any manner, you need written permission. Contact Carolyn Smagalski for details.