C. Stegmaier & Son - A Photo from the Past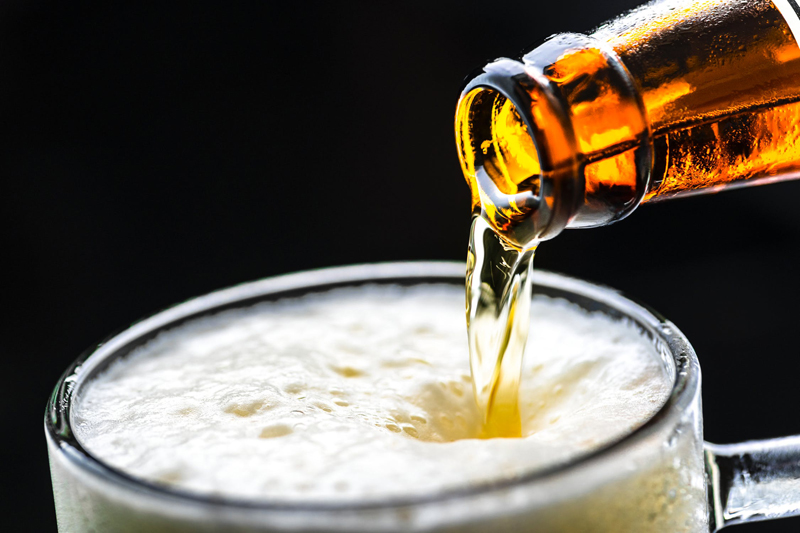 When you look at an old photo, do you barely notice it, or do you wonder what life was like for those surly coots? Do you look for the details? Recently, a friend brought me a copy of a photograph taken in front of the C. Stegmaier & Son brewery in Wilkes-Barre, Pennsylvania, circa 1894. My friend, Peter Mascelli, had the photo because his wife's great grandfather, Ferdinand Kipp, is one of the men in this historic picture (4th row, 1st person on the right). Note also, that Ferdinand's son, John Kipp worked for Stegmaier as a brew master. John was Peter's wife's maternal grandfather. When I held this photo in my hands, my mind took off on a journey to discover who this Stegmaier really was.



"Stegmaier?" you might ask. Stegmaier, with a reputation for integrity and class, operated as a local brewery for four generations. The origins of Stegmaier can be traced back to Charles Stegmaier, (October 7, 1821 – August 11, 1906) who apprenticed and advanced in the trade of brewing in his homeland in Wurtenberg, Germany. At the age of 27, he brought his skills to America where he worked in corporate breweries in Philadelphia and Wilkes-Barre. In conjunction with John Reichard of Reichard & Weaver brewery, Wilkes-Barre, he introduced the first lager beer to the Wilkes-Barre area in northeastern Pennsylvania.


Many would say he was lucky in love. His marriage to Catharine Baer in 1851, gave him the opportunity to form a close friendship with his brew-making father-in-law, George Baer, and by 1857, the pair had opened a small brewery with a simple wooden kettle. In 1863, they built the newly designed Baer & Stegmeier Brewery with underground storage vaults, and operated until the Panic of 1873 threw the business into financial turmoil.

Charles Stegmeier temporarily entered the hotel business for two years while he re-structured his brewery plans, and in 1875, partnered with his son Christian to purchase the Joel Bowkley Brewery. Described as an unpretentious man who steadily increased business through methodical business practices, Charles was able to re-purchase the Baer & Stegmeier Brewery in 1880, re-naming it C. Stegmaier & Son. In 1894, he and his son built a new brewhouse with a storage facility, and increased capacity to 300,000 barrels annually. In 1897, the business became incorporated as the Stegmaier Brewing Company, managed by Charles as CEO (until 1902), and his two other sons, George and Fred assisted in brewery operations, as well.


The Stegmaier Brewery sustained strong business growth through four generations and became one of the largest independent breweries in the USA. By 1940, brewery output reached 500,000 barrels per year, and was perceived to be a sterling example of fine quality and sound operations. By early 1970, statistics were showing a continuous decline, albeit a slow one, but Edward R. Maier, great grandson of Charles Stegmaier, announced an earth-shaking decision to sell the family business to Lion, Inc. of Wilkes-Barre in 1974.

In the photo passed to me by Mascelli, the signs on either side of the picture clearly identify the brewery as C. Stegmaier and Son, so the picture must have been taken between 1880 and 1897. The appearance of the brewhouse in the background looks new and polished, so my senses tell me this must have been snapped in front of the new brewhouse, completed in 1894.

In this photograph, 42 men are posed in a group, with Charles Stegmaier and two children (a boy and a girl) posed above them, looking out of two windows. Notice these points of interest:

All the men are holding glasses of dark beer, and EVERY glass has a thick head – at least 1" thick. EVERY one!



A firkin, front-and-center, is placed on its side on a sawhorse - the keg has a large and visible star, a six-pointed hexagram, just above the tap. You might think this is the Star of David or Magen David , the Shield of David. This is actually the "Brewers' Star," a symbol that came out of Southern Germany, and was widely used as a tapping sign.

The six-pointed hexagram is one of the oldest symbols of modern civilization. Archaeo-anthropologists identified this symbol on a signet in Sidon in the 7th century B.C. In the tantric legends in Indian Hinduism, it was used as early as the 8th century B.C. as both a symbol of antagonism, and as a representation of the spirit that existed between man and woman.

Some claim this hexagram was a symbol for alchemists. The two triangles may be interpreted as the balance of opposites, fire with water. Recent research indicates that this interpretation was based on superficial assumptions. As one delves into the everyday life of the ancient alchemist, it was more probable that the six-pointed star was a symbol used for protection against fire and demons, like a talisman or amulet placed on houses.

Non-Jewish Kabbalah use the symbol as the representation of energy, the divine union of male and female, also known as the blade and the chalice.



Every man is wearing a hat – one of them is wearing a black, fur, Russian hat.



Two men have cigars in their mouths, and several men are holding cigars.



One man is dressed like a "dandy", and I suspect that the man may be Christian Stegmaier – it looks a bit like a photo of him I found on the internet.



Three men are holding tools, rather than glasses or mugs of beer. I am assuming they are the coopers.



There are 5 'posters' behind the men and 2 "C. Stermaier & Son Lager Beer" signs in the front of the group.



There is a horseshoe above the door (do you think the family believed in luck?)



The ground is all dirt, and the men's boots are quite dusty.

Although not one of the men is smiling, historic recordings indicate that these men were really quite satisfied with this business of making beer at C. Stegmaier & Son. Even after his death, Stegmaier was hailed as an honest and unpretentious man who was generous to his community and well-respected by his employees.

Cheers!

 
You Should Also Read:
What is a Beer Geek ?
Terroir & Beer
Ask the Beer Fox - What Are Noble Hops ?


Related Articles
Editor's Picks Articles
Top Ten Articles
Previous Features
Site Map





Content copyright © 2023 by Carolyn Smagalski. All rights reserved.
This content was written by Carolyn Smagalski. If you wish to use this content in any manner, you need written permission. Contact Carolyn Smagalski for details.