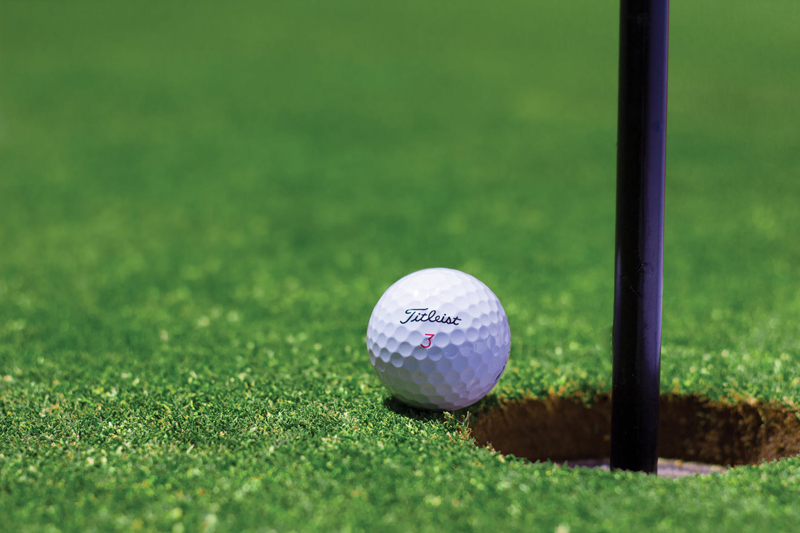 In my email I received a request from Susan Osborne and she wondered if she would send me her Golf Journal would I write a review on this web site bellaonline.com. Of course I was only to glad to have her send me a copy of her Golf Journal. It has arrived and I find it to be of excellent quality that any golfer who likes to keep track of her golf game would want to have. The Journal is nylon cloth covered in brown with pink trim that is framed around the title insert called "SporteeGal's Golf Journal – for gals who golf." There is a picture of a golf bag, with clubs and shoes in this insert with the title.
The way to keep this journal closed is a pink fabric piece that wraps around the book and inserts into a tab that hold the book together. This Journal is very well made and attractive that it will please most every golfer. Inside there are tabs that help you to the section you want quickly. The first page is for you to fill in all your own information and your favorite courses you have played. The tab sections are My Rounds, Goals, Practice, Notes and Photos so you can keep your journal each time you play or practice.
Within each tab section first page it explains how to record your rounds and what may have happened that helped you play better. Keeping track of your rounds such as who you played with, the weather and how it affected your game. There are 20 pages front and back for you to record those memorable rounds.
Under goals the ten pages lists that everyone should have goals and in golf it is very important. You may want to lower your handicap and get to a certain score by a certain date. Your goal may be to practice more with certain clubs plus chipping and putting. It also may be a goal to take some lessons to help certain parts of your game.
Practice is the next tab with suggestions written on the first page. This is the section you will work on improving your game. It might be a certain club that needs work such as the putter with too many miss hits. This is the area you want to work on your game and keep track of time spent on practice. If you have taken a lesson record all the tips and suggestions so you can remember to work on these things. There are 17 pages here front and back so plenty of places to record your practice routine.
Under Notes is a special place to keep track of your handicap, tournaments you have played in, special events or anything you like to record in your journal. There are 20 pages in this section for plenty of note you want to remember. Following this section is a tab for Photographs. There are 15 pages in this section for pictures you want to keep of your golf outings or special events. Pictures of your golfing buddies will be a good place to post those in this section
The inside of the cover are sewn in two pockets where you could keep score cards, pictures ready to record in your book. An ink pen comes with the Journal and clips into a little loop on the side of the cover. It is imprinted with the SporteeGal web site with is www.sporteegal.com. Check out their web site it is a fun site where they have a special going on now until March 31st. Buy the first Journal for $24.95 and get the second at half price $12.50 as she says in the web site better hurry don't dilly dally with your order. I thought that was cute. You can order right from the web site so check out this attractive looking Golf Journal and watch your golf score and handicap meet those goals you set for yourself.
You Should Also Read:
Golf Journal


Related Articles
Editor's Picks Articles
Top Ten Articles
Previous Features
Site Map





Content copyright © 2022 by Letta Meinen. All rights reserved.
This content was written by Letta Meinen. If you wish to use this content in any manner, you need written permission. Contact Sandy Eggers for details.