All About Rum / National Rum Day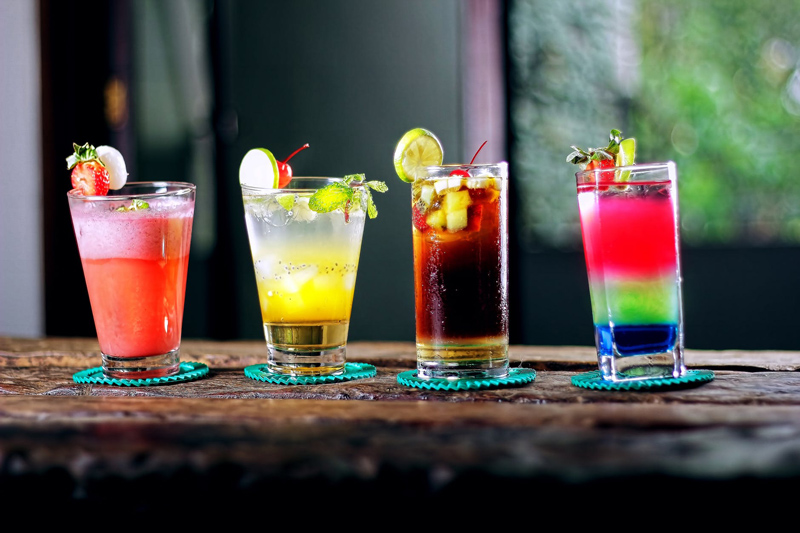 August 16 is National Rum Day - Yaaaayyyyy!

Rum is the spirit of the Caribbean, where the people of the islands have enjoyed this sweet libation for centuries. It's all made from sugar cane, or the molasses made from sugar cane, but each island puts its own distinctive personal touch to the brew.

Look for rum in a light version, which has nothing to do with calories, carbs, or any other diet-suggesting restrictions. Light rum is the clear stuff, made from sugar cane that's been distilled and bottled before it's aged very long in a wooden barrel.

Light rums are great for mixing those beautiful tropical drinks that make us think of sea breezes, waves gently hitting the shore, sea gulls and sunshine overhead, hammocks on the beach, and umbrellas. And pirates! Cocktails made from light rums are often served up in truly festive attire - coconut shells and hollowed-out pineapples are very popular and they're often topped off with fresh flowers and, yup, colorful little paper umbrellas.

Dark rums start with sugar cane, too, but their dark, golden-brown color often comes from the wooden barrel they've been aged in. The color of the wood leaches into the once-clear rum, giving it its gorgeous amber color that deepens in color and flavor the longer the rum is aged.

The flavor of the rum is affected by the barrel, too, with the type of wood offering its own unique flavorful nuance but rum is often aged in used barrels and they, too, add to the flavor. These used barrels once held such libations as American whiskies, brandy, cognac, and perhaps even wine.

Depending on the island of origin, dark rums are made with sugar cane molasses, too. Making rum from molasses brings out a bold, robust flavor that is preferred by connoisseurs who prefer to sip their rum as is or on the rocks, without bringing a lot of other competing flavors to the glass. These serious-minded rum drinkers don't want to see any little umbrellas in their glass, no matter how cute or colorful.
The island of origin is listed on the label of every rum bottle. Here's a run-down on what to expect:

Puerto Rico - This light, dry rum is distilled to be consistent in style and flavor from year to year. It's a great choice for mixing with fruit juices and sweet syrups. Serve with the umbrella.

Virign Islands - This rum is also light and dry but it includes a hint of molasses, giving a little more presence in a mixed drink than the delicate Puerto Rican rums.

Barbados - Think of a huge, glorious red sun setting over calm ocean waters while sipping this rum. It's soft finish and gentle aftertaste are as satisfying as the scene it evokes.

Cuba - This King of Caribbean Rums is as good as it is elusive. Thanks to political differences and trade embargoes, this rarity is almost impossible to find but it's worth a try if ever the opportunity arises.

Haiti - Sip on this mellow, medium-bodied rum just like you'd do with a nice brandy or cognac. Hold the umbrella, please.

Martinique - The bold flavors of this well-aged dark rum makes it as exotic as its island home. Serious rum enthusiasts would never think of mixing this one. It's heavy body makes it one of the more 'sturdy' rums, best savored slowly and leisurely, just like a moonlit stroll along a tropical beach.

Jamaica - Hey, mon! The rich, dark rums from this popular island nation come with an earthy finish that lingers on the tongue quite like the island's music lingers in the heart. It's often added to cocktails made from light rums and is great floated on the top of many mixed drinks for an added kick.

Trinidad - The light rums from this island are delightfully delicious and are perfectly refreshing when mixed simply. Pour a shot or two of it over ice in a tall glass then top off with club soda and a squeeze of fresh lime for a drink as uncomplicated as life would be on your own private island paradise.

Demerara - The Demerara River isn't an island but it empties into the Caribbean Sea from the northern region of South America. The Caribbean islands were settled originally by tribal explorers from this region. The history of the Caribbean is tasted in every drop. This one is traditionally a dark rum, robust in both flavor and color. Some versions are 151 proof, meaning a little goes a very, very long way. Use it to top off your favorite fruity rum drink for a little added punch.

You Should Also Read:
BBC Cocktail Recipe
Blue Hawaiian, Trade Winds, Pirate Grog Recipe
Dark 'n Stormy Cocktail Recipe


Related Articles
Editor's Picks Articles
Top Ten Articles
Previous Features
Site Map



Follow @drinkandbemerry
Tweet



Content copyright © 2019 by Sandy Hemphill. All rights reserved.
This content was written by Sandy Hemphill. If you wish to use this content in any manner, you need written permission. Contact Sandy Hemphill for details.