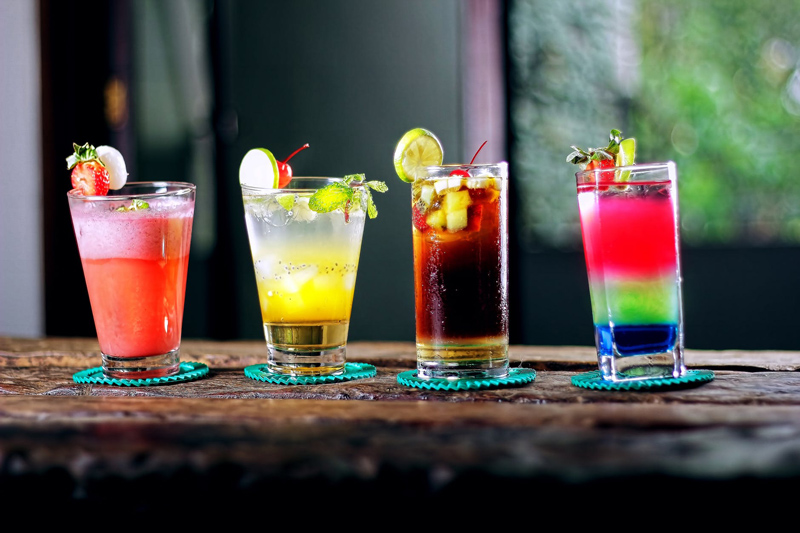 My sister went to the Virgin Islands and all I got was a request for a cocktail recipe. She discovered a "DELISH" drink called a BBC cocktail that was so good she wants more, even when she's not soaking up tropical sunshine. All she remembered of the recipe was Baileys Irish Cream, bananas, and ice cream. With a start that enticing, I had to learn more.

--------------------

BBC Cocktail Recipe

B - Baileys Irish Cream
B - Bananas
C - CocoLopez

For one drink, pour into a cocktail shaker:

1 jigger Baileys
1 pony creme de bananas (a pony's the smaller shot glass)
2 ponies CocoLopez
1/2 cup ice

Shake, strain, and enjoy!

If you're looking for a frozen ice-cream version (you are, aren't you?), forget the ice and cocktail shaker.  Put everything except the ice in a blender.  Substitute vanilla or banana-flavored ice cream for the ice. Blend till smooth and serve in a chilled cocktail glass.

Making one frozen drink at a time is too much fuss for most home bartenders (me!) so try this for a blender full:

1.5 cups Baileys
1 cup creme de bananas
2 cups CocoLopez or pina colada mix
2 cups ice cream

--------------------

I'm not a fan of endorsing products by brand name but the BBC has brand names built into its own name, making it impossible for me to provide the recipe without mentioning brand names. For the reasons why I don't care for unsolicited product endorsements, please follow the link below to my article about brand names, product reviews, and endorsements. I did not buy these products to write this article nor did I receive free products from their manufacturers. The brand name products mentioned here are items every home bartender will want to keep on hand, as I've done for years. They (Baileys and CocoLopez products) are versatile and can be used in so many recipes that it's just good to have them on hand.

Baileys Irish Cream is a wildly popular cream liqueur introduced in 1974 by Gilbeys of Ireland. It contains 17% alcohol by volume, as do many liqueurs. It's a premium brand liqueur and, as such, can be quite pricey but, oh, so worth it. If it isn't available where you are, there are several perfectly suitable Irish cream liqueurs you can substitute with scrumptious results.

Creme de banana is a clear yellow liqueur you can usually find alongside other flavored liqueurs, brandies, and schnapps. Several distillers make creme de banana liqueur and all of them seem to be competitively priced so you can expect perfect results with any of them.

Look for CocoLopez products in the mixers section of your favorite liquor store; many supermarkets carry them, too. I've seen CocoLopez products in supermarkets in the section with cocktail mixers, on the beverages aisle, in the foreign or exotic foods section, and in the baking section of the store. Liquor laws vary by state and country so do ask about this truly yummy stuff if it seems hard to find. It has no alcohol in it so it's often available where groceries and non-alcoholic beverages are sold.

CocoLopez products come in various forms but the two most popular variations seem to be the cream of coconut and pina colada mix. The cream of coconut product is a luscious, thick, gooey, sweetened form of coconut milk that goes beautifully with Baileys and bananas but the pina colada mix adds the flavor of pineapple to the mix. Either version is ideal for making the BBC cocktail.

CocoLopez also makes a coconut milk product, often found in the Asian foods section of a supermarket, but I don't recommend it for this recipe. It's great stuff for cooking but it's not sweetened; go for the sweet stuff when making a BBC cocktail.

You Should Also Read:
Brand Names, Product Reviews, Endorsements
Cocktail Bar Measurements
Ice Cream Drink Recipes


Related Articles
Editor's Picks Articles
Top Ten Articles
Previous Features
Site Map



Follow @drinkandbemerry
Tweet



Content copyright © 2021 by Sandy Hemphill. All rights reserved.
This content was written by Sandy Hemphill. If you wish to use this content in any manner, you need written permission. Contact Sandy Hemphill for details.