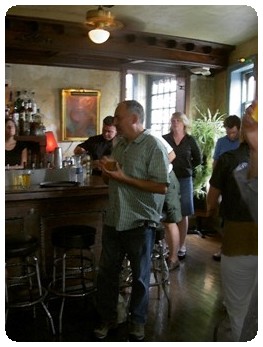 Wednesday, July 15, 2009 marked the introduction of Exit 11, the second release in the Exit Series of Big Bottle Beers, crafted by Flying Fish Brewing Company of Cherry Hill, New Jersey, USA. Gene Mueller, Founder and General Manager of Flying Fish, and Head Brewer Casey Hughes explain that the big bottle beers celebrate the state of New Jersey and are named after the most popular exits of the New Jersey Turnpike, a major roadway that runs the length of the Garden State. New Jersey residents strongly associate themselves with the turnpike exit closest to their homes - those in the south, with the agricultural area of the state; the central, with the Jersey shore points; and the north, with the Meadowlands and Newark International Airport. What could be better than naming a series of special, bottle-conditioned beers after the turnpike exits?

The New Jersey Turnpike Authority and New Jersey chapter of Mothers Against Drunk Driving saw things differently. With an overly microscopic dissection of the Exit Series of Beers, the NJ chapter of MADD interpreted the Flying Fish naming convention as a promotion to "drink and drive." No such association was ever intended, and Flying Fish Brewing Company stands firm that they have never promoted drinking and driving, nor ever will.

The Turnpike Authority also expressed some concern that travelers or residents might believe they sponsor the Flying Fish Series – a concern that is totally unfounded. Neither the Flying Fish website, nor their Exit Series beer labels, portrays any infringement on turnpike logos, maps, or advertising. The Exit Series of Big Bottle Beers is purely a Flying Fish Brewing Company product in every respect.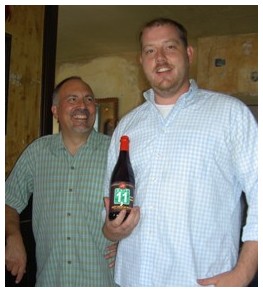 The story was picked up by the Associated Press, Fox News, and local newspapers, spreading word of the Exit Series of Big Bottle Beers coast-to-coast. With only 1,000 cases of Exit 11 available, fans of Flying Fish are competing with beer aficionados nationwide in trying to buy it before the supply runs out.

Hazy and golden with a fluffy white head, Exit 11 Hoppy American Wheat Ale is a convergence of beer ingredients and flavors. Likewise, Exit 11 on the turnpike meets with the Garden State Parkway and several other highways that lead thousands of sun worshipers to the New Jersey shore points each summer. Casey Hughes brews Exit 11 with 50% Belgian Pale Malt, 50% White Wheat and English Ale Yeast, allowing a light, clean fruitiness to emerge. He then follows a schedule of dry-hopping using three Pacific Northwest varieties of hops - Columbus, Palisades and Amarillo – throughout an entire 4 week period, imparting vibrant citrus flavors of tangerine and oranges to the brew.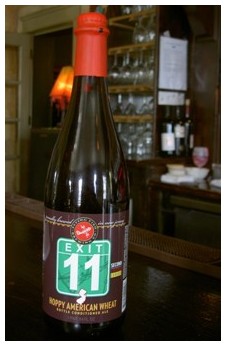 Flavors of bubblegum and juicy fruit linger in the background, ready to quench a summer thirst at a moment's notice.

The first beer in the Exit Series, Exit 4 (the turnpike exit closest to Flying Fish Brewing Company), is a Belgian Style Trippel , with American-style hopping. As one of the first American breweries to brew Belgian-style beers, Mueller and Hughes thought the style to be a fitting choice to launch the big beers. Exit 4 is brewed using Belgian Pilsner malt and candi sugar, Westmalle yeast, and assertive hopping with Simcoe, Amarillo, and Columbus Hop varieties.

Future styles are in the planning stages. Mueller hints that the agricultural areas of southern New Jersey may inspire beers made with honey, cranberries, or blueberries. The northern section of the state was home to breweries now defunct – Ballantine's, Rheingold, and Eagle Brewing, for example – and may bring about the resurrection of some of the malty, rich recipes of the golden age of breweries. Flying Fish asks fans to participate in naming future Exit Series Big Bottles by submitting their most creative videos, photos and testimonials to http://www.exitseries.com.

Cheers!

Photos are (from top): Gene Mueller launches Flying Fish Exit 11 at Standard Tap in Philadelphia, PA; Flying Fish Founder Gene Mueller and Head Brewer Casey Hughes; Exit 11 of the Big Bottle Exit Series from Flying Fish Brewing Company