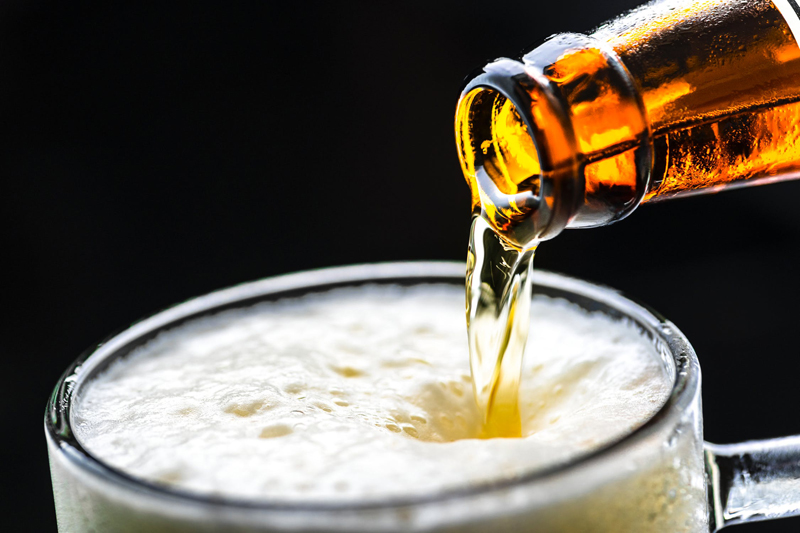 Beer can be like a French lover. While snowflakes dress the trees, you can curl up with it in front of a roaring fire. Trickle it down the side of the glass, and watch as the head forms and carbonation dances within the glass. It may be colder than you like at first, but warm it in your hands, and it releases complexities you did not see at first. Primary aromas urge you to have a light lick, while secondary patterns, previously unnoticed, demand immersion in the delicate flavors. You discover nuances of fruit, flowers, spice and heat. Sweetness of caramelized bread is tempered by earthiness, setting off shivers in the throat that move like feathers down your spine.

As a beer writer who primarily focuses on craft beer, my search for this kind of experience is usually found in the aisles of American imperial ales, Belgian Saison, Italian Extremes, or any number of exciting styles emerging from the imagination of independent artisans. In my pursuit, I usually gloss past the big two, Anheuser-Busch Inbev and MillerCoors, knowing that their products play to the demographic of beer drinkers with tastes different than those I have grown into.

So, when I was contacted by Michelob, one of the regional brands in the Anheuser-Busch Inbev group, I looked with doubt at the possibility that a Michelob product could stand up to the artful brews created in a small local shop. I would give it a chance, however, because I recall that Michelob was around in the 1800s and it remained on draft for 70 years. It was known as "the beer for connoisseurs."

Michael Lourie, Communications Manager, had dispatched a Beer Writers' Brew Survey to a cache of journalists on behalf of the Michelob Experimental Brewery, with the goal of a new release for the Beer Writers' Reception during the 2009 Great American Beer Festival in September. The results of this project really grabbed my attention.

Brewmaster Adam Goodson of the Michelob Experimental Division in St. Louis, Missouri briefed me on the recipe and process. In designing any beer recipe, the brewer must begin with basic fundamentals before adding any zingers into the mix. Since time was at a premium, the Michelob team chose a base of pale malt and a warm fermentation process to create an Ale that would be ready in a few weeks. Then, they opened the pantry, inviting beer writers to express their wildest fantasies, including the name.

The beery wordsmiths were asked to choose additional malts, hops, spices, and ingredients that would create a beer to match their imagination. They selected complex hopping schedules, target IBU levels, and ideal alcohol percentage. It was up to Goodson and his team to decipher all this information and create a beer that could stand up to the discerning taste buds of these journalists. On September 24th, they introduced Rye-Ter's Block.

Unable to attend the Reception due to my obligations as a beer judge, I received a review sample of the mystery beer from Michael Lourie thirteen days after the Michelob Reception. Without the distraction of the party atmosphere, I suspect my experience may have differed from that of the other beer writers.

My tasting notes revealed surprise at the sophistication of this luscious Rye ale:

• "Appearance: Bottle is dark brown with the classic A-B Eagle pressed into the glass. Label reads: "Special 2008-208-1 Packaged 9/13/09 Rye-ter's Block 7.0% Alcohol by Volume Test Beer (Not for Sale)…St. Louis, MO," along with the usual required Surgeon General warnings. When poured into an Anheuser-Busch Ale glass, the body displays a brilliant copper hue, sparkling, with a thin eggshell-white head. Lacing lays in rows on the glass, like a ruffled window-treatment.

• "Aroma: Malty, robust, floral, citrusy, pine forest, light remnants of roast and spices.

• "Flavor: Spicy, dark baked bread. Clean caramel with the initial impression of light brown sugar and gentle roast, but without any trace of sweetness in the finish. Really well-balanced. Treatment of hops approaches West Coast styles, but not as harsh or extreme. (Why doesn't Michelob make a beer like this on a regular basis?) Well blended mix of herbal, floral, and fruity character, touched with pine resin. Ginger and black pepper heat emerges, with a distinct passion fruit profile that shines through.

• "Mouthfeel: Spicy effervescence on the tongue, medium middle, and a secondary dryness across the teeth.

• "Overall Impression: I didn't intend to finish this so quickly. Lots of secrets in this beer. Superb interpretation of complex, rye-touched ale. Highly drinkable and recommended by this beer writer."

In his role as Brewmaster, Adam Goodson had the latitude to design the details that made this beer great, based on the most common results submitted in the anonymous survey. The grist was comprised of two-row Pale Malt, plus 4 additional malts – Caramel, Munich, Rye, and Chocolate. "Chocolate malt adds a nice roastiness," Goodson commented. Belgian candi sugar was added to the brewkettle. Over the course of the boil, – early, middle and late – Goodson added the bittering and fragrance of five different hop varieties. Paradise Seeds were tossed-in 1 minute before the finish. Dry hopping in the secondary fermentation using three hop varieties and pungent juniper berries contributed to the complexity. To preserve the hop oils and spiciness, dry-hopping lasted only one minute, with no boil. A product of experience, Goodson remarks, "Choose what you think you need; then, cut it by 75 per cent."

Beer crafted by Michelob's Experimental engineers cannot be sold and is expressly made for festivals, homebrew sessions, beer & food pairings, sessions with the Brewmaster, and other special events. These beers may be more common styles such as Dunkelweiss or Imperial Stout, or may step outside the boundaries on the cutting edge of design. Grand, created for the Pints for Prostates Rare Beer Tasting, was aged on Brettanomyces and displayed the profile of Duvel. Pear Beer – with pear juice and elderflowers added prior to fermentation - displayed the delicate nuances of a fine French Cider. Winter Bourbon Cask Ale was enhanced with Madagascar vanilla beans.

If I have piqued your curiosity, you may have the opportunity to try some of these distinctive masterpieces. Michelob Rye Pale Ale or Jack's Pumpkin Spice were born in the Experimental Brewery and made it to market as Seasonals in a Brewmaster's Variety Pak. Seek out Anheuser-Busch Dinners with the Brewmaster and don't be a beer snob at the next Beer Fest. The A-B table may be showcasing one of these unusual beers.

Cheers!

Photo: courtesy of Anheuser-Busch InBev, used with permission - Photo Credit: David Foxhoven - Photo is of Adam Goodson presenting Michelob Rye-Ter's Block

 
You Should Also Read:
Clydesdales , Shires & Horse - Drawn Beer
Beer & Molasses History - The Great Molasses Flood of 1919
Anheuser-Busch Introduces Budweiser American Ale


Related Articles
Editor's Picks Articles
Top Ten Articles
Previous Features
Site Map





Content copyright © 2023 by Carolyn Smagalski. All rights reserved.
This content was written by Carolyn Smagalski. If you wish to use this content in any manner, you need written permission. Contact Carolyn Smagalski for details.