How Do You Define Beer - Lager - Ale - Porter ?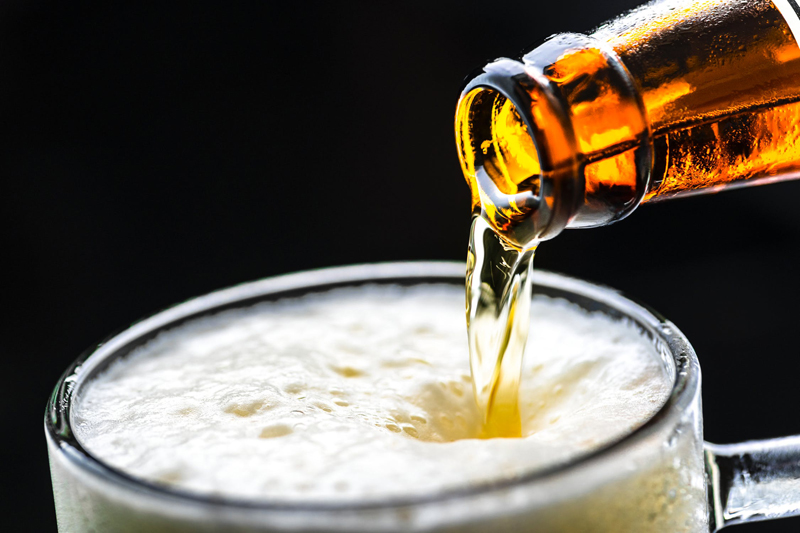 In one of my most recent emails, T.H. from Allentown, Pennsylvania, USA asked, "Could you tell me the difference in ingredients when brewing: Beer, Lager, Ale, and Porter?"

Terminology may differ in different countries, but the Brewers Association in the USA has general definitions of each and is one of the world's leading authorities on the subject. These definitions differ from how the TTB (the Alcohol and Tobacco Tax and Trade Bureau) of the USA defines them.

• Ale is a style of beer made using Saccharomyces Cerevisiae yeast. It is top fermenting beer (it flocculates, or gathers, at the top of the tank) and ferments at warmer temperatures (55-70°). Ales usually take about 2 weeks to finish. Ale yeasts will always form a "yeast bed" or sediment on the bottom.

• Lager is a style of beer made using Saccharomyces Carlsbergensis (aka Saccharomyces Pastorianus). It is bottom fermenting beer (it flocculates, or gathers, at the bottom of the tank) and ferments at colder temperatures ( 40-50°, near freezing). Lagers are stored, or lagered, for longer than ales. They may take 6 weeks to finish.

Keep in mind that, due to more recent evaluation of this yeast strain, Saccharomyces Carlsbergensis has been re-classified to be included in the Saccharomyces Cerevisiae designation due to its reproductive process. Brewers still refer to the two as separate, however.

• There are also beers made using Brettanomyces, Pediococcus, and Lactobacillus, or combinations of each, along with ale yeast, champagne yeast, or lager yeast. These are generally Belgian or Belgian-style beers with flavors that cross into those of wine, but with a beer presence. They are often fermented in a "cool ship," an open vat that looks like a 2-3 foot high swimming pool. These cool ships are found on the upper floor of the breweries in Belgium, with slats that are open to the air and cobwebs hanging in the rafters above. The terrior of the region has naturally occurring zoological organisms in the air, and make this most wonderful style of beer. Americans can make this beer as well, but do not have the advantage of the rich terroir of the Zenne Valley, so this style differs from that made in Europe. Lambics, Gueuze, Biere de Garde, Biere Brut, Saison, Flemish Red, and Oud Bruin are some examples of these styles.

Within all these styles of beer, there are over a hunded sub-styles, defined and categorized by the Brewers Association, Beer Judge Certification Program, Australian Beer Cup, etc. Porter is usually produced as an ale, but may be fermented at colder temperatures using lager yeast. Read more about it here:

Porter - History of Beer and Imagination
https://www.bellaonline.com/articles/art26470.asp

Is Sake Beer ?
https://www.bellaonline.com/articles/art56586.asp


According to the Alcohol, Tobacco Tax and Trade Bureau (TTB), formerly known as the Bureau of Alcohol, Tobacco and Firearms (ATF), beer is defined under the 1991 United States Internal Revenue Code as follows:

"Beer, ale, porter, stout and other similar fermented beverages (including sake or similar products) of any name or description containing one-half of one percent or more of alcohol by volume, brewed or produced from malt, wholly or in part, or from any substitute thereof."

This regulation was written by people who know little about beer, but did their best to slap taxing regulations on it. They thought they covered it all.

The Reinheitsgebot, or Beer Purity Law of 1516, requires that beer be made with 3 ingredients: Barley, water, and hops. Yeast was unknown as an ingredient at the time and was referred to as "God is good." It is implied that yeast is a part of this requirement. This is possibly the oldest food regulation in the world and, by some accounts, was created to protect the populace from cheaper, poisonous, and impure ingredients – however, it was also used in an attempt to ruin the economies of rival European countries or cities that Bavaria was trying to control.

Some beers are made without traditional ingredients of barley (e.g., mead, experimental and gluten free beer), and are covered by the TTB definition by the wording "from any substitute thereof." Most German brewers do not agree. Furthermore, most state laws require that mead be made at a "meadery." It requires a different license than a brewery, and cannot be made in the same facility.

Gluten Free Beer is valid, according to the Brewers Association - in the 2009 Beer Style Guidelines:

"…as much as it is possible, beer character is not described in terms of ingredients or process. These guidelines attempt to emphasize final evaluation of the product and try not to judge or regulate the formulation or manner in which it was brewed, except in special circumstances that clearly define a style."

Cheers!
 
You Should Also Read:
Ask the Beer Fox - Astringency in Beer
Gout and Gluten Free Beer
What is an American Craft Brewer ?


Related Articles
Editor's Picks Articles
Top Ten Articles
Previous Features
Site Map





Content copyright © 2023 by Carolyn Smagalski. All rights reserved.
This content was written by Carolyn Smagalski. If you wish to use this content in any manner, you need written permission. Contact Carolyn Smagalski for details.