Sumac Chicken & Onion Bread Recipe
This recipe is my version of an ancient Palestinian chicken recipe called Mousakhan, a long standing staple from the Middle Eastern kitchens from where it originated. It is totally delicious, packed with depth of flavor and you will never make enough...trust me!
If you have never used sumac, then you are in for a wonderful awakening in the flavor department. Sumac is indigenous to Europe and the Middle East - not to be confused with poison sumac - this spice/herb is safe here! With a deep red hue in color, it brings forth a lemony flavor that when added to chicken or fish brings the taste buds and the recipe alive!
There are many health benefits too. Sumac berries are full of vitamin C and are great as an antimicrobial agent along with being a great anti-inflammatory - especially if you have touches of arthritis and some skin conditions. It's also an aide for fighting respiratory problems along with colds and flu.
Sumac can be found very inexpensively at many Middle Eastern markets which comes in a ground form of its delicate little red berries. This wonderful herb is great added to soups, stews, sautéed veggies, rice, pasta and more...try it out and experiment - it's fabulous!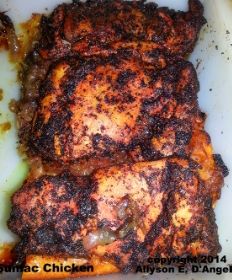 Ingredients
The Chicken
3/4 cup extra virgin olive oil, divided
3 lbs. boneless skinless chicken thighs
5 tbsp. ground sumac + 1 big pinch
1 tsp. ground allspice
1/2 tsp. turmeric
2 tbsp. salt, divided
2 tsp. ground black pepper, divided
3 tbsp. fresh lemon juice
The Onions
4 large red onions (4-5 cups, sliced 1/4 inch thick)
6 cloves of fresh garlic, chopped finely
1/2 cup chicken broth or stock
2 large Turkish Pide flatbreads or other heavy flatbread
Olive oil for brushing
3 oz. toasted pine nuts or slivered almonds (optional)
Method
Preheat the oven to 360 degrees F. when you start the onions.
1. Begin by marinating the chicken thighs with 1/4 cup of olive oil, sumac, allspice, turmeric, 1 tbsp. salt, 1 tsp. pepper and lemon juice. Place in the refrigerator for approximately 1 hour to blend the flavors of the spices.
2. While the chicken is marinating we can cook the onions. Heat the remaining olive oil over a medium heat for approximately 2 minutes. Add the onions, remaining salt and pepper and toss to coat with the oil. Cover and reduce the heat to medium low and cook for approximately 30 minutes until they become really soft. Remove the lid and raise the heat to medium high and add the 1/2 cup of chicken stock or broth. Stir often, uncovered, until the broth has reduced and is absorbed by the onions. Remove with a slotted spoon and set aside.
3. Next, heat the remaining oil in and same skillet you cooked the onions in over a medium high heat and cooking in batches, brown the pieces of chicken on both sides, approximately 1 minute per side. Remove to paper towels to drain.
4. Putting it all together. Brush the flat bread with a little olive oil on both sides and cut into pieces to fit into a large casserole dish (or two) so that it covers the bottom. Smother the onions over the bread and place the pieces of chicken on top. Drizzle a little bit of olive oil over the chicken and cook uncovered for approximately 30 - 40 minutes. Garnish with the toasted pine nuts or almonds if desired.
The best way to eat this is with your fingers. Cut up little pieces of chicken and eat them on top of the pieces of onion bread. When eaten together like this, it truly is - a perfect bite! You will be amazed.
You Should Also Read:
Visit my Home Cooking Site for more delicious recipes!


Related Articles
Editor's Picks Articles
Top Ten Articles
Previous Features
Site Map



Follow @CateringMom
Tweet



Content copyright © 2022 by Allyson Elizabeth D´Angelo. All rights reserved.
This content was written by Allyson Elizabeth D´Angelo. If you wish to use this content in any manner, you need written permission. Contact Allyson Elizabeth D´Angelo for details.