Gourmet Treat - Holiday Beer at Monk's Cafe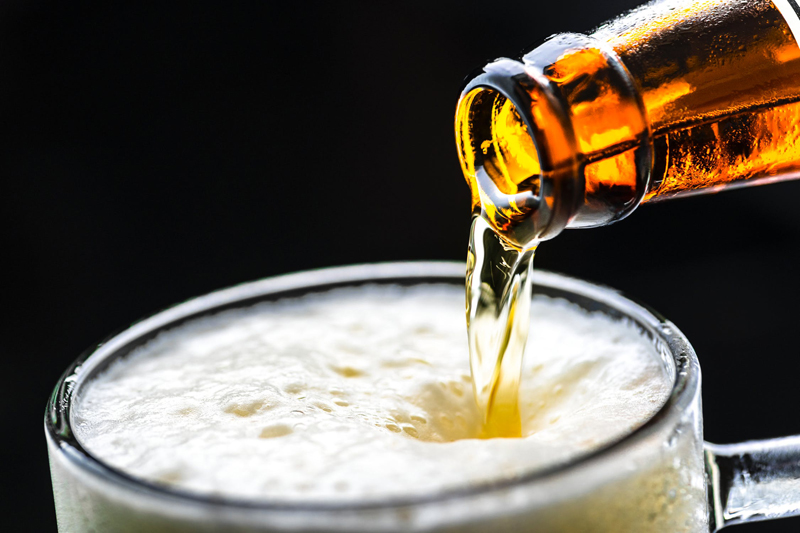 Holiday feasts linger in our minds like so much sweetness, drenched in sumptuous flavors, exotic aromas, joyous laughter and seasonal spirits. Tom Peters' 16th Annual Holiday Dinner on December 15, 2009, at Monk's Café in Philadelphia was no exception. Perched at the front bar as one of several guest beer writers, I settled-in with seasoned and salty newsman Jack Curtin; award-winning Lew Bryson; Don Russell (aka Joe Sixpack), author of the highly acclaimed book, Christmas Beers; Beer Historian Rich Wagner; and George Hummel and Nancy Rigberg, inductees into Governor Ed Rendell's Keystone Society for Tourism as winners of the Pennsylvania Inspiration Award.

Adding to the luxe was Christine Celis, daughter of beer icon Pierre Celis, the revivalist of Belgian White - the original beer of Hoegaarden - and innovator of cave-matured Grottenbier. Christine Celis attended as the importer of St. Martin beers, and spoke with me of her passionate desire to carry on her father's legacy as he becomes less able with the complications of age.
Abbaye de St. Martin Cuvee de Noel of Brasserie Brunehaut in Belgium, was presented by Ms. Celis as a Belgian Strong Dark Ale of 6.9% ABV that stood side-by-side with Tsjeeses, a 10% Belgian giant – both able suitors to match the exotic entrée of Elk Loin.

Chef Adam Glickman, former Executive Chef of Monk's with 9+ years of service, presided over the kitchen's culinary team, directing his last Holiday Dinner at Monk's before moving on to expand his creative talents. His six-course dinner was splashed with specialty gourmet items that paired well in the regal presence of nine legendary beers. Three of the courses were designed with the beer that accompanied them at the dinner table: Mussels and Chorizo was steamed with Sly Fox Christmas 2007; Hearts of Palm and Spinach Salad were garnished with strawberries and pine nuts, then drizzled with a dressing made with Jolly Pumpkin Noel de Calabaza; and a delectable Elk Loin was served with blackberry sauce made with St. Martin Cuvee de Noel.


The elk course stood as a tribute to Belgium, served with Brussel Sprouts and Sweet Potato Stoempf. Stoempf, (aka stoemp), hails from outlying rural regions of Belgium and the Netherlands. It is typically made from pureed potatoes, carrots, or other root vegetables, and is blended and seasoned with cream, bacon, leeks, herbs, and spices. Although it is often served with horse tenderloin, Monk's followed the lines of traditional American fare by serving lean, tender elk.

Some would refer to the second course, served near the beginning of the dinner, as "millionaire's salad," but Tom Peters is low key while setting high standards for these memorable beer dinners at Monk's. Hearts of Palm is an extravagant food that echoes the extravagance of Noel de Calabaza.
Hearts of Palm may be harvested from the inner core and growing bud of select palm trees (which kills the tree), or are taken from domesticated varieties that have multiple stems – as many as 45 per plant – allowing the harvesting of these delicacies without causing irreparable harm to the plant. The funky, tart, and spicy flavors of Noel spotlighted the delicate flavors of the Palm and Spinach, without overpowering any of them.

Scaldis Prestige 2007, from Dubuisson Brewery in Belgium, roiled up with big, oaky notes that paired in perfect harmony with a cheese trio and apple & blueberry compote. These specialty cheeses all sang with flavor in the presence of Prestige:

Moliterno, a hard, sheep cheese from Sardinia, Italy, is matured in canestrato, made from Apulian reed that imparts a distinctive flavor to the cheese. Moliterno is sweet and earthy with a slight tang.

Quadrello di Bufala is a soft, creamy cheese made from raw buffalo milk. The rind is tinged with pink, surrounding the ivory creaminess that is locked within. Buffalo milk cheese is lower in cholesterol than cheeses made with cow's milk, and is sweet and tangy like Moliterno, but has a totally different texture.


Bayley Hazen Bleu cheese hails from Vermont and is made from Ayrshire Raw Cow Milk. This is dry and crumbly, and is a natural rinded bleu cheese. General George Washington commissioned a road for troops to battle the English along the Canadian front and named it Bayley Hazen, from which the cheese got its name.

No less impressive was the pan seared scallop with beet risotto and sautéed beet greens. This delicate dish reflected the floral notes in Brasserie St. Germain Page 24 Biere de Noel of France and the dry, rich, full flavors of Brasserie La Rulles Cuvee Meilleurs Voeux.

As a final show of classic fun, Tom Peters appeared holding a Jeraboam of Troegs Mad Elf 2005 on his head, as Buche de Noel was being served. Honey and cherries in the Mad Elf emerged along with the sweetness of the dessert. Tripled-up with the pair was Port Brewing Santa's Little Helper from California, a 9.5% Russian Imperial Stout, screaming of maltiness and sweetened with Belgian candi sugar.

Cheers!

Photos are (from top): Monk's Cafe, Philadelphia, Pennsylvania, USA; Tom Peters and Christine Celis; Jack Curtin(Beerwriter & Journalist), Lew Bryson (Drinks Writer), Chef Adam Glickman (Executive Chef), and Carolyn Smagalski (Beer Fox)  
You Should Also Read:
Delicate Pairings of Beer and Cheese
Holiday Seasonal Beer & Party Snackers
The Grand Embellishment of Food with Beer


Related Articles
Editor's Picks Articles
Top Ten Articles
Previous Features
Site Map





Content copyright © 2019 by Carolyn Smagalski. All rights reserved.
This content was written by Carolyn Smagalski. If you wish to use this content in any manner, you need written permission. Contact Carolyn Smagalski for details.