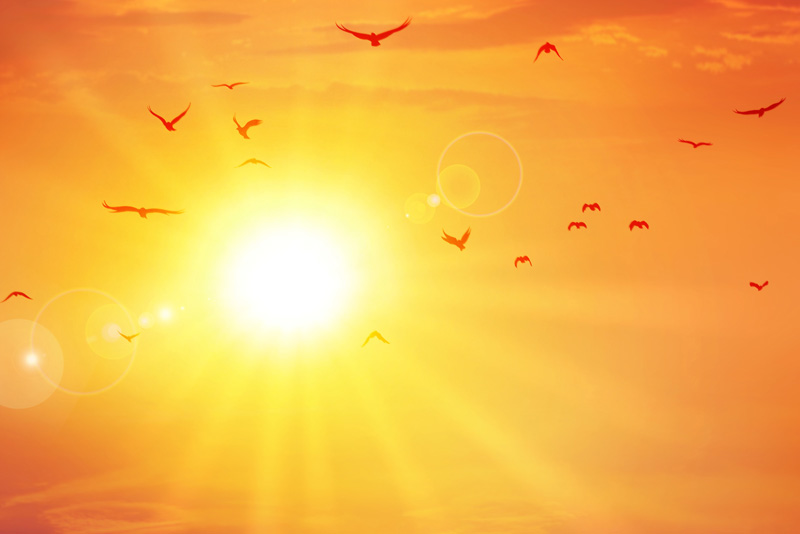 God is a good and loving Father. He is merciful, forgiving, and kind. He is our Creator. Why then, is there so much pain and suffering in the world? Why does He allow it? If our God is so very powerful and so loving, why doesn't He let us live perfectly happy lives in a perfect world?
Looking into the Bible, I see that God did create a perfect world for us to live in. We call it the Garden of Eden. He created the garden and put Adam and Eve in it. He gave them freedom of choice and only one command. There was one thing that He told them not to do.
In Genesis 3:3, He said that they
"must not eat fruit from the trees in the middle of the garden."
They must not touch it, or they would die.
Like wayward children, they used their freedom of choice to defy their Father. They ate from the tree in the middle of the garden. As a result of that sin – that willfully disobeying of God's command - death and suffering came into our perfect world. This was mankind's first sin. Everyone born after that time must deal with the consequences of it.
Romans 6:23 says that
the wages of sin is death.
Exodus 34:7 tells about one cause of suffering. "He does not leave the guilty unpunished; He punishes the children and their children for the sin of the fathers to the third and fourth generation."

Is suffering really the result of the parents' sin? Think of drug addicts giving birth to addicted babies, alcoholics with babies suffering fetal alcohol syndrome. STDs passed on during the birthing process. Violence by the parents in the home has been proven to repeat itself in the homes of the children when they are grown. You may be able to think of many more examples of the sins of the fathers resulting in the suffering of the children.


1 Corinthians 11: 32 gives another reason for suffering. "…we are being disciplined so that we will not be condemned with the world."
The Bible says that sometimes God allows suffering to wake us up and make us aware that we are traveling down the wrong road. This is like a parent disciplining a child in order to save him from future suffering.


Still another reason for suffering is in John chapter 9. The disciples wondered what sin caused blindness in a man who was born blind. (John 9:3) Before giving the man his sight, Jesus said that the reason for his blindness was that "the work of God might be displayed in his life." So, in some cases, only God knows the reason for suffering, and it is for His good purpose.


There are obviously many kinds of suffering and as many reasons for it. It isn't my place to decide why it happens. My life is in God's capable hands as is every other life on this planet. What is my role, as a Christian, in the face of a suffering world?
I won't waste time in wondering why a person suffers. God knows the reason and it is His business, not mine.
My Christian business is to show compassion.
I will be present. I will listen without judging.
I will lend a helping hand.
I will weep with those who weep.

I will pray with them and for them. James 5:15-16 says that prayer offered in faith will make the sick person well. If he has sinned, he will be forgiven. Christians are to confess sins to each other and pray for each other so that they may be healed.
Because of Adam and Eve, we will suffer in this life and we will die a physical death. It is a fact of life but a fact of a Christian's life is that the
free gift of God is eternal life in Christ Jesus our Lord.
(Romans 6:23) Life in Christ means that when we suffer, we rely on His strength. We are never left alone. And when we die in this physical life, we step right into the arms of Jesus, to live with Him where there are no tears and there is no suffering.
Comment on this article
in this forum posting
.
You Should Also Read:
Religion and the Christian
Sine - What is it?
Worship


Related Articles
Editor's Picks Articles
Top Ten Articles
Previous Features
Site Map



Follow @LynneChapman
Tweet





Content copyright © 2021 by Lynne Chapman. All rights reserved.
This content was written by Lynne Chapman. If you wish to use this content in any manner, you need written permission. Contact Lynne Chapman for details.