Giving Up Beer for Lent ?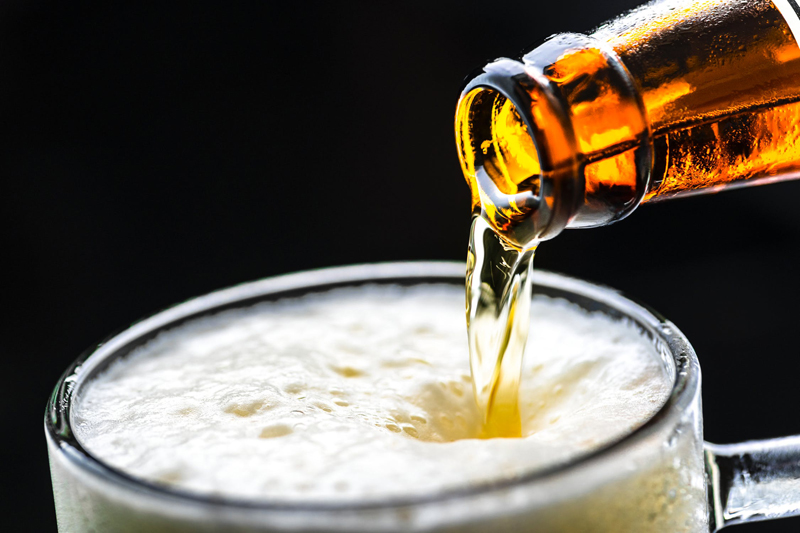 As soon as Punxsutawney Phil pokes his mud-flecked pelt into the sunlight on February 2nd, spring runs closely at his heels. Old-man winter grudgingly curls back into the earth, while Pysanky eggs and Easter grass vie for center stage. For many, this marks the season of sacrifice Ea time when devout Christians make a vow to give up a special indulgence for Lent. Often, that indulgence is beer. With the soulful eyes of a Margaret Keane painting, they sigh with exasperation a few days later, begging for an easy out. "I didn't think it would be this hard,Ethey say.

Summoning all the empathy I can muster, I chuckle gently. In my humble opinion, their intentions at sacrifice are perhaps skewed Eperceived from the angle of a drummer out of step. Had they looked through the eyes of civilization, they would understand the historical role beer has played in man's development of faith and society. Then, they would realize how uncivilized it is to give up beer for Lent.

Before Louis Pasteur proved that living organisms caused fermentation in his 1860 publication of Etudes sur la Biere, brewers attributed the process by which liquid was turned into beer as "God is good.ENot only was fermentation a blessed event, but it also protected the populace from illness and death. Processes such as water purification and pasteurization were not yet developed, so water was not typically the beverage of choice. Beer was consumed by men, women and children, cleansed by the results of fermentation.

Monks throughout northern Europe practiced rigorous self-denial and manual labor, committed to an ascetic lifestyle and to working with their hands. They tilled the soil, planted barley and wheat, and fasted for extended periods of time. In fasting, they were not permitted to consume solid food; but fasting was not broken by liquids (liquida nonfrangunt ieunium), so the monks developed diverse styles of beer, champagne and wine. It was beer, however, that sustained them during times of fasting. They brewed high gravity beer and called it "liquid bread.E

In 1629, Paulaner monks from the monastery "Neudeck op der Au" near Munich, Germany, brewed a strong bock beer they called "Sankt-Vaters-Bier." They needed permission to drink this strong liquid during Lent, so they sent a small convoy bearing a cask of this Doppelbock to Rome for approval by the Holy See. The beer traveled a journey across the Alps and into the hot, dusty roads of Italy. By the time the pope and his advisors sampled the Sankt-Vaters-Bier, it had soured considerably. Church authorities saw no reason to deny such a request, particularly if the monks were willing to make the sacrifice of drinking this unsavory brew. Consumption of doppelbock was considered to be beneficial to the soul Ea sacrifice, not an indulgence.

Archaeo-anthropologists have found evidence of civilizations who worshipped gods or goddesses of beer dating back more than 8,000 years. The range of these societies is staggering. Although the gods are different, the idea that beer was a supernatural gift of celebration was universal, whether centered in Northern or Southern Europe, Asia, Africa, or the Americas.

In 2005, the University of Pennsylvania Museum of Archaeology and Anthropology in Philadelphia, Pennsylvania, USA presented a traveling exhibit, Treasures from the Royal Tombs of Ur. Ur, located on the Euphrates River in what is now modern day Iraq, was founded in 6000 B.C.E. and had become the most powerful city in Mesopotamia by 3000 B.C.E. In this area of the world, archaeologists unearthed a priceless cache belonging to Lady Puabi, Queen and High-Priestess, brewer of beer. Treasures such as a lapis lazuli, carnelian and gold cape, golden headdress woven of leaves and curling branches, and an ostrich egg drinking bowl of gold and precious gems, were found in her tomb, along with a beer drinking straw Efashioned of gold, believed to be the earliest invention of a straw implement used by ancient civilizations. These were precious possessions taken into the afterlife, evidence of a reverence for beer by an early, civilized nation.

Sumerians worshipped Ninkasi, the goddess of beer. In another area of this ancient Mesopotamia, clay tablets dating back to 1800 B.C.E. bore a recipe for making beer, using bread (bappir) soaked in liquid. The rhythmic hymn on these tablets was interspersed with praises to Ninkasi, the "one who fills the mouth.E

Areas of northern Europe echoed these same beliefs in traditional tales. In Prose Edda, Icelandic author Snorr Sturlson tells a tale about dwarves who create ethereal mead for giants, but it was stolen by the god Odin for his own pleasure. Norse mythology also speaks legends of the god Aegir, who reigned over beer and brewing and controlled the wind and the sea. Across the Baltic Sea, mythological tales were told of Raugupatis, god of fermentation, and his partner, Raugutiene, the goddess of beer. In the Slovak countries to the southwest, Radegast, the god of hospitality, is credited for creating beer. Moving into the southern Greek Islands, ancient Greek mythology had many stories about Silenus and Dionysus.

On other continents, Mbaba Mwana Waresa was hailed as the goddess of beer in traditional Zulu mythology. She was believed to have brewed the first beer for mortals to drink. Other African cultures aligned themselves with Yasigi, a dancing female with ample breasts who carried a beer ladle. Across the ocean, the Aztecs had Tezcatzontecatl, the god of pulque, who was deemed to have power over drunkenness and fertility.

Get back to your roots. Perhaps those who want to sacrifice by abstinence would be better served by giving up French fries or fast food.

Cheers!

 
You Should Also Read:
Trappist Beer - The Select Seven
Ask the Beer Fox - History of Molasses in Beer
Beer Tasting with Michael Jackson - The Beer Hunter


Related Articles
Editor's Picks Articles
Top Ten Articles
Previous Features
Site Map





Content copyright © 2023 by Carolyn Smagalski. All rights reserved.
This content was written by Carolyn Smagalski. If you wish to use this content in any manner, you need written permission. Contact Carolyn Smagalski for details.