Guest Author - Don McKay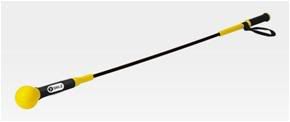 The SKLZ Target Swing Trainer is a hitting wand that is about four feet long with a softball-sized hard plastic target at its end. I have used it for a little more than one season of girls 12U fast pitch softball (estimated number of hits: 11,600), and it is barely holding up. After about only a month of use, the plastic coating of the wand started separating from the target exposing the fiberglass center of the wand. While still usable, the fact that it is already coming apart indicates construction of poor quality, and mine currently has a bunch of duct tape holding it together.
I bought this hitting wand to replace one that was five feet long and had a baseball-sized target. Even at the first practice of use, my players wanted the old hitting wand back. They found that the shorter length of the new wand stung their hands more when they were holding it compared to the old wand. Additionally, the shorter length put more torque on their hands as they tried to hold the wand in place after the batter hit the ball. Even as a stronger adult, I felt a noticeable difference in comfort between the SKLZ Target Swing Trainer and the older wand.
A hitting wand is a fundamental batting station that is included in every one of our practices. Unfortunately, because of its poor quality and its lack of comfort compared to other hitting wands, I cannot recommend the SKLZ Target Swing Trainer. There are definitely better products that cost about the same on the market.
Note: Image provided from SKLZ.com
Instead, I recommend:
BellaOnline Softball Subject List:
Coach´s Box
,
Health & Medical
,
History of Softball
,
International Softball
,
Organizations
,
Parents
,
Professional Softball
,
Reviews
,
Rules & Regulations
,
Scorekeeping
,
Stats & Analysis
,
Travel Ball