Guest Author - Jeanne Egbosiuba Ukwendu
Name:
Mountain Gorilla
Scientific Name:
Gorilla beringei beringei
African Names:
Makaku (Swahili)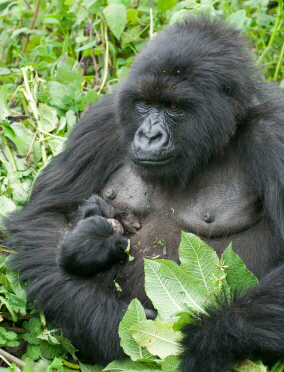 Height:
5 feet 8 inches
Average Adult Weight:
Up to 600 pounds
Life Span:
30 to 50 years
Description:
Mountain gorillas have longer hair than other gorilla species. The long black hair keeps the gorillas warm in the cool mountain forests.
Habitat:
Dense forests and rain forests. One population of mountain gorillas is found in Bwindi Impenetrable National Park in Uganda. The other population is found in a mountainous area called the Virungas. The Virunga region includes Mgahinga Gorilla National Park in Uganda, Volcanoes National Park in Rwanda, and Virunga National Park in the Democratic Republic of Congo.
Countries found in:
Democratic Republic of the Congo, Rwanda, Uganda
Babies:
Gestation is 8 1/2 months. Babies weigh about 4 pounds. Baby gorillas nurse regularly for the first year of life and are weaned around 3 1/2 years. A female gorilla may only have 2 to 6 living offspring by the time they die. A female will have a baby every four or more years.
Food:
Gorillas are herbivores. They eat over 100 different types of plants including many succulents.
Group Name:
Troop. A troop consists of 2 to 40 gorillas, but averaging somewhere around 11. A troop is led back a dominant male called a silverback. He protects the group from predators, determines when the troop eats and sleeps, and settles disputes among troop members.
Habits:
Mountain gorillas are very shy and gentle. Mountain gorillas have very tight knit troops. If a mother dies, the silverback will take her young children into his nest to raise them. When a silverback dies the troop is highly disrupted especially if there isn't a male descendent ready to take over. A completely unrelated silverback may take over the troop and will kill any infant gorillas from the former leader. This is to encourage the females to mate with him to propagate his own offspring.
Conservation Status:
Critically Endangered. There are roughly 720 mountain gorillas in the world.
Predators:
Humans, leopards
Interesting Facts:
Mountains gorillas were only discovered in 1902.
Mountain gorillas are afraid of water and will only cross streams if they can do so without getting wet.