Guest Author - Jeanne Egbosiuba Ukwendu
The vuvuzela, a South African instrument made famous (or infamous) by the 2010 FIFA World Cup, is a type of end blown trumpet originally inspired and made from a kudu's horn. The vuvuzela's original use was to summon people from distant villages for gatherings. The vuvuzela is also called a "stadium horn". African names for the vuvuzela are ixilongo in isiXhosa, mhalamhala in Tshivenda, and lapatata in Tswana.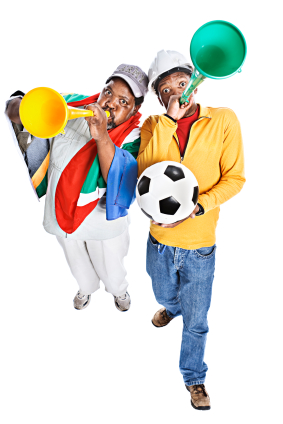 Vuvuzelas were first used in South Africa in 1992. These vuvuzalas were made out of discarded tin cans. From there the popularity of the vuvuzela spread like wildfire. The first metal vuvuzela was made by Freddie "Saddam" Maake who is claiming the invention of the vuvuzela. He created an aluminium vuvuzela in 1965 from a bicycle horn.
The plastic version of the vuvuzela began to be mass produced due to a grant given by SAB Miller (a South African brewer) to Neil van Schalkwyk's company Masincedane Sport in 2001.
The vuvuzela can damage hearing because of its volume. If someone is at the bell end of the horn while it is being blown, the sound is potentially loud enough to cause someone to become deaf. The sound of many vuvuzelas playing sounds like a giant swarm of angry bees. If you don't believe me, just watch one of the World Cup soccer games.
Manufacture of plastic vuvuzelas began in 2009 in preparation for the 2010 World Cup. There has been a lot of controversy and complaints about the volume of vuvuzelas. The soccer players and coaches have complained the instruments are too loud and they can't concentrate on the game. Fans who are watching the games on TV have complained they can't heard the commentators' descriptions of the games. There are people who would like the see the vuvuzela banned from the stadium. TV stations have added new filters to their sound systems to filter out the noises of the over-eager vuvuzela playing football fans.
You can purchase a
Vuvuzela from Amazon.com
in an assortment of colors.
Own an iPhone? There's a app for that! Go to the app store and search on "vuvuzela". You will find a free vuvuzela app where you can choose your color from 8 different countries' soccer teams.