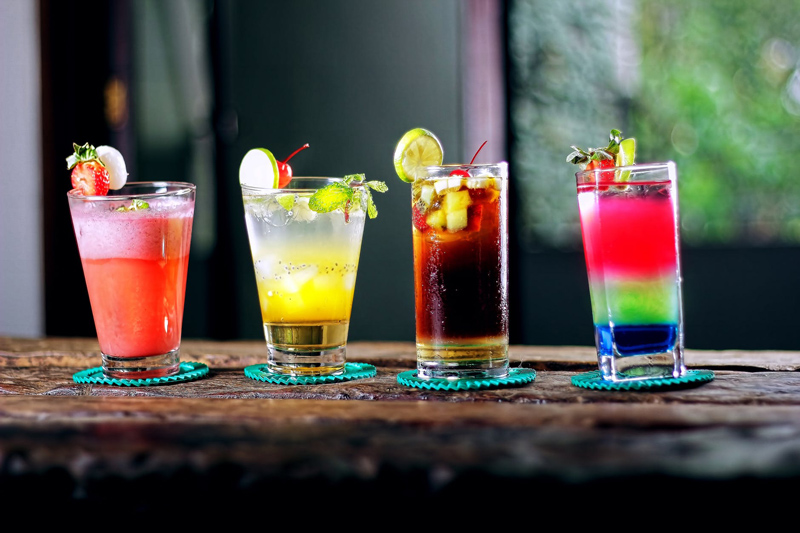 Even though it's usually lots of fun, many people need a "better" reason, a special occasion, to host a party. Here's a quick countdown of reasons to party every month.

January
Start the New Year easy, with a pitcher of soothing Bloody Marys bright and early. On the 8th, sip some Tennessee whiskey in honor of Elvis Presley's birthday. Confound your guests by serving only drinks named after real people - Marilyn Monroe, Rob Roy, Mary Pickford, Churchill, for example - during No Name Calling Weekend.

February
Mardi Gras festivities call for New Orleans originals; pour up some Sazerac Cocktails or a potent Hurricane. Think love and romance for Valentine's Day, of course; serve drinks such as Adonis, Casanova, Puppy Love, or a Slow Comfortable Screw. Unopened wine bottles collecting dust? Dust one off for Open That Bottle Night.

March
Think beer in March. March 1 is Beer Day and the 17th is St. Patrick's Day, when the best beer is the same color as the Emerald Isle herself. Plant a tree for Arbor Day and toast its birth with a cocktail made from tree fruits or nuts - Applejack brandy, peach schnapps, Frangelico (hazelnut), Amaretto (almonds), or perhaps some Nutty Brown Ale.

April
Salute life with healthy adult beverages on World Health Day; think red wine, gin and tonic highballs, Bloody Marys, and Mimosas. Income taxes are due on April 15; drink whatever your tax-ravaged pockets can afford. Champagne cocktails are perfect beverages to serve for Passover and Easter feasts.

May
May gets off to a running start when you serve Mint Juleps at a Kentucky Derby party. Send taste buds south of the border for a Cinco de Mayo celebration; put Margaritas, Tequila Sunrises, and Ramos Fizzes on the menu. On her special day, honor Mom with her favorite cocktail, no matter what it is. Jaeger Bombs aren't the only incendiary option for honoring our fallen soldiers on Memorial Day; mix up some B-52s, Liberators, Torpedos, Blackhawks, and a La Bomba or two.

June
Celebrate Father's Day with Dad's favorite beverage but remember our North American forefathers, too. Native Americans knew the full moon in June as the Strawberry Moon; sip on some thirst-quenching Frozen Strawberry Daiquiris while howling at this summertime moon.

July
Watch Independence Day fireworks shows sipping red wine, Pina Coladas, and Blue Hawaiians. Serve up rich, luscious ice-cream drinks on National Ice Cream Day; try a Brandy Alexander, Grasshopper, or a Pink Lady.

August
Whatever it is, serve it as a double on Twins Day in August; there are three official Twins Days in August to choose from so scheduling a party shouldn't be much of an issue. Kool-Aid Day calls for punches in every color of the rainbow but serve fussy, fruity drinks on Girlfriends Day; make sure there are lots of extravagant garnish options to decorate drinks with. Don't mix anything during Simplify Your Life Week; serve only beer, wine, and premium spirits served neat or on the rocks.

September
Put your party to work for Labor Day; serve Boilermakers, Rusty Nails, Side Cars, Planter's Punch, Buckaroos, and Millionaires. Set sail into a pirate mood on National Talk Like a Pirate Day; drink Caribbean Breezes, Rum Runners, Cuba Libras, and Mojitos.

October
Think Italian to celebrate Columbus Day; use plenty of Amaretto and Frangelico liqueurs to flavor cocktails such as the Genoa, Caruso, and Bellini. Serve up a devilish and demonic drinks menu for Halloween; consider serving Green Devils, Lady Killers, Vampiros, Mad Monks, Last Goodbyes, Red Witches, and Zombies, of course!

November
Sadie Hawkins Day calls for moonshine, pure and simple. Tackle the winter holidays head-on on Loosen Up, Lighten Up Day; chill out, relax, and sip on low-calorie cocktails and light beers while leaving the annual holiday battle plan for another day.

December
Cozy up to some warm cocktails during the coldest time of the year. Wassail is traditional as a warm winter punch but try warm Egg Nog, Irish or Mexican Coffees, Tom and Jerry, and Hot Buttered Rum. Mulled wines and spirits served warm are great for keeping the chill out of one's bones during even the longest, darkest nights and don't forget to stock up on champagne before this year once again slips away into the next one.

That's not exactly a party every day of the year but it's a start good enough to keep your drinking buddies interested. And, with a little brainstorming, you and your friends are sure to come up with some wildly unique and personal occasions to celebrate over the course of a year.

When all else, have a party to celebrate today. It's the only day we can be truly sure of and that's reason enough to celebrate, don't you think?


You Should Also Read:
How Much Is A Measure?
Frozen Strawberry Daiquiri Recipes
Cocktail Word Origin


Related Articles
Editor's Picks Articles
Top Ten Articles
Previous Features
Site Map



Follow @drinkandbemerry
Tweet



Content copyright © 2019 by Sandy Hemphill. All rights reserved.
This content was written by Sandy Hemphill. If you wish to use this content in any manner, you need written permission. Contact Sandy Hemphill for details.