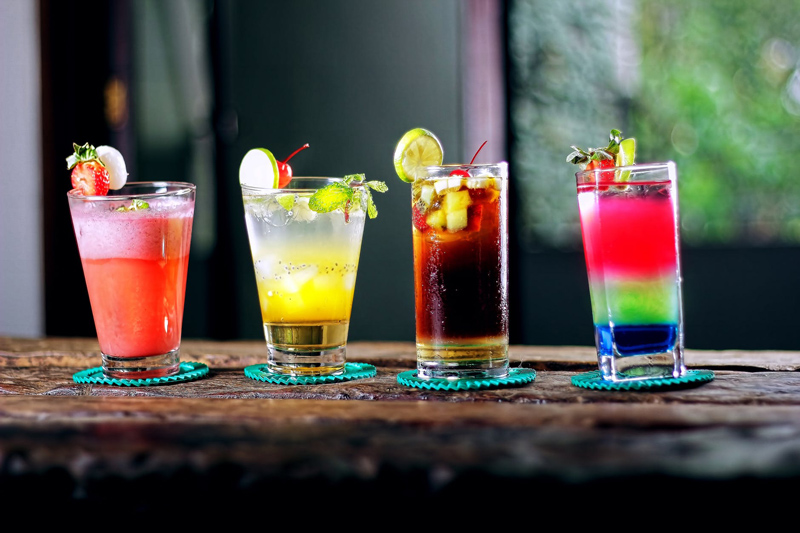 A recent review of the search terms people use when browsing this site for cocktail tips led me to the question: How much is a measure? That's a very good question that deserves some discussion. The answer to that question works in the kitchen, too, on food recipes just as well as it does at the bar.

Many recipes are based on ratios, meaning the fundamental building blocks of the recipe must remain in proper proportion, one to the other, in order for the recipe to produce favorable (read, predictable) results. Any significant alterations to the basic recipe will compromise its integrity but there's plenty of room for creative experimentation with flavors.

Cocktails are based on a standard unit of measure called a jigger. One jigger equals one measure. In the US, where we measure in fluid ounces, a jigger is equal to 3 tablespoons of liquid, or 1.5 fluid ounces. A standard shot glass holds one jigger of liquid. These measurements, as with all things liquor, are governed by federal standards and regulations.

When making an individual drink, bartenders rely on the jigger for accurate measure. When making drinks for a crowd, a busy bartender must find a faster way to get drinks made and served than can be done measuring one jigger at a time. Even when making cocktails for a crowd, the basic drink recipe remains proportionally the same, though. You just need a bigger measure to speed up the mixing process.

Let's use a Black Russian as an example of how to pour by the measure, no matter how big the crowd or what the cocktail recipe. A basic Black Russian is made from equal amounts of coffee-based liqueur and vodka (or a 1:1 ratio). To make one for myself, I'd fill a rocks glass with ice and top if off with one jigger full of vodka and one jigger of coffee liqueur. Then I'd find a comfy spot and enjoy this truly yummy drink.

If, however, I were mixing Black Russians for me and a few of my favorite friends, I'd find a bigger measure than a jigger. That way, I can make one big batch of Black Russians and have time to sit and enjoy it with my guests instead of becoming a drink-making dynamo too busy to visit.

Use a measuring cup from the kitchen to measure drinks for a crowd. I'd pour one measure (a big one now, like the standard 8-ounce measuring cup from the kitchen) of vodka and of coffee liqueur into a small pitcher and pour my drinks from the pitcher into individual ice-filled rocks glasses for me and my friends.

If you do the math correctly, you'll find there's not quite enough fluid in an 8-ounce measuring cup to make three drinks that call for 3-ounces each of a liquor (8 divided by 3 equals 2-2/3). In other words, one cup holds enough liquid to make 2-2/3 cocktails. That won't last long.

Get a bigger measure, such as a 16-ounce pint measure and you can make 5-1/3 drinks at a time. Bump your measure up to 24-ounces and you can make exactly 8 servings from that one measure.

When bumping up the quantity like this, whether at the home bar or in the kitchen, consider rounding measures up or down to make things easiest. If you like the flavor of an ingredient, round up. If you'd rather not have so much of an ingredient, round down.

You Should Also Read:
Bar Terms
Drinking at Home
Party Every Month


Related Articles
Editor's Picks Articles
Top Ten Articles
Previous Features
Site Map



Follow @drinkandbemerry
Tweet



Content copyright © 2022 by Sandy Hemphill. All rights reserved.
This content was written by Sandy Hemphill. If you wish to use this content in any manner, you need written permission. Contact Sandy Hemphill for details.