Scotch Eggs with Fresh Herbs Recipe
I personally, grew up devouring Scotch Eggs thinking that they were something created by the Scots (Scottish people.) However, after having researched the Scotch egg when writing this article, I was somewhat amazed that they weren't!
The word "Scotch" in old English means minced or chopped. Hence, when my mum would go to the market she would be buying minced (pork or beef) meat or chopped meat for whatever purpose. The original Scotch Egg recipe is traditionally made with pork sausage meat and is usually a hand-held affair - eaten whole or cut in half and maybe sprinkled with a little salt and pepper or a splash of hot sauce! They are a great picnic basket item and also make a great lunch with a small salad.
The Scotch Egg was originally invented by a department store named Fortnum & Mason in England over 300 years ago, where they still serve these today in their restaurants to their own recipe.
My inspiration for Scotch Eggs with Herbs recipe brings together the traditional way of making them as a young girl, along with the addition of fresh herbs and a slight Italian twist by using sweet Italian sausage meat. I hope you enjoy them!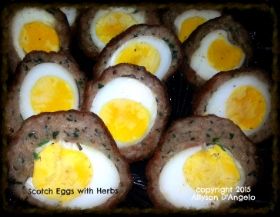 Ingredients
10 large fresh eggs
1-1/2 lb. Sweet or hot Italian sausage meat
3 tbsp. finely chopped mixed herbs (sage, thyme, rosemary or your choice)
1 cup all-purpose flour (plain)
2 large eggs, well beaten
3 cups Italian or plain breadcrumbs
A deep fryer or a large deep skillet with 2 inches of frying oil
Method
Preheat the oil to 360 degrees F.
1. First place the eggs in cold water and bring to a boil. Boil for 5 minutes then immediately place the eggs in iced water to stop from forming a black ring around the yolk. When the eggs are cold, peel them and set aside.
2. In a large bowl, combine the sausage meat, herbs of your choice and mix together well. Set aside in the refrigerator while you prepare your breading station.
3. Set up your breading station with 1 bowl each of the flour, eggs and breadcrumbs.
4. Making your Scotch Eggs: - Take an egg and some of the sausage meat and mold it around the egg leaving no gaps or holes. Then roll the sausage in the flour, then the egg and finally the breadcrumbs - pressing down on the breadcrumbs to make sure the sausage meat is all covered. Set aside in the refrigerator for at least 10 minutes.
5. Last step! Test one egg in the deep fryer (if using) to make sure that it doesn't brown too quickly, then slice it in half to see if the sausage meat is cooked thoroughly.
If you are using a deep skillet or pan use a thermometer to test the temperature. Do not let the metal of the thermometer touch the bottom of the pan - this will make a false reading! The same applies with the deep frying - test one egg and adjust the temp.
You should be cooking your Scotch Eggs for approximately 6 - 8 minutes total, turning often to brown evenly! Do not crowd the fryer or pan and cook in batches and then drain on paper towels.
This is a fun recipe and a great party platter idea for game night. Try it one day - I think you'll love what you can do with it!
Tip: If the sausage meat is not all the way cooked when you slice the egg in half, place it on a paper towel with the egg side down and microwave for 30 - 40 seconds!
You Should Also Read:
Visit my sister site for hundreds of great home cooked recipes


Related Articles
Editor's Picks Articles
Top Ten Articles
Previous Features
Site Map



Follow @CateringMom
Tweet



Content copyright © 2022 by Allyson Elizabeth D´Angelo. All rights reserved.
This content was written by Allyson Elizabeth D´Angelo. If you wish to use this content in any manner, you need written permission. Contact Allyson Elizabeth D´Angelo for details.