GABF 2010 - The Alive Thirty-Five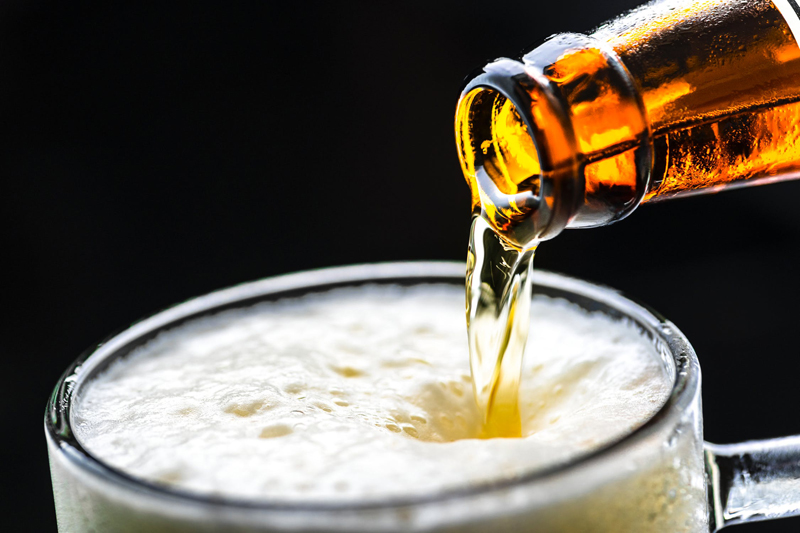 The 29th Great American Beer Festival 2010 wrapped up in Denver, Colorado on September 18th, slightly more than a week ago. As I was paging through my little black journal, I came across a list of impressions I had noted at some point during that week - probably on the day I judged 55 beers. These were little awards I would theoretically give to various brewing companies or people … awards not actually given, but still worthy of notice to anyone who loves good craft beer. This list is, by no means, complete, but in the spirit of sharing, I present to you my most private journal:


1. Luckiest Pants: Jeff Bagby, Pizza Port Brewing Company, Carlsbad, California

2. Brewery That Should Command Attention Nation-wide: Ska Brewing Company, Durango, Colorado

3. Best Gluten Free Beer Brewing Company: The Alchemist, Waterbury, Vermont

4. Finest Example of Terroir in Beer: Alaskan Brewing Company, Juneau, Alaska

5. Best Gateway Beer: Blue Moon, Denver, Colorado

6. Most Notable Sour Beers: Russian River Brewing Company, Santa Rosa, California

7. Finest Example of Gonzo Brewing and Gonzo Labels: Flying Dog Brewery, Frederick, Maryland

8. Most Recognizable IPA: Fat Heads Brewery & Salloon, North Olmstead, Ohio

9. Best Brewer with a Chef's Palate: Jared Rouben, Goose Island Beer Company, Chicago, Illinois

10. Small Town Brewery I want in my neighborhood: Haverhill Brewery, Haverhill, Massachusetts

11. Best Barrel Aged Beer, Small Scale: Jolly Pumpkin Brewing Company, Dexter, Michigan

12. Best Barrel Aged Beer, Large Scale: New Belgium Brewing Company, Fort Collins, Colorado


13. Best Use of Nuts in Beer: Lazy Magnolia Brewing Company, Kiln, Mississippi

14. Most Non-Traditional Palate Pleasing: The Lost Abbey, San Marcos, California

15. Up-and-Coming Brewpub to Watch: Mad Fox Brewing Company, Falls Church, Virginia

16. Kick Butte Brewing Company: Deschutes Brewery, Bend, Oregon

17. Best Woman-Influenced Brewery: Bend Brewing, Bend, Oregon

18. Women to Watch Brewery: Six Rivers Brewery, McKinleyville, California

19. Most Beautiful White Beer: Allagash Brewing, Portland, Maine

20. Best Brewery with an Ethnic Twist of Humor: Schmaltz Brewing Company, San Francisco, California

21. Most Authentic German Style Beer: Left Hand Brewing Company, Longmont, Colorado

22. Best of the Beach: Maui Brewing Company, Maui, Hawaii

23. Great Pacific View Brewery: Pelican Pub & Brewery, Pacific City, Oregon


24. Most Sought After Little Tart: New Glarus Brewing, New Glarus, Wisconsin

25. Most Extreme Non-Traditional Taste-Bud Teaser: Dogfish Head Craft Brewery, Milton, Delaware

26. New Surprises: Weasel Boy Brewing Company, Zanesville, Ohio

27. Best Big Beer Brewers: Troegs Brewery, Harrisburg, Pennsylvania

28. Most Noteworthy Brewpub Group: TAPS Fish House & Brewery, Brea, California

29. Under the Magnifying Glass New Brewer: Thirsty Planet Brewing Company

30. Best Executive Beer Chef: Sean Paxton, Napa Valley, California

31. Best Anniversary Lager: Seventeen, Avery Brewing Company, Boulder, Colorado

32. Brewery I Most Want to Session With: Sierra Nevada Brewing Company, Chico, California

33. Capturing the True Essence of Craft Brewing: Stone Brewing Company, Escondido, California

34. The "I thought you were an Import" Beer: Stillwater Artisanal Ales, Baltimore, Maryland

35. Chicks Rule Beer: Snake River Brewing Company & Brewpub, Jackson, Wyoming

Cheers!

Photos are (from top): Ska Brewing Company, onstage with Charlie Papazian; Tonya Cornett of Bend Brewing and Teri Fahrendorf of the Pink Boots Society; Executive Chef Sean Paxton directs a team of chefs at the Great American Beer Festival 2010


 
You Should Also Read:
Jeff Bagby - Lucky Pants at the 2010 GABF
Beer Events Before & After the GABF 2010 in Denver
Six Tips - Doing the Great American Beer Festival


Related Articles
Editor's Picks Articles
Top Ten Articles
Previous Features
Site Map





Content copyright © 2022 by Carolyn Smagalski. All rights reserved.
This content was written by Carolyn Smagalski. If you wish to use this content in any manner, you need written permission. Contact Carolyn Smagalski for details.