Carol Stoudt & Stoudts Brewing Company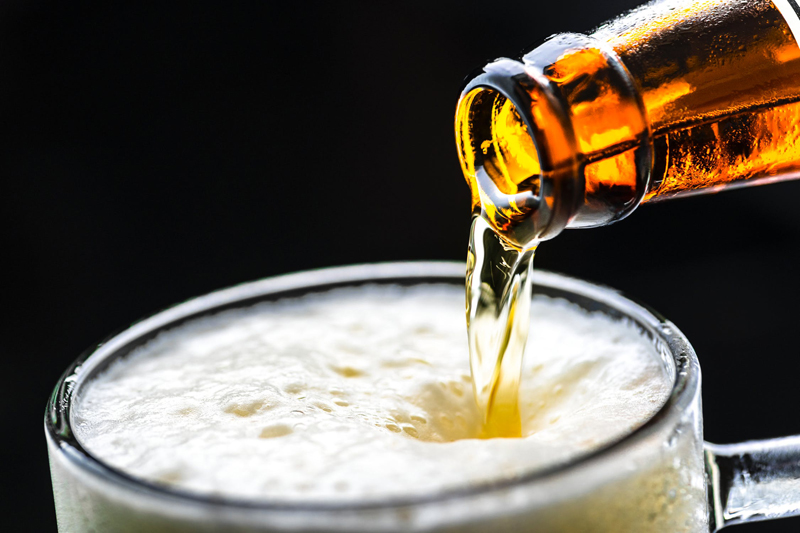 In his youth, Eddie stumbled into ownership of his 1929 Packard through a keen assessment of value in a world of antiques. She was a classic girl - light grey, with curvaceous, ebony fenders framing the tires in well-manicured arches. Fore and aft, the Locke body dripped with chrome, decked with leather appointments. White-walled tires framed the red, spider-web delicacy of the wire wheels. As one of the most luxurious cars in the world, it was a sign of American royalty, and as such, launched the marriage of one of the most recognizable couples in today's beer landscape, Carol and Eddie Stoudt.

A symbol of enduring love, the Packard hasn't been driven since. 'How did it get inside the foyer of Eddie Stoudt's Black Angus Restaurant & Pub,' I wondered, 'and how does it reflect the paired imagination that went on to create The Marketplace, Antiques Mall, and most importantly, Stoudt's Brewing Company, Carol's domain in this beautiful haven known as Stoudtburg Village?'


Stoudt's Brewing Company was established as one of the earliest craft breweries in the country, long before anyone knew what craft brewing was. Carol Stoudt started brewing in the winter of 1986. The physical labor felt good to her, so she and Eddie decided that a brewery would add value to their business. Stoudts Brewing Company opened in 1987. "I loved the idea of creating a unique product and bringing it to the enjoyment of so many people," said Carol Stoudt.

From the beginning, Stoudt's focus was on German style beers. It was an interest she established many years before, during a honeymoon trip to Germany, and expanded with subsequent trips to understand the nuances and processes that produced the many styles associated with those regions.


With her husband's strong German heritage, painted on the walls of the biregarten beginning with Hans Stoudt (Steud) 1535-1590, it was a natural to gravitate to German styles of beer. She, of course, had her own family heritage connected to Germany. "When I started the brewery I wanted to produce three fine lager beers from Bavaria since that is my family's heritage," she explained. "Michael Jackson visited me early on and said that I should explore other German beer styles. Of course I listened, so after another and another trip to Germany, Austria, and more, I was able to produce most of the traditional German styles and now even some untraditional ones like our Smooth Hoperator. Many of my colleagues on the west coast were producing these fine ales so I had to try several at the brewery and now we do at least 4 ales year round."

Carol Stoudt was a woman in a man's domain. It was tough marketing fresh beer. Carol explained, "The beer industry was dominated by men who did not know about beer styles, different malts, or hops. Beer was sold by branding and price. It took longer to gain acceptance from beer distributors and tavern owners because they were interested in pushing brands that sold huge volumes or were call brands, not push [brands]."


She had good instincts, however, and believed in providing value for the money. Money was spent on quality ingredients. Her education led her to understanding that beer had to be brewed within style and have flavor and consistency, if she were to be taken seriously. "I was influenced by several men," said Carol. "Karl Strauss, a master brewer, Roger Briess, my malster, Jim Patton, former brewer and owner of Abita, Russell Scherer, former brewer and owner of Wynkoop brew pub plus many more." They became her colleagues, and she gained a following … and headlines.

"In 1992 I was fortunate to take 4 medals at the GABF and that gave me so much national press, it made it somewhat easier to get the beer to market," she recalled. Judges at the Great American Beer Festival have awarded Stoudts Brewing Company 28 medals since 1988, including 10 Gold, 10 Silver, 7 Bronze, and 1 Honorable Mention (Note: the Honorable Mention is a very rare award at the GABF.)

Carol no longer does the physical brewing, but is closely involved with recipe formulation, quality control, and marketing. She has little interest in brewing the extreme styles of beer that have become a popular scene across the American landscape, but does provide her brewers the opportunity to stretch their skills on special release Brewer's Reserve batches. Stoudts beers are well balanced, highly drinkable, and serve as a complementary addition to foods of all types. "My beers are special," noted Carol, "because they are well made with lots of passion, love, and nurturing. Consistency and freshness for the style are so important. My beers are given the right amount of time for fermenting, aging and conditioning. We brew to order and do not have beer laying around. This costs money but it is important to me that the consumer gets the best possible product."

Stoudts has four flagship beers: Stoudts American Pale Ale, Stoudts Gold Munich Style Helles, Stoudts Scarlet Lady Ale, and Stoudts Pils German Style Pilsener. But it doesn't stop there. They produce Big Beers, Seasonals, and Specialty Beers enough to satisfy the most adventurous palate.

A few must haves:

Fat Dog Stout – 9% ABV, this big ole' puppy is deep ebony, with complex aromas of chocolate espresso and a silky feel on the tongue. A special edition of this Imperial Oatmeal Stout was aged in bourbon barrels and was available in 750 ml bottles. Watch for the next release as a valued addition to your beer cellar.

Stoudts Winter Ale – Each year brings a new recipe, dripping with spices and variable ABVs.


Smooth Hoperator – At 7.2% ABV, this American style Doppelbock was first brewed for the 20th Anniversary of Stoudts Brewing Company. Intense flavors of sweet German malts paint the palate, then dry it out with a full hit of American hops that extend through the finish.

Heifer-in-Wheat – At only 5% ABV, the aromatic aura of bananas, clove and juicy fruit gum shine through, touched with barley and wheat. As Gold medal winner at the 2010 Great American Beer Festival, this girl sports a hazy golden body and moussy head, along with an ephemeral glow.

Old Abominable Barley Wine – When you are gathering together delectable treats for your holiday guests this winter, make Old Abominable the top monster on your list. With an ABV of 8.5%, this rich, full-bodied beer is from the Special Reserve Series, and marries well with a crackling fire, hors oeuvres and canapés, and pine in the air.

Brewer's Reserve Series – With the launch of Old Abominable Barley Wine, the Brewers Reserve Series gave the brewers at Stoudts the opportunity to produce their own special small-batch beer. Karnival Kolsch and Smooth Hoperator were originally released as Brewer's Reserve Beers. Others include Black Eyed Pale Ale, Scrawny Dog Stout, Barrel Aged Imperial Oatmeal Stout, Saison Percheron, 1860 IPA, Big Brother Pils, Double Abbey, and a list of others, both German Style and Non-traditional.

Cheers!

Love that Packard of Eddie Stoudt's?
Packard Deluxe Eight Sport Phaeton (1929) Car Art Poster Print on 10 mil Archival Satin Paper Red Rear Side View 16"x12"


For the girl's side of the bar:
Rosie the Rivetor Tin Sign , 13x16
You Should Also Read:
The Elite Pride of Women Brewers
Pink Boots Society - Women in Brewing
The Pleasures of Beer - A Woman's Passion


Related Articles
Editor's Picks Articles
Top Ten Articles
Previous Features
Site Map





Content copyright © 2022 by Carolyn Smagalski. All rights reserved.
This content was written by Carolyn Smagalski. If you wish to use this content in any manner, you need written permission. Contact Carolyn Smagalski for details.