Guest Author - Rebecca Graf
Hadrian's Wall in Britain, along with the Limes Germanica in southern Germany, was built by the Romans around 122 A.D.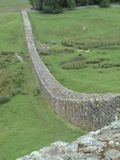 Both walls were used as boundary lines to separate the Empire from the barbarians that could not be tamed. The word "Limes" means a road between territories. They were a symbol of Rome's majesty. They were the banner to the barbarians with whom they would be dealing with.
The Hadrian's Wall marked the line where Rome had control. On the other side the Picts, along with other Scottish tribes, refused to submit and were in constant conflict with the Roman army. Hadrian had the wall constructed to mark the Roman territory as well as to monitor trade and taxes between the two "worlds". The wall stretches about 74 miles. The Limes Germanica is about 342 miles long. To many, these walls were to separate the Roman territory from those that would not submit. Though the walls did mark the boundaries, they did more than that. They showed the barbarians what force and might the Roman Empire had. These walls were a monument to Rome's strength and presence in the world. Just like Caesar's amazing feat of building the bridge across the Rhine, and then dismantling it, was to prove a point, so were these walls. This was no weak nation that could be taken advantage of. They were something to contend with.
The walls were also a reflection of Rome. Hadrian was not like some of the emperor's before him, who lived the lavish life of emperor with glee and extravagant indulgences. He was in the process of strengthening and cleaning up the Roman government and world. He began touring the Roman territories and evaluating the administration of them. The walls showed the world that Rome had regrouped and was returning to be the strong power that had originally conquered the areas. Rome might not be able to conquer all barbarians, but they would send a message of their great achievements.
The walls that Hadrian had constructed drew the line between territories, while at the same time establishing "banners" to tell the non-Roman world that they were there and could not be ignored. They were a presence in the area and wanted everyone to know it. It was a reflection of the power and might behind the walls.
Sources:
(1) Peter S. Wells. "The Limes and Hadrian's Wall." Expedition, Spring 2005, EBSCO host.
(2) Sean Mclachlan. "Roman Legacy." British History, May 2010, EBSCO host.
(3) Wells, ESBSO host.
(4) Colin Martin "Hadrian's Wall." British Heritage, September 2003, EBSCO host.
(5) Marcel Le Glay, Jean-Louis Voisin, and Yann Le Bohec. A History of Rome. (Malden: Blackwell, 2009), 335-337.