Guest Author - Rebecca Graf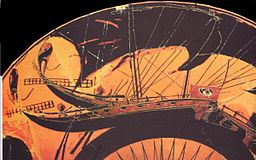 If you traveled back in time to ancient Greece, you would find that it wasn't exactly the civilization that had miles and miles of agricultural fields ready to feed the masses. In fact, the climate varies and the terrain is so rocky and hilly that the country could not easily support an extremely large population. But three crops thrive in ancient Greece and became known as the Mediterranean triad. This included grain, grapes, and olives.
Grain was a very important aspect to feed the Greek people. With grain you can make bread and many other animal products. In fact, grain can be considered the basis for most civilizations' diet and crops. Many places have the perfect climate and soil where they can grow grain and abundance. These civilizations are able to export grain to various parts of the world. You could almost say that grain was the reason for most of the early civilizations' trade and exploration.
What can we say about grapes? They're delicious to eat. You can let them dry and become raisins. Put them into dishes to create wonderful feasts. But above all you can create wine. Wine was the basic drink through most of the ancient world. It was not as strong as we have today. In fact, most of it was diluted with water. Wine lasted a long time with the ability to improve in taste and aroma as time went on. This is a great advantage of any product in the ancient world where storage and the ability to keep something cool and fresh was impossible. As time went on, grapes would prove to be a very vital trading product throughout the world. To be able to grow succulent grapes and to reduce delicious wine would bring almost any civilization to the forefront when it came to trade and even culture.
Think about olives and two things come to mind. There are the delicious olives that we eat with cheese and maybe some bread. But the next most popular thing that olives are used for the world over is olive oil. As the Greeks learned to grow and develop olives and press out the oil, they developed a product that would bring other cultures knocking at their door asking to be trading partners. Walk the grocery aisle shelves today and you will see what the ancient Greeks gave us as you gaze upon a multitude of different brands and even quality of olive oil.
The Mediterranean triad of grain, grapes, and olives would be a huge part of Greece's advancement as a civilization. Grain is demanded throughout the world for mankind to survive. Grapes cannot grow just anywhere, and wine cannot be made with just any grape. Perfect grapes and perfect wine is searched for by all. Olives give the world a new way to cook and add new flavor to their foods. Show the world what you can give their stomachs and their taste buds, and there will be no shortage of trade partners such as the gift that the Mediterranean triad gave ancient Greece.