The Eternal Importance of the Family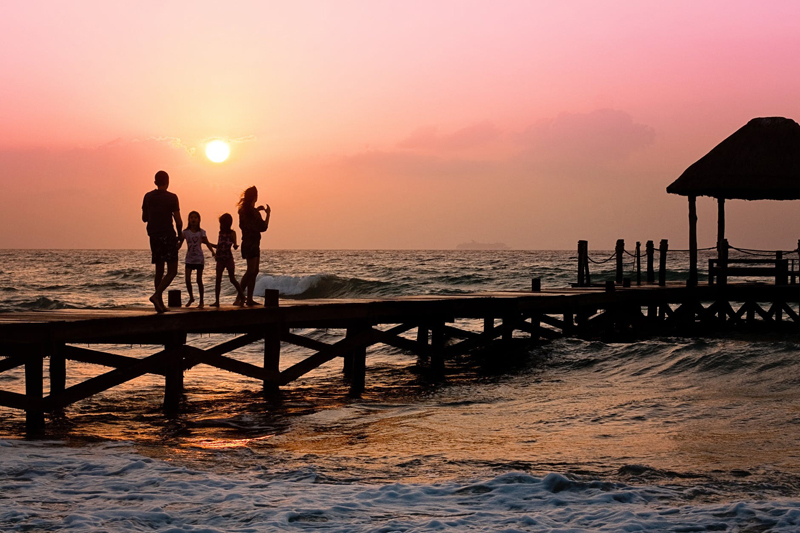 Years ago my husband's sister called to announce her engagement. She then proceeded to extol the virtues of her future spouse. When my husband got off the phone I asked, "well, what's he like?"

"Apparently perfect."

I laughed and said, "ask her if she still thinks he's perfect 20 years from now."

It's been said we should enter marriage with our eyes wide open and after marriage keep them half shut. I think all too often we enter marriage with our eyes half shut then have them fly wide open in horror when we find out who we really married! Are you putting catsup on your eggs? Did you lose the car keys again?

To avoid that trap, when I was a teenager, I made a list of all the wonderful qualities my husband would have to have so I could love him forever. He had to have blonde hair and blue eyes, love spaghetti and want to live out his life in Arizona.

So who did I marry for eternity? A brown-haired man with hazel eyes who moved us to Montana. And the spaghetti bit? I can safely say it's definitely not his favorite. In fact, it's no where in his top 50 favorite dishes!

But do you know what I've discovered? Over the years he has learned to eat spaghetti! Not because he likes it but because he knows I like it! And some times, when it's stressful at dinnertime, he even suggests I make it! How can you not love a man like that? The fact that he does not like spaghetti but eats it anyway, even suggests it on busy nights, endears him to me more than if he was a blonde-haired, blue-eyed pasta lover living amid the cactus.

Like my husband's sister, before we marry we all make lists, on paper or in our minds, of qualities we love about our intended partner. Unfortunately, after marriage, that list begins to shift to the things we don't like about them. Instead of focusing on their strengths we slowly begin to notice their weakness, even fixate on them. This shift causes contension. We need to remember we didn't marry them for those weaknesses. We married them for their good qualities and if we are dwelling on their weakness we are forgetting the reason we married them.

That's why I love the gospel. I love everything about it: it's plan, it's purpose and it's promises. And the promise I love most is that families are ordained to be eternal. Even imperfect families, like mine, with husbands who don't like spaghetti but eat it anyway.

God ordained marriage and family life to help us grow and develop divine attributes of love, charity, service, forgiveness, patience. Marriage and family are the best and safest places to develop those qualities.

From the Council in Heaven when our loving Heavenly Father proposed a plan to bless the lives of His Spirit children, to the loving sacrifice made by our elder Brother on our behalf, the gospel and the scriptures--including the Bible--focus on and emphasis the eternal importance of the family.

Throughout the world, people understand--they feel--the importance of family. I carry in my Bible a photo cut from a newspaper after the May 2008 earthquake in China. In that area one-third of the population was killed. The roads were destroyed and the remaining survivors had to leave with what they could carry on their backs to survive. In the photo a man, with the barest of life's necessities strapped to his back, is hiking down the road carrying a wedding portrait. Don't tell me marriage isn't important!

When a loved one dies we never stop mourning that loss. Always there is an ache, a void in our hearts. We go on but we never forget and we never stop loving. Thankfully, the Lord understands our hearts and has provided a way for us to be together again, forever, as families! He doesn't expect us to be perfect, but He does expect us to follow the path He has established to receive the blessing of eternal families.

In the Garden of Eden, God ordained marriage when he brought Adam and Eve together and commanded them to cleave unto each other and none else. When did he do that? When did He place them in this sacred relationship?

Before they partook of the forbidden fruit, before Death even entered the picture making marriage, from the get-go, an eternal union!

Later, to Abraham, Isaac and Jacob, He voiced the promise that their families would be without end. To Moses He gave the command to lead the children of Israel out of Egypt. A careful reading of the scriptures affirms that it was, indeed, the children--the entire family--that Moses fought to free and take with him into the Promised Land. So symbolic!

To this day the Jews still celebrate the Passover as a celebration of family! They honor the youngest and the oldest at their Passover feast and set out a chair to receive the Spirit of Elijah in their home so that the hearts of the fathers will be turned toward the children and the hearts of the children will turn toward the fathers, lest the earth be smitten with a curse.

They understand a portion of this eternal truth: that without families, the earth suffers and so do we.

(The rest of this article is found in the article, The Promises Made to the Fathers. See Link below)
You Should Also Read:
The Promises Made to the Fathers


Related Articles
Editor's Picks Articles
Top Ten Articles
Previous Features
Site Map





Content copyright © 2019 by T. Lynn Adams. All rights reserved.
This content was written by T. Lynn Adams. If you wish to use this content in any manner, you need written permission. Contact Jamie Rose for details.