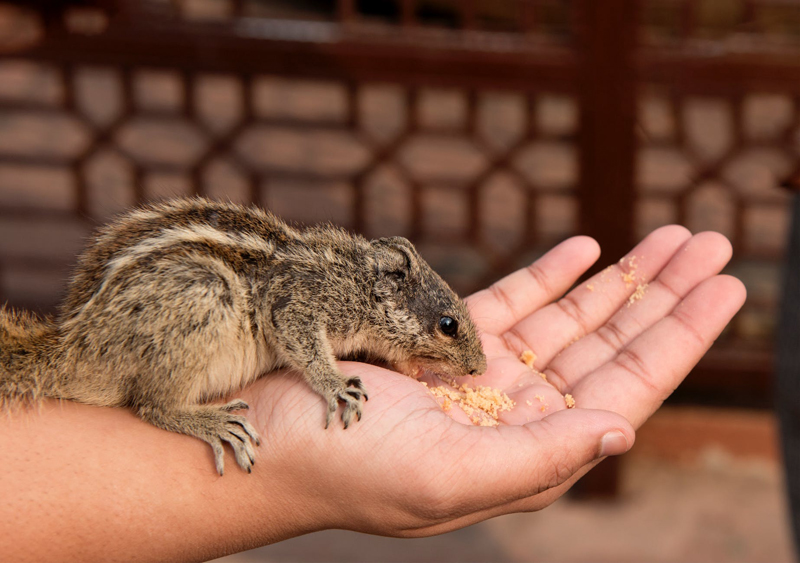 What is an exotic pet where some of the species can be as large as your hand, sings, and hides their ears near their knees? It's a weta of course! One species of weta can be three times as big as a mouse, the giant wetas.
A weta image, weta photo, and a weta YouTube video can be found at the end of the article.
The weta is from the family Anostostomatidae and is found primarily in New Zealand though can be found in other areas in the southern hemisphere. They are much like a cricket, katydid, or grasshopper.
The weta is an ancient breed of insect, a breed old enough to have seen the dinosaurs. The weta is also known as a weta cricket.
The giant weta is among heaviest insects on earth. Only the African goliath beetle competes in size and weight. Weta are flightless. They are nocturnal. Most weta are quite passive though they can inflict injury biting with their mandibles. They can also leave a scratch with the spikes on their lower legs.
People keep weta crickets as pets. Though it is uncommon to find pet weta in the United States. They are more likely found as pets in China or even the United Kingdom.
The female weta has a tube on her rear end; it looks like a stinger but is in fact an ovipositor. It is a tube that the female uses to lay eggs.
The weta is an omnivore eating vegetation and other insects.
There are many different species of weta, Tree weta, Cave weta, and Giant weta, Ground weta, and Tusked weta.
Each species has different care requirements and needs. You should keep your weta in an environment as close to their natural habitat as possible.
Wetas can be kept in reptile housing or aquariums. The housing should have plenty of ventilation. Make sure they are not kept in the sunlight. Use a metallic mesh instead of a plastic mesh otherwise the weta can chew through and escape. Make sure the lid is secure.
Excessive temperature or humidity can kill the weta. 15C or 59.0 F to 20C or 68.0 F is an optimum temperature. Below the minimum they become inactive; a higher temperature is intolerable to many species of weta.
The optimum humidity levels for tree wetas is in the range of 60-70%. The giant weta and ground weta need lower humidity levels, around 40-50%. You can achieve the desired humidity levels by misting the enclosure every two to five days. Use a humidity gauge to accurately achieve the desired levels.
They are nocturnal and should have hidey places to feel safe during the day. Dry bark shelters are ideal places for the weta to hide.
Make sure you remove food before it spoils or any material that may turn moldy. Feed the weta fruit, vegetables, and small insects. Make sure their food is free from all chemicals.
Make sure the weta has fresh water. Use shallow containers an example would be jar lids.
Keep their enclosures clean. Remove old waste material. Fresh fecal pellets should be left in place. These fresh pellets are chemical markers that assist the weta to navigate their enclosure.
Provide your weta with chemical free branches, twigs, and other climbing material.
The sounds of the weta is similar to the cricket and can be heard through the night. They flick their hind legs against their abdomen. They make additional noises using their abdomens. The sound is a saw-like rasping sound.
Enjoy your exotic pet weta but please learn everything there is to know about your pet before you obtain one as a pet. No animals are throw away pets and should be treated with the upmost respect and the best of care.
Look to the right or scroll down a bit and subscribe to the Exotic Pets newsletter. Your information is private and will be delivered to your email box just once a week.
Weta image or weta photos
This photo of the New Zealand Weta is a public domain photograph.
Public Domain Image.Com



Here is a YouTube video of the Giant Weta; a truly fascinating insect. Cook Strait Giant Wetas! on Mana Island

Weta breeders
Weta for sale

Additional Exotic Pets - Insects as Pets articles
*****Madagascar Hissing Cockroach - Pet
*****Ant Farm
*****Honey Bees - How to Care for Bees
*****Praying Mantis - Care for the Praying Mantis
*****Scorpions - Scorpions as Pets
*****Stick Insects - Indian Stick Insects
*****Tarantulas - Pet Tarantulas
*****What's a Weta – Pet Weta

Subscribe free to the exotic pets newsletter. It is quick and easy Just glance to the right or scroll a bit to the bottom and subscribe. I will only bug you once a week :) Be the first to be in the know! Your information is always private!

I am also the Bird editor if you enjoy pet birds subscribe to the Birds newsletter. Birds BellaOnline





Diana Geiger Exotic Pets Editoron


Encyclopedia of Animals includes the Weta
Encyclopedia of Animals


Ferrets: A Complete Guide available in paperback, PDF, and Kindle. By Diana Geiger (me:) Five star reviews!




Ferrets: A Complete Guide - Paperback

Ferrets: A Complete Guide - Kindle

PDF Version Ferrets: A Complete Guide (Access to free PDF Reader)
Ferrets: A Complete Guide
This site needs an editor - click to learn more!

You Should Also Read:
Exotic Pet Site Map
Ferrets - A Complete Guide Paperback and Kindle
Show your support for Exotic Pets BellaOnline




Related Articles
Editor's Picks Articles
Top Ten Articles
Previous Features
Site Map





Content copyright © 2022 by Diana Geiger. All rights reserved.
This content was written by Diana Geiger. If you wish to use this content in any manner, you need written permission. Contact BellaOnline Administration for details.