Polishing Sterling Silver with a Rock Tumbler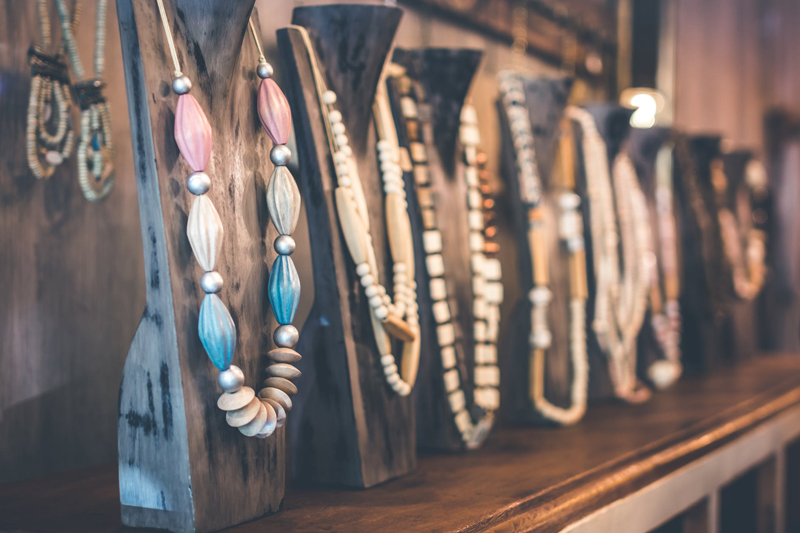 You can use a rock tumbler to quickly and easily polish much of your handmade sterling silver jewelry and components. In this first article in the series on tumble-polishing, I'll discuss how I use my tumbler. In the second article, we'll look at some precautions you should take to avoid damaging your jewelry by tumbling, as well as ways you can keep your tumbler running smoothly.
---
Many jewelry artisans use professional tumbler models made by Lortone. I use the Lortone 3A, which consists of a metal base with an internal motor, and a soft barrel with a two-part metal lid. The barrel turns when you plug in the machine.
There are slightly different methods for tumble-polishing sterling silver (you can investigate them by running Internet searches). Here's an overview of the one I follow:
• First, I fill the tumbler barrel about 1/3 full with clean, stainless steel tumbling shot, which you can purchase from most jewelry making suppliers (look for catalogs or websites like Kinglsey North or Rio Grande).
• I then add enough water to the barrel to cover the tumbling shot with about one inch of water. I also usually add a drop of liquid dish washing detergent at this stage. (The most popular brand for this is Dawn, but I haven't had any problems using generic brands.)
• I place my jewelry into the barrel and push it down gently into the tumbling shot using my fingers. The amount of jewelry I polish in a given batch depends mostly on how easily it can tangle. For designs that have chains, I often only tumble one piece at a time, so that two pieces can't become tangled up together. (For very fine chains, the chain often tangles up a little with itself during tumbling, but so far not badly enough to cause any damage.)
• Next, I push the inner lid down into the top of the barrel, and then cover the top of the barrel with the outer lid. With my model, this involves pushing the outer lid down over the top of the barrel firmly to make sure it goes on all the way. I place a metal washer (which comes with the tumbler) over a screw that sticks out from the center of the inner lid, and I then screw-on the plastic knurled nut, with its groove positioned as shown in the next photo.
• The barrel is now ready to be placed onto the tumbler base. I align the groove in the knurled nut with a little guide in the metal holder on the machine, and plug it in. With my model, there is no on-off switch; so the only way to start and stop it is by plugging it in and unplugging it. (When you do this, please make sure your hands are dry.)
• I usually allow my jewelry to tumble for 20 to 30 minutes. While it's tumbling, the molecules in the sterling silver become more aligned, which creates a bright, reflective surface. This process typically also removes tarnish, and it slightly increases the silver's temper, or stiffness.
• When I'm ready to remove the jewelry, I unplug the machine and then lift off the barrel. I remove the lid and slowly pour out the contents into a clean, metal kitchen strainer over the sink. This allows me to remove the water while safely containing the tumbling shot. When the barrel is empty, I run cool or luke-warm water over the contents of the strainer to rinse it. Then, I carefully fish out my jewelry pieces from the tumbling shot.
• When I'm finished, I pour my tumbling shot into a plastic food storage container and fill the container with enough water to fully cover all of the shot. (This keeps the shot from coming into contact with air during storage, which can cause even stainless-steel shot to rust a little.) I then place the lid tightly on the plastic container and store it somewhere safe until I'm ready to use it again. I also dry out the inside of the barrel fully before storing it, with the lid off.
• My final task is to rinse the jewelry again (by itself ) under the tap, then gently dry it with a soft cloth or paper towel. Since you should never store jewelry when it's damp, it's a good idea to lay it out (or hang it up) to dry for a while before putting it away.
To keep your sterling silver shiny and tarnish free, store it with anti-tarnish paper or cloth (or in a jewelry box lined with anti-tarnish cloth). For quick touch-ups, use a silver-polishing cloth like the Sunshine Cloth.
In next week's article we'll take a closer look at which jewelry is appropriate for tumble polishing, and which isn't, and I'll discuss basic tumbler care and maintenance.
The Lortone 3A model tumbler is usually available through Amazon.com
, and you can also find it on eBay.
---
Chris Franchetti Michaels is a writer and jewelry artisan specializing in beaded designs, wire work, and metal fabrication. She is the author of the books Teach Yourself Visually: Jewelry Making and Beading, Beading Quick Tips, and Wire Jewelry Quick Tips. Visit her website BeadJewelry.net for more jewelry-making help and inspiration.
You Should Also Read:
Wire Work Tools - Cutters & Chain Nose Pliers star
Wire Work Tools for Hammering
Getting Started Making Metal Jewelry - Book Review


Related Articles
Editor's Picks Articles
Top Ten Articles
Previous Features
Site Map





Content copyright © 2021 by Chris Franchetti Michaels. All rights reserved.
This content was written by Chris Franchetti Michaels. If you wish to use this content in any manner, you need written permission. Contact Susan Mendenhall for details.