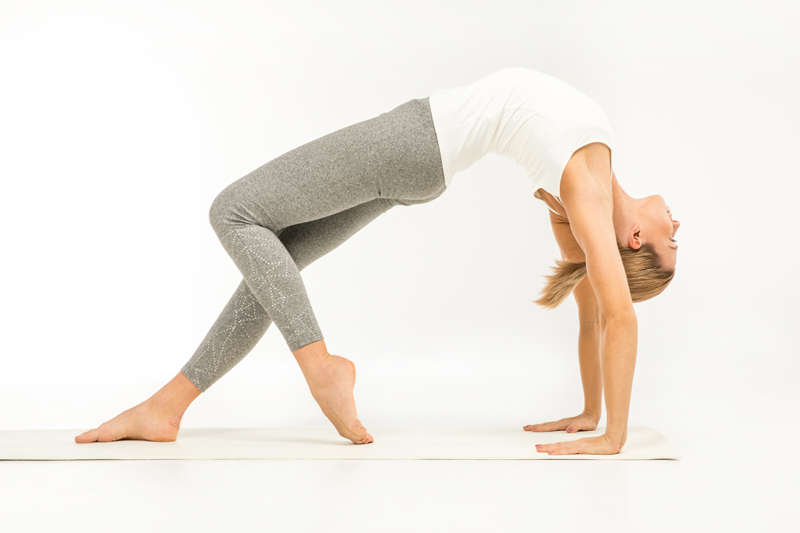 As one of my yoga teachers likes to say at the end of class, our yoga practice keeps us strong in both body and mind. The yogic idea of strength is multi-faceted, incorporating not only muscle power but also balance and flexibility. Ardha Chandrasana, or Half-Moon Pose, forces us to use all of these components, combining them into a beautiful balance that stretches part of the body while it strengthens the other.

As one of the lateral poses, Ardha Chandrasana is always practiced in pairs, one time on each side of the body. It's generally sequenced after either Trikonasana or Uttita Parsvakonasana, Triangle and Extended Side Stretch. There's a great deal going on here: in the full expression of the pose, one's entire body weight is balanced on one straight leg with a hand extended for balance. The body lies in one plane, as if it has been sandwiched between two sheets of glass. The torso and top leg are perpendicular to the standing leg, forming a right angle; the arms are similarly stretched, bisecting the torso at the shoulder. Just listing the various stretching, weight-lifting, and balancing sections of the pose is enough to overwhelm.

Because there's so much happening, it helps to practice the pose at first using a wall and a block as props. Stand facing outward, perhaps with the buttocks touching the wall, and set up as if beginning Triangle Pose. From there, lift the back leg up as you bend forward. Your arms will move forward, creating one line of energy from fingertip to fingertip as you press the shoulders down into their sockets. You will create another line of energy from the top of your head through your torso to the extended raised leg. A third line of energy will be created as the bottom leg presses up to support the rest of the body. Finally, if all of this is working, you will begin to press your top shoulder back towards the wall to move everything into that single plane.

Even at the wall, this pose is a challenge. Not ready to try for the full pose? Start small. Keep your hands on your hips and practice moving the top leg up to a ninety-degree angle from the standing leg. When you have that, you can add in the arm stretch, perhaps putting a block under the bottom arm to help with balance. Once you work on each part of the pose separately, it becomes a part of your muscle memory. This means that, once you begin to practice the pose away from the wall, your body will have an idea of where you want it to go, leaving your brain to focus on the balance aspect.

As always, it helps to make Half Moon Pose part of a fuller practice. Start with a few warm-ups, and then move into Virabhadrasana, or Warrior II. From here, move between Trikonasana and/or Utthita Parsvakonasana before attempting Ardha Chandrasana. Depending on time, you can follow these poses with the Closed Hip Poses, beginning with Virabhadrasana I, or else move directly to seated poses. Don't forget to finish with at least a few moments of Savasana to allow your body to assimilate the movement, and perhaps with a round of chanting or meditation is that is part of your practice.

You Should Also Read:
Why Use Sanskrit?
Trikonasana
Yoga Sequences and the Hip Joint


Related Articles
Editor's Picks Articles
Top Ten Articles
Previous Features
Site Map





Content copyright © 2022 by Korie Beth Brown. All rights reserved.
This content was written by Korie Beth Brown. If you wish to use this content in any manner, you need written permission. Contact Korie Beth Brown for details.