Agnistambhasana with Garudasana Arms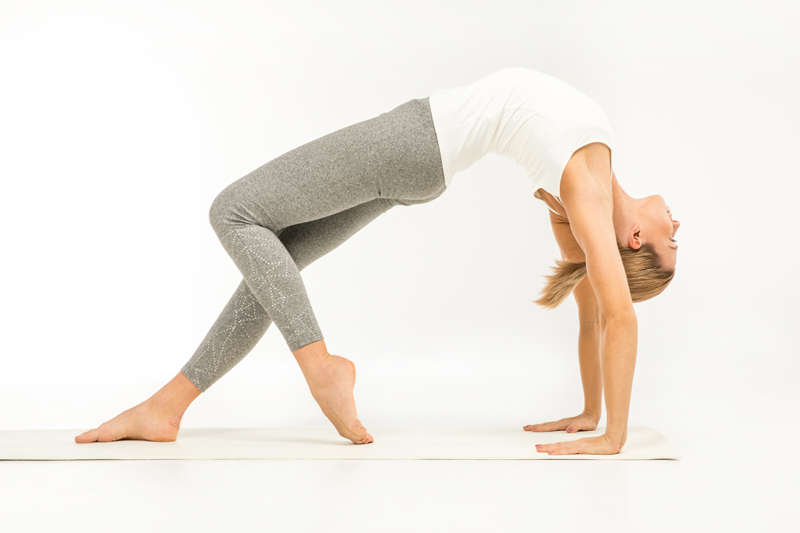 Sitting at a desk crouched over a computer all day may be great for your business' bottom line, but it can wreak havoc on your back and hips. Piriformis syndrome, a condition caused when tightened muscles irritate the sciatic nerve, can result in pain alongside the side of the hip or thigh; headaches can manifest from constricted neck and shoulder muscles. Agnistambhasana, called either Fire Log or Double Pigeon Pose in English, can help stretch the muscles of the thigh and hip, while Garudasana, or Eagle Arms can provide relief for tight shoulders. Practiced separately or together, these two poses are wonderful for releasing tension; different variations make it possible for even a newcomer with limited mobility to begin practicing. Because these poses work on each side of the body, they are also good for addressing imbalances that can lead to overwork and resultant strain on the stronger half.

To begin Agnistambhasana, sit again a wall or chair in a tailor position. From here, bring one leg atop the other, moving the foot in the direction of the other leg's knee. Eventually, you will be sitting with one foot on the opposite knee and one knee over the opposite foot, with your calves parallel to your torso. If necessary, use a block or blanket to sit on, so as to raise the hips and make the stretch less intense. A blanket can also be used between the top knee and bottom foot if there's a great deal of distance; this allows the high knee to rest and begin stretching the tight muscles.

Agnistambhasana can be used as an introductory pose for those interested in wrapping their legs into Ardha Padmasana, or Half Lotus Pose. From Fire Log, bring the top foot towards the crease where the leg attaches to the torso. For those raised to sit on the floor and use their toes as extra fingers, this is an easy way to sit; for Westerners, it can feel almost torturous.

Once your legs are in the pose, bring your arms into Garudasana. Straighten your back and lift your hands to prayer position at the heart. Inhale, spread your arms wide, and cross them in front of your torso to hug yourself. Your arms should be opposite to your legs: in other words, your right arm is on top when your left leg is as well. Stay here, or wrap your arms around each other at the elbow, reaching around to lock the fingers. Breathe deeply, and allow the body to stretch. Then come out of the poses, and repeat on the opposite side.

You Should Also Read:
Importance of Yoga Props
Half Pigeon Pose


Related Articles
Editor's Picks Articles
Top Ten Articles
Previous Features
Site Map





Content copyright © 2022 by Korie Beth Brown. All rights reserved.
This content was written by Korie Beth Brown. If you wish to use this content in any manner, you need written permission. Contact Korie Beth Brown for details.