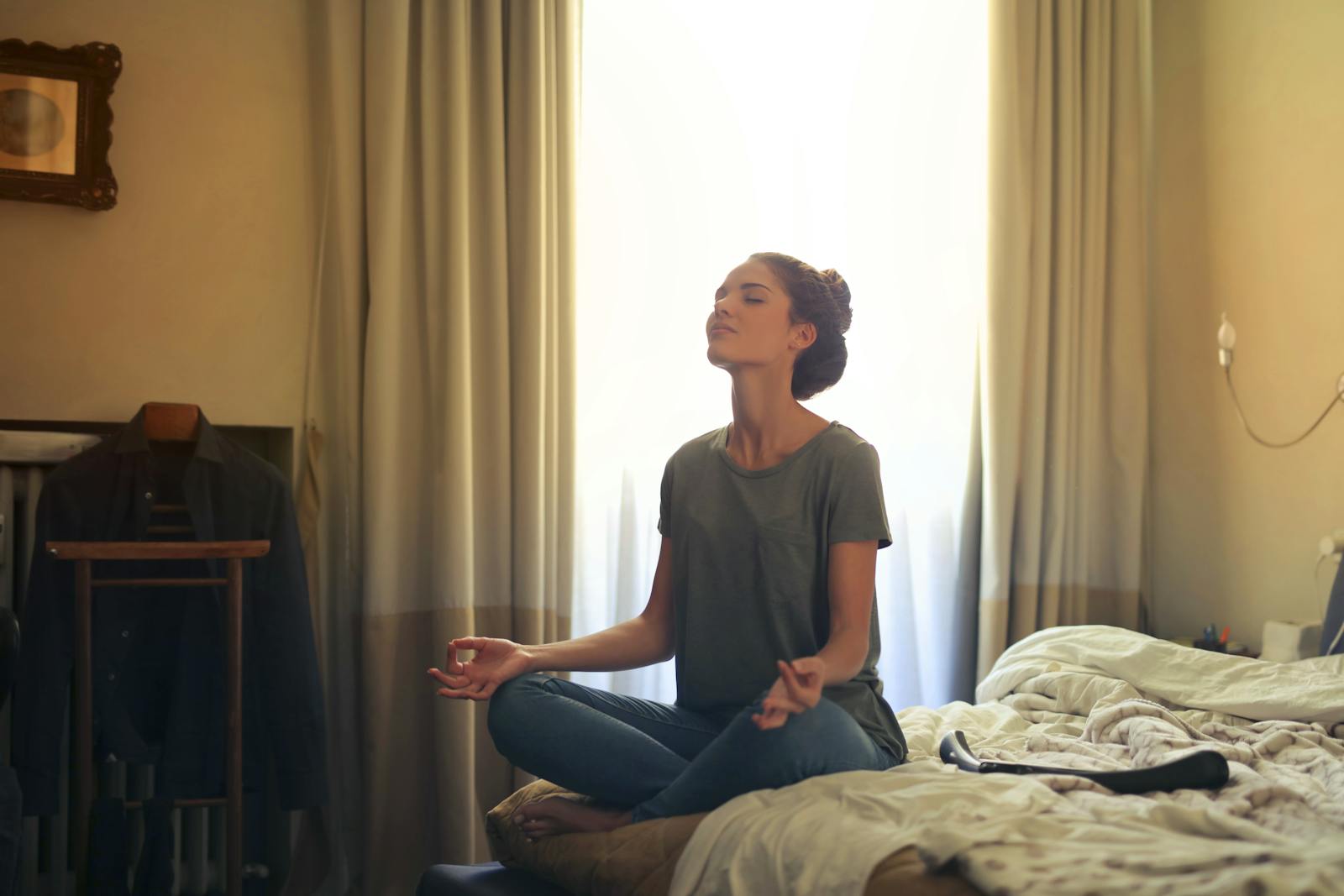 Because of COVID, many of us have stopped going to the gym or studio, choosing instead to practice at home. Some of us are lucky enough to be able to convert a spare room into a gym area; others need to find a multi-purpose spot big enough for a yoga mat. In any case, it's important to think through the alterations brought about by the change in venue. Here are five points to ponder.

Practicing yoga at home generally means accessing online classes, whether live streamed or pre-recorded. Thus, the yogi/ni needs to find a place to practice that will fit both the yoga mat and a computer screen. This can be completely simple: one can place a laptop on the floor in front of a mat situated next to a bed. Conversely, one can go all out and set up a designated practice area complete with extra speakers and a wider screen. Decide what works best for you, but don't let the lack of a perfect setup disrupt your practice!

A second decision has to do with props. In a studio or at the gym, one generally borrows blocks the accouterments. This of course generally isn't possible when practicing at home, and so it's important to decide if you want to substitute or invest in the real thing. Books can stand in for blocks, towels for straps, pillows for bolsters, and even a rug for the yoga mat. Is this enough for your minimalist soul, or do you want to invest in the real thing? If the latter, does your budget suggest Target, or do you want to look online for specialty brands like Manduka?

Once you have the place and props ready, it's time to look at your schedule. Do you want to commit to an online class once a week to replicate what you were doing before? Or do you want to practice more often, using the extra free time as a way to deepen your commitment to yoga? Again, there is no right or wrong here – but taking the initiative on time management will help you to better reach your goals.

And speaking of goals, what are you working for when you practice at home? Do you want to maintain your proficiency with basic asana and sequences? Do you want to extend your practice into meditation, pranayama, or other facets of yoga? The answer to these questions will in many ways determine whether or not you go with a weekly class, sign up for an ongoing training, or buy a membership in YogaGlo. Remember, if you fail to plan, you plan to fail! While I hate simplistic slogans like the latter, I also know that if I want to see change in my life, I have to plan change for each of my days. And so I recommend taking the time to consider where your practice is currently and where you want it to be in three, six, or twelve months.

A final consideration for the home gym involves the setting of boundaries. When we leave the house to go to class, we remove ourselves from the demands of family. Practicing at home requires us to set up this removal in a different way. Do you need to practice before your children are awake? Include them in your classes? Request that friends not call during class? Time spent in yoga is precious, and it's important to protect it from outside intrusions. If you don't do this, you won't get the full effect of a concentrated time.

As more and more of us shift from in-person to online connections, the potential for yoga to change our lives is threatened. At the same time, however, this change can allow for greater immersion into the art and science of yoga and Ayurveda. Properly thought out, it can lead to longer and deeper periods of practice, as well as to a greater understanding of how the precepts of yoga make a difference. Take the time to plan out your home practice, and you will see the results.

You Should Also Read:
The Importance of Yoga Props
A Sequence for Neck and Shoulders
Harvard Medical School Guide to Yoga Review


Related Articles
Editor's Picks Articles
Top Ten Articles
Previous Features
Site Map





Content copyright © 2022 by Korie Beth Brown. All rights reserved.
This content was written by Korie Beth Brown. If you wish to use this content in any manner, you need written permission. Contact Korie Beth Brown for details.