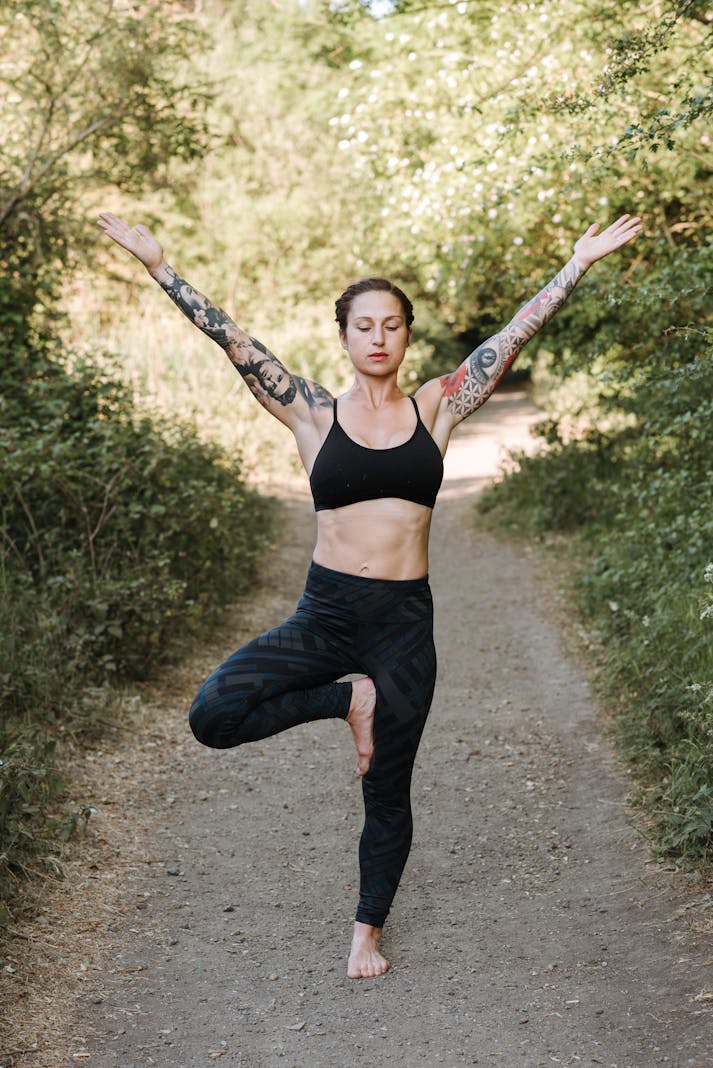 Balance and proprioception are important in keeping our bodies healthy, particularly as we age, and asanas that work on stability should be part of one's regular yoga practice. However, these poses are multi-leveled; in other words, while these poses focus on balance, they also require attention to form in order to work as intended. For this reason, I find props really helpful. These don't need to be fancy or expensive: 'keeping it simple' can mean merely using a wall and a hand towel.

Let's think about how the props work. When one takes Tree Pose, or Vrksasana, one balances on one leg while bending the other and sliding the foot, perhaps as high as to the groin. There's so much more going on here than staying upright; for one, think about the position of the bent knee, which in a perfect world is parallel to the wall behind it. Moving the bent leg towards parallel is difficult to do, and when one adds in balance, a straight back, and arms floating towards the sky, it's easy to warp the form. The solution? Practice in front of a wall. The edifice will offer direction for lengthening the back and keeping it straight; it will also give the bent leg a direction for movement. While the balance is important, holding the body straight and turning out the hip are the stretching movements that make this pose so good for us – why sacrifice that for the sake of being able to stay upright? In addition, once one's form is achieved, the balance part of the equation becomes much easier.

Along the same lines, consider Standing Head to Knee Pose, known in Sanskrit as Dandayamana Janu Sirsanasana. It's not that difficult to put the weight on one leg before picking up the other, but the form of the pose suggests both legs are moving in the direction of straight with an elongated back and closed hips, creating a shape very close to a right angle. Trying to get everything at once without using props can feel like herding cats, and all too often important parts of alignment are sacrificied. Instead, try this pose against a wall and using a strap to help life the leg. This makes it easier to keep the hips closed; it also ensures that your leg stays straight as it scissors away from the wall and standing leg. If you can't keep your shoulders back while using the strap or towel, try using your hands to support your thigh instead of reaching for the foot.

Keeping my ego out of my practice feels like I'm working on satya, or truthfulness, one of the , or moral precepts, of yoga. Can I really do what I think I'm doing, or am I twisting my body to get the appearance? When I think of a posture in this way, it becomes a clear metaphor for other parts of my life. And really, whom am I fooling? No one else in a class cares – or, if the class is on Zoom, even notices. If I put too much ego on looking good, I'm missing out on both physical and emotional stretching. When I think of props as a tool to keep my body and soul honest, it becomes easier for me to use them. From there, a paradox ensues: when I'm willing to use props, I often find that I don't need them after a few minutes.

Try it both ways and see how your body feels. It may be worth the investment to buy a strap, the organization of practice space to make a wall available, and the ego deflation of admitting that, today, you need a bit of extra help. This is simply one more way in which the practice of yoga allows us to achieve union – this time, between our bodies, our minds, and our emotions.

You Should Also Read:
Vrksasana, or Tree Pose
Arm Modifications in Asana


Related Articles
Editor's Picks Articles
Top Ten Articles
Previous Features
Site Map





Content copyright © 2022 by Korie Beth Brown. All rights reserved.
This content was written by Korie Beth Brown. If you wish to use this content in any manner, you need written permission. Contact Korie Beth Brown for details.